A small but important step to developing the sport in a new place.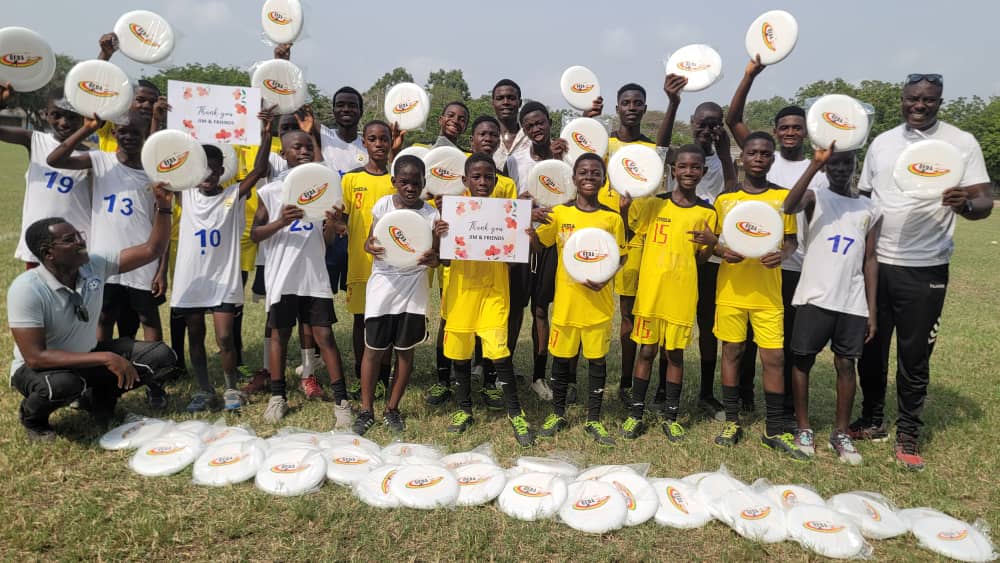 This is the story of how two blue plastic barrels full of Ultrastar discs wound up on a boat to Ghana.
In July 2021, regular followers of the r/ultimate subreddit began seeing posts from u/GHULTIMATE1 about the introduction of ultimate to Ghana. Some posts were from adults playing ultimate on a grassy field while others were of kids playing on either clay or turf fields. From their posts, I could see someone who loved ultimate and was excited to grow our sport and share this growth with the international ultimate community. I reached out to u/GHULTIMATE via DM, and that's where I met Desmond Mantey.
Desmond and I began chatting in July; we had a lot in common. Once upon a time, I started a fledgling ultimate community outside of the US in Limerick, Ireland. Like Desmond, I am extremely proud of the accomplishments of Limerick ultimate. From this community, several Irish internationals have emerged, including 2019 European Women's champions. At the club level, teams and players from Limerick are regular fixtures of the business end of the European season. On the organizational front, I founded the annual The Siege of Limerick tournament. People who helped organize The Siege are now set to host the upcoming World Masters Ultimate Club Championships.
In 2007, I was fortunate to have the help of the budding Irish ultimate scene. Desmond, however, had less access to experienced ultimate organizers. Though he had less of a network to rely on, Desmond was putting in stellar work building the sport in Ghana. He was coaching youth teams, organizing events, establishing a national governing body, and even meeting with the Deputy Minister of Youth and Sports in the country.
In August, after a few great conversations, I asked Desmond for his permission to organize a fundraising drive to send discs to Ghana. At the time, there were only a handful of Ultrastar discs available to him. They had found some decent alternatives in local sports stores, but as everyone in ultimate knows, a disc not designed for ultimate is less than ideal. So we started a GoFundMe. We shared the project on Reddit, Snapchat, Instagram, and Twitter. We got whoever we could to share the fundraiser. Initially, the goal was to send 100 discs but we quickly shot past our target and kept the fundraiser going for another month, eventually raising $1,640 by the end of September, enough for 225 discs.
Our next challenge was to figure out which disc to send. We spent September discussing disc options. Because of plans the GFDA had for these discs, Desmond and I wanted to get the discs to Ghana as soon as possible. Discraft was able to begin production immediately, so we decided to go with them. We paid a designer in Accra, Ghana, $75 from the fundraiser to design a logo for the discs. We did this instead of buying misprints because we wanted these discs to act as flying billboards for the sport, so that everyone who used these discs can feel pride in their contribution to the ultimate community in Ghana. We also hope the unique design will increase the visibility of the impact these discs will have over the next few months.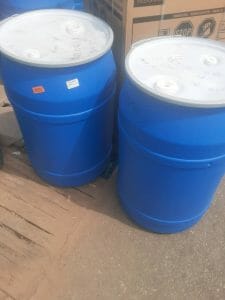 At the end of October, the discs were in production, and we came to the next hurdle in the project: physically getting the discs to Ghana. We looked at mailing them through the postal service or using a shipping company like FedEx or DHL. Unfortunately, these options were prohibitively expensive. Eventually, it was Desmond who came up with a solution: plastic barrels on a ship. While I was unfamiliar with the process, this is a common solution for shipping heavy or bulky items overseas. We had the discs shipped to a Ghanaian friend of Desmond's in Boston. When they arrived in late November, they were packed into two 100 gallon blue plastic drums. The shipping company picked up the barrels and packed them into a shipping container, which was loaded onto a ship bound for Accra.
During the months it took to organize the drive, Desmond and the rest of the GFDA had not been idle. In August, they organized a game where the new GFDA recruits would play the US embassy staff in an exhibition match. Later that month, the GFDA secured full recognition from the World Flying Disc Federation, which was covered by national newspapers in Ghana in September. In December, the organization hosted a youth tournament with nearly 50 participants across four clubs. As someone who has coached a lot of developmental level ultimate, I was blown away by the disc skills of some of the kids I saw in the footage from this event.
In the new year, the GFDA faces the challenges that many of us are now familiar with. They had developed a youth club scene, but now they were making contacts among the universities and service academies in Ghana. How quickly can the GFDA grow these green shoots that have been shown to be fertile ground while continuing to develop the youth scene? How can the current success be leveraged to grow the women's game? Where will coaches be found, and how can they be trained to coach ultimate in a country that can often have limited internet access?
On February 2nd, 2022, the discs finally arrived in Ghana. As of this writing, it remains to be seen how this project will impact ultimate in Ghana. Hopefully distributing these discs will help solve some of the issues that have slowed the incredible progress of the GFDA. With new university teams, sometimes all they need is a disc and a group of interested athletes to start a program. Kids who have played in these tournaments organized by the GFDA can throw in their neighborhoods and hopefully attract new athletes. The Minister of Youth and Sports in Ghana can hang a disc on his wall that proudly displays Ghana's national colors.
For me, this project was about more than sending discs to Ghana. It was about helping the GFDA and Desmond develop as organizers. Ordering equipment from a manufacturer is an experience the GFDA has now been through. I have been able to share my experience from my successes and my many mistakes over the years. Desmond and I have become really good friends. We regularly have long WhatsApp conversations where Desmond shares the latest developments in the GFDA and we banter about my experiences when I was an inexperienced organizer. Sometimes we discuss some blue sky ideas like Ghana hosting international ultimate tournaments.
The GFDA has done truly amazing work in the past year. I was able to help them with this project, but they are still operating on extremely limited resources. They are launching a new fundraising drive to raise funds for equipment, field space and coaching resources. If it is at all within your means, please support their current initiative. I promise you the next time you see a picture of the work being done by the GFDA, you'll be glad you did.