This is the first primary front-of-the-jersey sponsorship in the AUDL.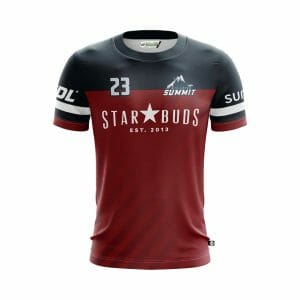 The AUDL's new expansion franchise, the Colorado Summit, will sport the logo of a legal cannabis company on its jerseys during the 2022 season. Star Buds, a retail marijuana company with locations in Colorado and other US states, is the team's primary jersey sponsor. Recreational marijuana use has been legal in Colorado since 2012.
Star Buds will also sponsor the Summit's beer garden at their home stadium at the University of Denver.
"We're incredibly proud to be the first cannabis company to sponsor Colorado's first professional ultimate disc team and hope this will drive a movement toward the acceptance of cannabis in professional sports," said Justin Dye, CEO and Chairman of Schwazze, the parent company of Star Buds, in a statement.
Another AUDL team, the Boston Glory, also signed a deal this offseason with a cannabis dispensary, CommCan. The CommCan logo is on the lower half of the back of the Glory jerseys.
The Summit's deal with Star Buds is believed to be the first major front-of-the-jersey sponsorship deal for an AUDL team. The Seattle Cascades have a sponsorship with Swedish, though it is below their team logo on the jersey. Likewise, the Minnesota Wind Chill have a small Surly logo on their chest. Colorado's sponsorship is front and center on their dark uniforms. Other teams such as the Philadelphia Phoenix, Los Angeles Aviators, DC Breeze, Austin Sol, Madison Radicals, and Tampa Bay Cannons have smaller sponsor logos on the sleeves or backs of their jerseys.
Marijuana sponsorships in professional sports remain rare. In 2018, the United Soccer League's Las Vegas Lights became the first pro sports team to sign a cannabis sponsorship. A number of other sports leagues, including the UFC and NWSL, have inked deals with CBD companies.
Ultimate's competitive scene has for years been trying to move away from an association with marijuana, but increasing acceptance may see the pendulum swing in the other direction. More than two-thirds of Americans now believe marijuana should be fully legalized, and many US states have already moved to make marijuana legal for recreational use.
The Colorado Summit begin their 2022 season this weekend with a two game road trip to Seattle and Portland.
Correction: This article originally said that the Summit were the first pro sports team to display a cannabis company on its jersey. The AUDL's Boston Glory also debuted their 2022 season jerseys with a cannabis company sponsorship — and they played in week 1.