The regular season's curtain closed with high drama and our fantasy winner!
Get ready for a lot of women-matching semi-pro action! The Western Ultimate League regular season finale gave us quite the thrill, and even the "game that doesn't count" was pretty good. Meanwhile, the Premier Ultimate League's most active weekend showcased the dominance of its best teams.
Plus, we wrap up our WUL Fantasy contest with the winner!
Results & Standings
WUL Results

WUL Standings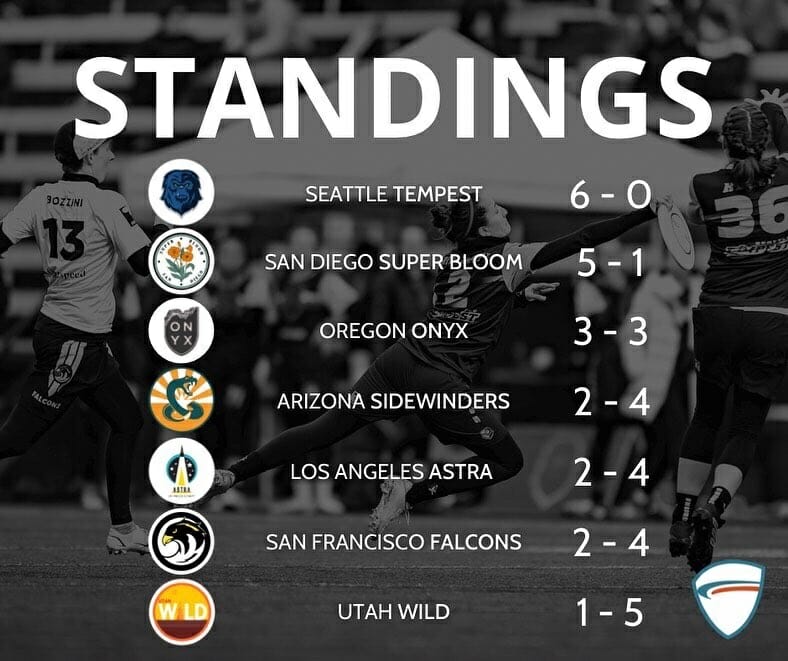 PUL Results
DC 11 – 4 Minnesota
DC 18 – 5 Milwaukee
Nashville 5 – 24 Raleigh
Columbus 11 – 8 Indy
New York 13 – 8 Columbus
New York at Indy was rained out midway through.
PUL Standings
East
Portland 2-0
Medellin 1-0
Washington DC 3-1
New York 1-1
Midwest
Indy 2-1
Milwaukee 1-2
Minnesota 1-3
Columbus 1-3
South
Raleigh 3-0
Nashville 0-2
Austin 0-1
Atlanta 0-2
Weekly Storylines
Final Playoff Spot Goes to Arizona in Dramatic Fashion
If fans were hoping for a tense close to the regular season, they got it when Los Angeles and San Francisco did battle with a playoff spot on the line. LA could advance with a win or loss by four goals or fewer; San Francisco could reach the postseason with an eight goal or greater blowout. Shooting the gap on those two options would result in Arizona, sidelined at 2-4, reaching Championship Weekend. The Falcons 13-7 victory was simply not enough for them or Astra, and true to their name, the Sidewinders slithered through a narrow space into the playoffs.
In a bit of a surprise, the Falcons had a real shot at achieving their unlikely goal. They went up 6-2 at halftime, and might have had a larger lead had the wind not deadened offensive output and extended the length of points. The conditions calmed in the second half, allowing the teams to strut their stuff a bit more. In the final minutes of the game, San Francisco was up 13-6, mere throws away from the sizable eight goal gap they needed to put between themselves and Astra to claw into the postseason. However, they couldn't land that final blow, and LA scored to drop the deficit down to six.
It was an incredible effort from San Francisco, who had mostly been marked for dead after a 1-3 start. Instead, Arizona, whose two wins on their 2-4 record came all the way back in week one, at home. However, they beat SF by six, just enough to hold the necessary point differential. You can't ask for more than every point mattering.
It's hard to divert a lot of attention away from this wild finish, but the actual final game of the regular season between Seattle and Oregon was also exciting, with a fourth quarter rally from Seattle keeping their loss column unedited from the season's start to finish. That'll definitely ratchet up expectations for the postseason, especially if these two meet again in the title bout
Seattle will take on Arizona at Championship Weekend, while San Diego will line up across from Oregon.
DC Dominates and Raleigh Rampages
It is difficult to look at the Week 5 tallies and keep your jaw closed as you see the scores Washington DC Shadow and Raleigh Radiance put up. With their massive wins, Raleigh pushed their point differential to +35, while DC's barely trails that at +30. The next closest is +8 (both Portland and Medellin), while every other team is either zero or negative.
DC traveled to the Midwest for matchups with Minnesota and Milwaukee, arguably the two best teams in that division, and dismantled each of them. The Shadow conceded only nine goals, helped by the windy conditions that welcomed them to the region in both games. They battled through a wet one against the Strike, taking an 8-2 halftime lead. In Milwaukee, it was a defensive showcase, with DC holding Monarch star Georgia Bosscher to just one assist to go with eight turnovers. Milwaukee opened up with a break before DC rattled off eight straight to take control of the matchup.
Meanwhile, Raleigh ran roughshod over Jesse Shofner-less Nashville. Like DC, their defense put the squeeze on, shutting Nashville out in the second quarter and giving up a single goal in the third. The Radiance flexed their muscles, looking like the far faster and stronger club as they advanced with long gainers to free receivers. After losing star Lindsay Soo for the season to an ACL injury, it has to be some comfort to play so well.
PUL Announces New Media Deal
The Premier Ultimate League officially signed on with Quad Media to produce game content for them this season. Quad Media is a fairly young organization, founded in 2019, but has plenty of experience within it. They align well with the PUL as a media organization focused on delivering high quality content around marginalized athletes in niche sports. That sort of point of view fits very well with the PUL's organizational goals and positioning.
The league's model for this season has been a mix of streamed games, tape delay releases, and even some post-produced games. There have been hiccups in the restart and their new media partner might be able to smooth out some of the rough spots.
Power Rankings
WUL
PUL
Highlight of the Weekend
Back to back for the Red! Anastasia Foster said "excuse me" with this nasty skying grab of the defense, trying to spark a comeback for Indy against Columbus in the second half.
Though maybe it should be San Diego Super Bloom's Board President Corey Atkins for crushing on the TV show "Name That Tune" and taking home some serious cash. She indicated on the show she'd like to send that money into ultimate!
WUL Fantasy Updates
Standings
Drum roll, please! Time for the big reveal.
Jomskylark – 777 (68)
Jesse C. – 774 (85)
Carlos R. – 765
Kat T – 759
Fred – 756
Frankie S. – 735
Steven M. – 732
Corey A. – 729
Emma EF – 721
Sascha V. – 704
Just like the league itself, this one went down to the wire! Jomskylark was able to hold off Jesse C.'s valiant comeback effort, having built enough of a lead to survive. Jesse outscored Jom by 17 points, benefitting from Qxhna Titcomb outscoring Dena Elimelech (both entries had both players rostered, but Jesse had Titcomb in a captain slot, while Jom had Elimelech) and from some LA help with Stephanie Pritchard and Maggie O'Connor. But Pritchard was perhaps a little more quiet than she had been the rest of the year, with two goals and two blocks.
The winning lineup: (C) Kaela Helton, (C) Dena Elimelech, Han Chen, Cori Bigham, Megan Maxfield, Jade McLaughlin, Qxhna Titcomb, Stephanie Lim, Avery Jones, Alex Diaz
The best lineup possible: (C) Morgan Zajonc, (C) Jade McLaughlin OR (C) Dena Elimelech, Aly Steinfeld, Kristen Pojunis, Qxhna Titcomb, Maggie O'Connor, Kaela Helton, Han Chen, Sam Rodenberg
Top Scorers in Week 7
Here are the top-scoring players for the week:1
Aly Steinfeld (Oregon) – 24 [3% rostered]
Morgan Zajonc (Oregon) – 24[1%]
Qxhna Titcomb (Seattle) – 21 [54%]
Sam Rodenberg (Seattle) – 21 [1%]
Claudia Tajima (Oregon) – 18 [42%]
Sharon Lin (San Francisco) – 15 [1%]
Connie Wang (Los Angeles) – 15 [3%]
Dena Elimelech (Los Angeles) – 15 [80%]
Kaitlyn Weaver (Los Angeles) – 15 [3%]
Julia Ting (San Francisco) – 12 [1%]
A lot of what you'd expect here, except for a quiet weekend for Elimelech, by her standards.
Top Scorers Overall
The best lineup above basically covers this. About half of that list was less than 10% rostered (O'Connor, Zajonc, Steinfeld, Rodenberg), but the three most popular picks (Elimelech, Helton, and Titcomb) all made it. Clearly, we were sleeping on Oregon and we didn't have a great read on where their production would come from.
Up Next
Western Ultimate League
Teams have a weekend off to prepare for Championship Weekend.
Premier Ultimate League
Austin (0-1) at Atlanta (0-2)
Austin (0-1) at Nashville (0-1)
---
Does not include players who were not rostered. ↩