The fun, balanced Whiptails end reigning silver medalists Portland's season early.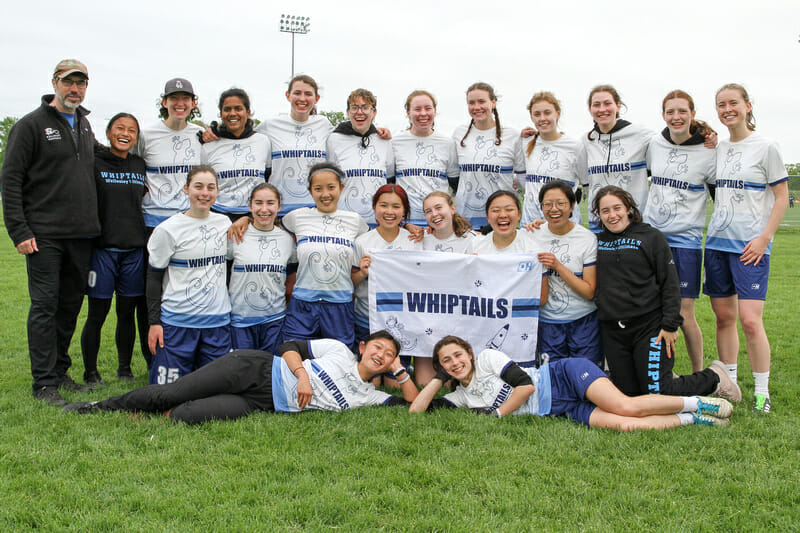 Our coverage of the 2022 College Series is presented by Spin Ultimate. Please support the brands that make Ultiworld possible and shop at Spin Ultimate!
From not winning their pool to upsetting the no.3 seed and 2021 finalist Portland UPRoar, the #4 Wellesley Whiptails have bounced back in a big way on Day 2 in Milwaukee and are now on their way to the semifinals.
"I've been around a while and I've never coached a team that loves and plays for each other as much as this one," said longtime Whiptails coach Marshall Goff.
That love was evident to everyone in the vicinity of the field for the quarterfinal, as Wellesley was constantly the louder team, especially when they were able to punch in an upwind score, which was crucial in this game. The wind was a major factor during the entire round, making upwind offense nearly impossible at times. Throughout most of the first half, the lone upwind score was a break by Portland on a massive huck from All-American Jaclyn Wataoka. Once Wellesley scored downwind to get within one at 6-5, the momentum of the game completely changed. The Whiptails proceeded to break upwind, break downwind, and break upwind again to take half. Leading the charge for the Whiptails was captain Josie "Butter" Ku and Barbara "Roo" Dolan, who played big despite being the shortest player on the field. Even with those strong performances, Wellesley spread the scoring around, with seven players picking up multiple goals or assists.
But, as you would expect from a reigning national finalist,  Portland did not roll over after the three breaks in a row. Shortly after half, they got an upwind break back, tying the game at 9-9 and controlling the downwind. Wellesley's offense went into another gear, producing two upwind holds when the rest of the game featured few, if any.
Portland coach Dan Young was complementary of Wellesley's offense, especially in the second half. "They really cleaned it up, and did a great job of getting open going upwind. They were great all game but really turned it on at the end."
Portland's strategy for much of their downwind points was to huck and play D, forcing the Wellesley offense to go upwind against the UPRoar zone. A lot of this hucking burden fell on senior Jaclyn Wataoka, who struggled for much of the game — well, struggled for her lofty standards — but also displayed a lot of throwing prowess, putting up crazy upwind hucks, often connecting with Julia Hanly. Wataoka finished with seven assists and a goal in the game, a strong performance to close out an impressive career with UPRoar.
Though the season didn't end the way they wanted, Portland's coaches were incredibly proud of their team. They're only graduating two players, so they're expecting to be back here next year. Unfortunately for them, and the rest of the division, one of those players is Jaclyn Wataoka. "Jackie has done so much for this program over her four years," said coach Elise Hollowell. "From keeping the team together during COVID, to taking on the Northwest regional coordinator position, this team is really going to miss her on and off field leadership next year." Though Wataoka didn't get to finish her career with a championship, she — along with the recently graduated Kim Dorr — certainly laid the groundwork for a potential dynasty out of the Northwest.
For the Wellesley Whiptails, they move on to the semis, and Goff says this team hasn't reached their ceiling yet. "We try not to think too hard about what's coming next, we're just being present with each other" says the Wellesley coach. When asked what the focus will be going forward, Goff says that they're going to try not to play too many points every point — limiting turnovers and taking advantage when they get a block. This Wellesley team is so much fun to watch, and could put on a heck of show against Elcipse.