Get ready for the title bout!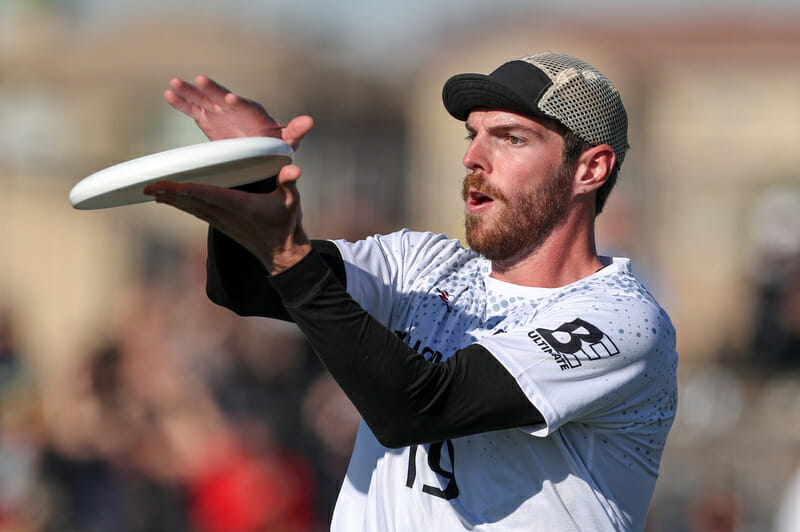 Our coverage of the 2022 College Series is presented by Spin Ultimate. Please support the brands that make Ultiworld possible and shop at Spin Ultimate!
MILWAUKEE, Wisc. — The defending D-III champion Oklahoma Christian Eagles will face the top-seeded St. Olaf Berzerkers in the championship final on Monday morning. St. Olaf cruised through their quarterfinal and semifinal, with comfortable wins over Scranton (15-4) and Berry (15-11). Oklahoma Christian had a comfortable win over Grace in quarterfinals (15-7) and a hard-fought universe point win in the semifinals over Middlebury (14-13). This semifinals win was the second universe point game for OC this weekend—they also took down fellow semifinalists Berry Bucks 15-14 in pool play on Saturday. St. Olaf was also not immune to the tight pool play games; they went down early to Oberlin Flying Horsecows and had to battle back to win the game 15-13.
St. Olaf missed out on a chance to face Oklahoma Christian in the 2021 national final when they lost to Middlebury on universe point in the semifinals in Norco. Now, five months later, the matchup is here.
The two programs both feature deep teams with some star players. For St. Olaf, Will Brandt has a legitimate case to be the Player of the Year. He is an anchor on offense that can work through zones with crafty hammers, as well as a top defender that takes big matchups. Benjamin Fjetland-Souza and Luke Bleers are strong handlers for St. Olaf as well. For Oklahoma Christian, Elliott Moore is the go-to guy. He, along with Jonathan Costello and Max Hamilton, make up an efficient offensive core for the Eagles that can work through both matchup and zone defenses. On the other side of the disc, Sammy Roberts will run the offense after a turn, and Thomas Maguire will generate blocks on top cutters.
The biggest difference between the two teams lies in their systems. St. Olaf runs a much more complete offense than Oklahoma Christian. In a zone, the Eagles run through Moore almost exclusively to generate their forward movement. While Moore does command the disc, in this instance it's his teammates trusting him to make the right decisions in big situations. While Brandt is a go-to player in the zone for the Berzerkers, other players on the Olaf offense are comfortable working the disc downfield.
Defensively, Olaf runs some zones that have frustrated teams in the field this weekend. Oklahoma Christian likes to poach the open side lane to slow down handler driven offenses. They're a zone team in theory but rely on their athleticism in most situations to get blocks on opposing offenses. Coach Garrett Wilson is an expert strategist, so it wouldn't be surprising if OC has been saving some defensive looks for the final.
If OC wants to win another national title, they will need to find a way to contain Brandt. There has not been a defender this weekend who has been able to shut him down. OC will have to cycle through their top defenders to slow down Brandt and the clinical St. Olaf offense. OC will also need to play much tighter on offense than they have this whole weekend. The Eagles had some basic miscues throughout the weekend—most of their turns were on smaller passes and throws behind cutters. St. Olaf is going to be another team, like Middlebury, that is much less likely to give the disc back after an unforced turnover. If the Eagles can limit those errors and play tight defense, they're primed and ready to get their second consecutive national title.
For St. Olaf to reach the mountaintop for the first time in program history, they'll have to be able to force turnovers in the handler space. OC is the best in the division at playing small-sided ultimate on the goal line. In a lot of instances, they'll just wear defenses down, swinging it back and forth and calling timeouts as needed. If St. Olaf can disrupt the handler flow, usually driven by Moore, they'll be able to force turnovers and score break chances. Olaf is also going to have to contain the older, taller duo of Costello and Hamilton. Costello is a tough cover downfield, so he'll draw their top cutter matchup. Hamilton is a physical handler, so he'll draw their second or first handler defender depending on if Moore or Roberts is on the field.
Conditions tomorrow morning should be quite good—a high of 54 and winds around 7 mph. Both teams will be well rested and giving it their all for the biggest game of their season. For St. Olaf, this win would be the fairy tale ending to an undefeated season. For Oklahoma Christian, this win would validate the program as one of the best in the country, more than just a flash-in-the-pan team that brought in Kyle Henke to win a title.
Regardless of who wins, it is going to be an exciting final in Milwaukee. Tune in live on Ultiworld.com/live or watch below:
Oklahoma Christian vs. St Olaf | D-III College Championships