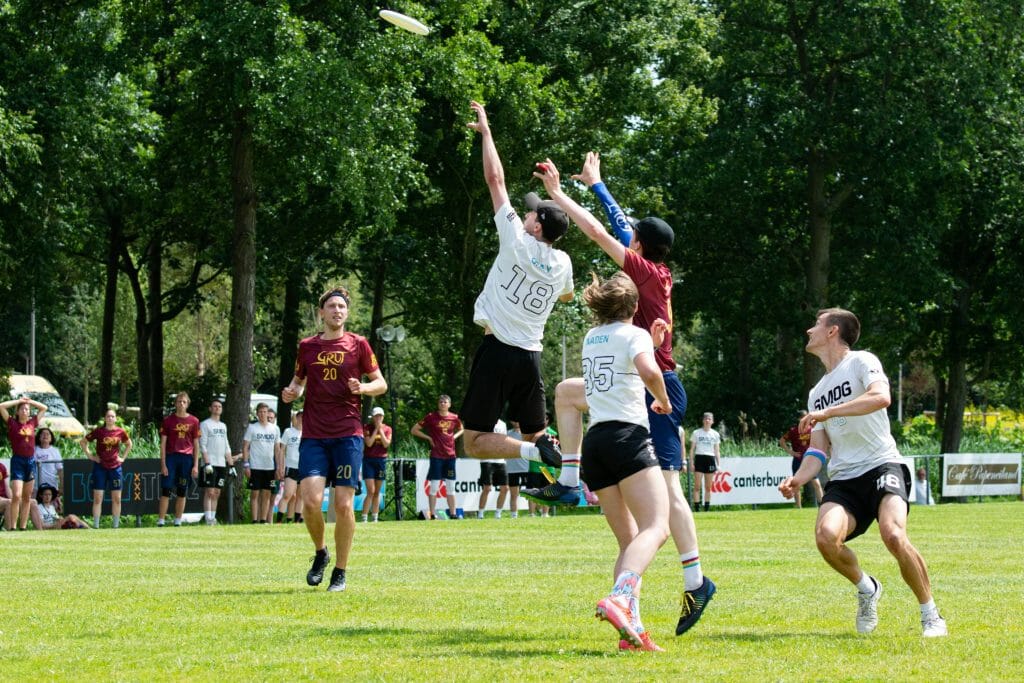 The first day of the return of Windmill played out under sunny skies and in high temperatures. The teams struggled at times at a venue with relatively little shade and several 3G pitches that soak up the heat. Still, there was a generally high level on show across all three divisions despite the heat and the swirling winds that made deep shots difficult at times.
There's storylines to watch in all three divisions as we head into the final rounds of the Swiss draw and the start of bracket play tomorrow. Let's summarize.
Primadonna Girls thrive
As expected, Primadonna Girls (Denver) set the pace in the women's division. Routine wins early in the day over NL United (Dutch pickup team), FAB (Bern) and Enraladas (Lanzarote) set them up at the top of the Swiss draw, and a 13-10 win over a strong-looking 3SB (České Budějovice) means that at the end of day one the Americans have nearly double the ranking points of the next-highest seed in the draw (10.6 to 3SB's 5.7). Next up is fourth-ranked German team Seagulls (Hamburg), which beat Flame (Dublin) 15-10 in the first game and then had three consecutive draws against SCRAM (Scotland), Enraladas and 3SB. The odds favor Primadonna Girls to keep their run going (unless they dive into this evening's party far too enthusiastically).
Lower down 3SB, Enraladas and Seagulls look like the best bets to make semis with FAB doing well and SCRAM a relative surprise package in sixth. The top six all player each other in the final game of the draw tomorrow.
Parity at the top of mixed
Coming into the weekend it appeared as though the American teams might be the favorites in mixed as well. At the end of day one, both American teams1 are in the top three but their paths have not been as smooth as might have been expected. Waitlist #1 (Seattle) defeated BN1 (Brighton) comfortably and then topped Valhalla (Stockholm) on the stream, but lost to European bronze medallists PuTi (Helsinki) 12-11 in the last game of the day, a shocking result given how good Waitlist had looked up to that point. That gives PuTi three wins from three but, given the close game and the fact Waitlist had won heavily in its first two games, means they still rank behind their foes in the coefficient.
Third is NC Southern Hospitality which had good wins over three teams but didn't get those results by the kind of scores one would expect of a potential champion – five points, four, and five. Tomorrow morning Southern Hospitality will play PuTi in a streamed game that will tell us a lot about the three teams at the top2.
Below them is SMOG (Manchester) and GRUT (Amsterdam) in that order, likely down to the game between the two. SMOG came from behind to win on universe point, sending out a D line that generated plenty of turns but struggled to execute until finally punching one in. This was the matchup that anyone who pays attention to European mixed was hoping for, the reigning European champion against the UK champion that couldn't make it to Bruges for last Euros. It lived up to that hype and hopefully both teams will be able to get into position to see more than one repeat over the course of the season.
Monkey (Grenoble), SMOG Rising (Manchester) and Ambush (Goa) all had strong days too and round out the top eight.
Top open teams vie for supremacy
Clapham (London) came in as favorites despite the recent form of Iznogood (Noisy-le-Sec) and their star American pickup, Joe White. Izno suffered an early loss, though, to Chevron (Manchester) just as they did at Tom's Tourney. Izno recovered there to win the tournament. In the last game today the French team drew 13-13 with a vengeful Clapham3 in a match that swung back and forth several times and ended with an Izno hold to secure the draw despite Clapham's D line getting the disc back. Both Chevron and Clapham won close games against Czechs FUJ (Prague), 9-8 and 11-9 respectively, meaning Chevron finish the day in top spot, Clapham second and FUJ third ahead of Izno. Fifth is the other team that looks in with a shot to make semis here, Mooncatchers (Brussels) which lost 13-12 to FUJ in the second game.
This sets things up nicely for tomorrow morning. FUJ plays Izno, the UK teams match up and Mooncatchers play seventh-ranked Guayota (Tenerife).  This is the final round of games before the bracket starts for the open teams so will have a huge bearing on who makes the top eight, with the top ten all playing each other.
WUCC watch
As mentioned yesterday, there are plenty of teams that are going to Cincinnati next month. Those discussed above are all doing well, but others are having a more mixed weekend. Dublin Gravity and Spice (Nottingham) are both in the bottom five of the women's division but Spice has a final game that will help them rise with a win, eighth-ranked Panthers (Bern). Gravity plays NL United and may already be looking at life outside the bracket.
Ranelagh (Dublin) and Force Elektro (Amsterdam) are the only WUCC teams in the bottom half in open. Ranelagh plays higher-ranked AUC (Amsterdam) tomorrow so could yet climb up but Elektro plays a lower-ranked team in PirU (Prikanmaa) so is unlikely to climb much. The bracket may be beyond these teams, too.
In mixed Pie Wagon (Newcastle, AUS) is the lowest-ranked WUCC team at 27th of 40. After that, Deep Space (London) is ranked 22nd and Valhalla 21st, so the 12 European WUCC teams are all in the top 22. That means pretty much all of them have at least an outside shot of getting into the top few teams with two rounds of Swiss draw left in mixed as opposed to the one in open and women's. Waitlist plays SMOG tomorrow morning in a game that will be meaningful at the top, and there are a number of games lower down that could effectively serve as eliminators.
For now, though, attention turns to the most important competition of the day: the beer race. Updates to follow tomorrow.
---
Not including EuroTrash and Rainbow Brigade which are more international, though both are doing well at ninth and tenth respectively. ↩

You can watch here courtesy of Ulti.TV. The game starts at 9am CET/3am ET and will be available to rewatch immediately. ↩

Iznogood ended Clapham's run at Tom's in the semis. ↩