Both teams have been eliminated from medal contention, but still put on a show to wrap up pool play.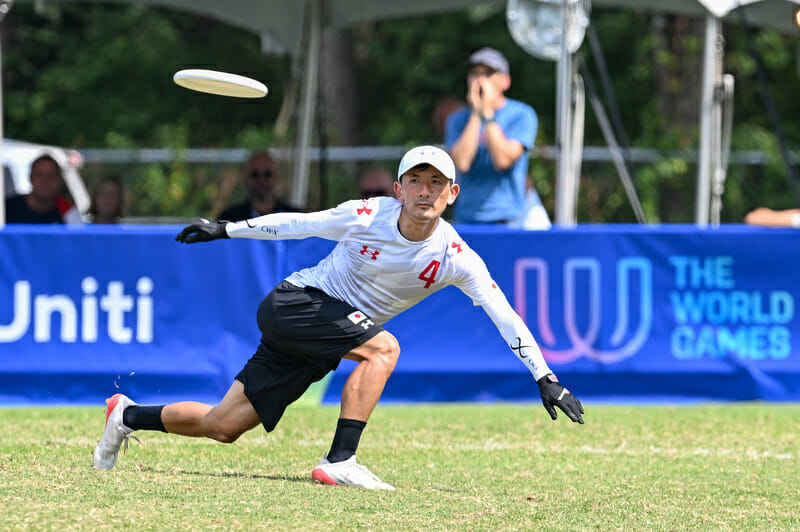 Ultiworld's written coverage of the 2022 World Games is presented by Spin Ultimate; all opinions are those of the author(s). Find out how Spin can get you, and your team, looking your best this season.
Japan and France were both eliminated from medal contention on Day 2, relegating the stakes of their Day 3 contest to pride alone. The level of skill and effort on display, however, did not drop off in the slightest. France clawed back from a three-break deficit to force universe point. The trigger-happy Japanese, led by Kazuki Asada's six assists, proved too potent in the end, and they salvaged a 13-12 victory.
Both teams' intensity was evident from the outset. The French offense cut quickly and threw early, raising the pace of the game to a sprint. Sullivan Roblet, who has been having something of a breakout tournament as a deep threat, showed off his chops as a thrower with a balanced outside-in forehand to Céline Antoine. Tight one-on-one contests for the disc followed on Japan's first offensive point. First, Kaede Yoshida and Eva Bornot – two of the most exciting players of the tournament so far – rose as one for a huck, each coming to the ground with a firm grip on the disc.1 On the restart, Akifume Muraoka reversed his away cut to meet a short throw and absorbed heavy contact from Quentin Roger, who had taken an all-out sprint to beat him to the spot.
Japan would continue to play well in the air. Taiyo Arakawa extended above Roger in the end zone to break up a huck. That set the stage for Masahiro Matsuno, who sized up Hiroaki Kitao's matchup and let fly a high forehand. Kitao rewarded his confidence with a highlight-reel sky. France responded to the momentary turmoil with some solid holds – Gael Ancelin and Vincent Lepagnol made the throws required by the situation – to keep the game close.
Meanwhile, Japan started to lean into a huck-heavy strategy. "We wanted to play bigger," said Yoshida. "So it was good." No one internalized that strategy better than Asada, who seemed unable to view any path to the endzone as too fraught to try. He fired quick continue backhands down the line, his standstill flat forehand carried the full force of a trebuchet, and, in the grand tradition of Japanese ultimate, he was always ready to wrong-foot the defense with a blistering crossfield arc.
Not to be completely outdone by his talented proteges, Matsuno supported the defense with timeless athleticism and cool decision-making on offense. The World Games stage seems to belong to him, and (to editorialize for a moment) getting to watch him play is one of the genuine pleasures of covering an international tournament of this caliber. He is an inspiration to his teammates. "It's an honor to me [to play with him]," said Yoshida. "I learn so much from Matsuno, and I want to be a better player because of him." Behind the play of Matsuno, Yoshida, Asada, and Yuko Kashino, Japan took a three-break lead into half.
France, however, were in no mood to give up the game. After Yoshida assured herself of yet another day on the tournament highlight reels with a huge two-handed layout catch to extend Japan's lead to 9-5, France began to chip away at the lead. Roger and Lepagnol reached into their bag of tricks to spur France's offense on with some creative throws. Lison Bornot excelled downfield in playmaking situations, as did Mathieu Bosser. The latter caught a scorching Roger hammer in traffic as part of a three-goal run to bring France within one goal.
"Quentin [Roger] is an amazing player," said coach Nasser M'bae Vogel. "He manages the big situations well."
The play of the match, however, belonged to Gael Ancelin. Needing a hold to keep the game alive, France worked the disc to midfield. From there, Lepagnol looked for Antoine deep. It would have been a good look, but he lost his grip just before the release, and the disc wobbled like a wounded duck near the front cone. Ancelin had been much shallower on the open side, but he rushed to save the disc, plucking it from two Japanese defenders as he tapped his foot between the lines. After France saved their hold, a Japan mistake gave them the opening they needed to tie the game at 12-12.
Taku Honna took the centering pass on universe point and simply waited for the inevitable deep cut. Sure enough, Arakawa took off straight backwards and chased down Honna's laser shot to bring Japan to the goal line. Enter Asada. He collected a cramped reset and stared down the breakside of the field. A backhand fake sent Roger to the ground. A second later, Arakawa collected the flat inside flick for the Japanese victory.
Emotions ran high as the game reached its climax.
"It was so intense. So intense. I was getting nervous because it was such a tense game," said Yoshida. "But we won, so it's okay."
"There's a lot of frustration, because since the first game against Australia we've had the feeling we can beat any team in the group," said M'bae Vogel. "So when you lose against Australia on universe and you lose today on universe… The team is not here to learn. We want to show the world that we are a really good nation at frisbee. We did the job, but we needed to finish the job well."
In spite of pool play elimination, the future for both Japan and France looks very good from this vantage. For France that means Roublet, Coralie Fouquet, and (especially) the Bornot sisters. "It's crazy how young [Lison and Eva Bornot] are and how they can match up with the big names in the world… I'm very excited to see how good these two girls are over the next couple of years," said M'bae Vogel.
Perhaps in a couple of years we will see them cleat up for another heavyweight battle with Yoshida and Kitao.
---
They sent the disc back when they couldn't agree who took first possession. ↩