Celebrating some of the top players in Europe ahead of WUCC.
The 2021 season in Europe was a strange one. The ongoing pandemic meant that there was really only one European tournament that counted and meant that preparations for the 2022 season were pushed back slightly. So far this season it's been back to something like normality, but in the rush to get back to that normality we missed the opportunity to recognize the best players on the continent in 2021. With WUCC around the corner and many of these players preparing to face the best in the world, let's go back and hand out some flowers.
Player of the Year
WINNER: Lola Dam, GRUT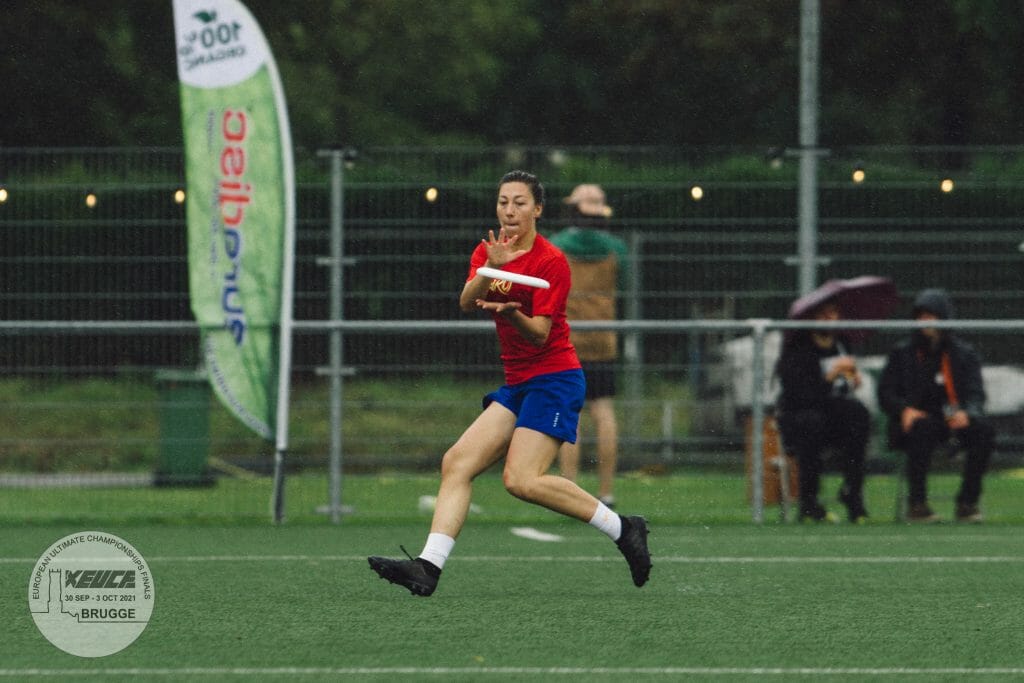 Lola has been one of the best defensive players in the mixed division for years now despite being only 22. She's won Defensive Player of the Year before and been picked on All-Europe lines, but last season was the one where she cemented her place at the top of the division regardless of role. GRUT has been running two D-lines with different personnel on each, with one exception – Lola. She is a key part of the offense once the European champs get a turn, and she is as relentless on offense as she is when guarding the opponent's best player. Being as young as she is, there's plenty of time for Lola to continue developing her game and getting better. That's a scary thought for the rest of Europe, but her ability to dominate games now will be one of the things occupying the minds of opposing coaches in Cincinnati next week.
GRUT captain Ben Oort was very on board with the pick: "What can I say about Lola? I totally agree with this award! She's just an all-rounder, she's probably the most athletic player in the mixed division, she's probably in the top three fastest players in the division so she's really difficult to guard. Then she also has stamina like no one else, she's on both D-lines so she plays every defensive point and then when we need her on O we can put her on and she's also one of the best players on offense.
"She's taken on some leadership roles this year, she's the whole package and she's showing all the female-matching players in Europe that they can really be a dominant player in the mixed division."
Runner-up: Floor Keulartz, GRUT
Floor is another former winner of European awards, winning POTY in 2018 as a 19-year-old. She's one of the most unstoppable offensive forces in the mixed division, combining elite athleticism with an understanding of the game that can only be developed by playing at such a high level from such a young age.1 She used to be a deep cutter who would roast people, but now if she's forced underneath she can pick teams apart with the disc too. That athleticism translates to defense as well, as she can guard the opposing D-line's best threat after a rare turn. She and her teammate Lola are going to cause problems in Cincinnati and for years to come.
Offensive Player of the Year
WINNER: Walt Jansen, GRUT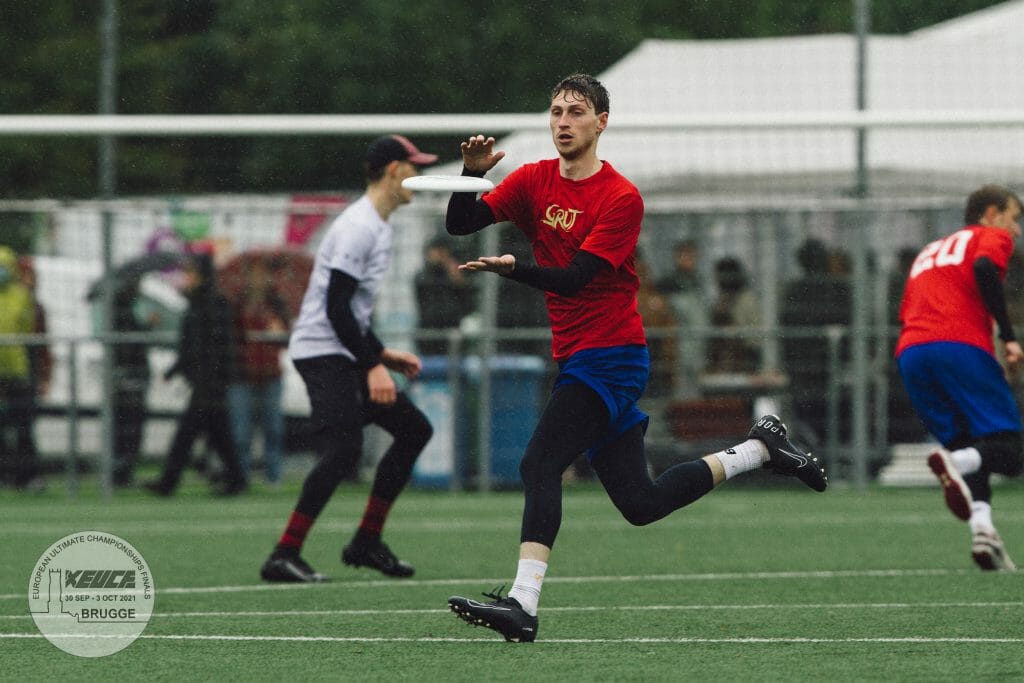 Another award, another GRUT win. Walt has also been one of the best players around for a while, and has been in the awards discussion before. He's been a difficult cover for years, and was outstanding as the Dutch team secured the EUCF title in 2021. His mixture of height, speed, throwing ability, and smarts makes him a cheat code for GRUT and his synergy with teammates Floor Keulartz and Ben Oort is a force multiplier for all three. This season he's also going to take his talents to the south side with Chicago Machine so that American club teams can see for themselves what Europe has been struggling to deal with for years.
Oort said of Jansen: "He is unbelievably quick, I don't think I have ever played with someone quicker in the first 10 meters than him. Then he also has developed great throws over the years so he is the perfect double threat. You've got to back him and then once he gets under he's got all the throws. Even on our team there's no real matchup for him so in practice it's just the nightmare matchup. I can imagine for other opponents it's a difficult one too!"
Runner-up: Erkka Niini, PuTi
Niini has been one of the standout offensive players in Finland for years, previously starring for Otso and the Finnish men's team. Since moving into mixed with PuTi, he has added a bit of everything to the offense. He brings physicality with his height and speed, but his ability with the disc makes him a well-rounded threat. PuTi as a team are steady, reliable, and grind opponents down. Niini embodies that spirit and will be the first person that defenses look to slow in Cincinnati.
Defensive Player of the Year
WINNER: Lāsma Kublicka, Salaspils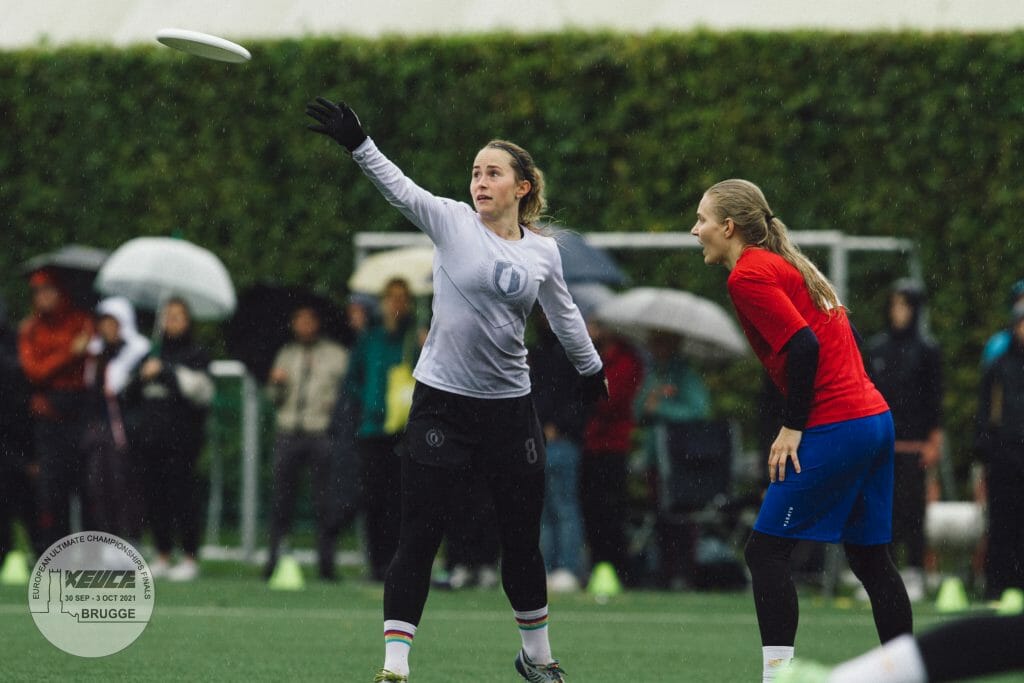 Kublicka is a previous winner of the POTY award, but last season turned her hand to the defensive side of the disc at key moments. Her battle against POTY runner-up Floor Keulatrz in the xEUCF final was the stuff of legends; two of the best players on the continent going toe-to-toe, swinging metaphorical haymakers at each other with big play after big play. She was beaten a few times but made her mark against one of the best players around, and was crucial for the Salaspils D-line when they got the disc off the Dutch stars. There isn't anything that a good player needs that the former Eurostar doesn't have in the toolbox, and she showed off that complete game yet again in 2021.
Teammate Toms Albetins said: "Her mindset is 100% all the time to go and get the disc, she lays out trying to make catches and doing everything she can to win. Her mindset is just to win, she is very competitive and demanding of her team. Even indoors she throws herself around a lot. She is a big personality like all the great players, they are big personalities and she's like that as well."
Runner-up: Roni Hotari, PuTi
Another former Otso player, Hotari has been a key defensive piece for Finnish teams for some time. He offers the ability to lock up handlers but also play smothering defense downfield, throwing himself around for layout blocks in key moments. His ability to take huge matchups and thrive makes it easier for his teammates, as does his pulling ability. He's the kind of player a D-line can be built around and he figures to be central to PuTi's hopes of reaching the top eight at WUCC.
Breakout Player of the Year
WINNER: Jonatan Angergård, KFUM Orebro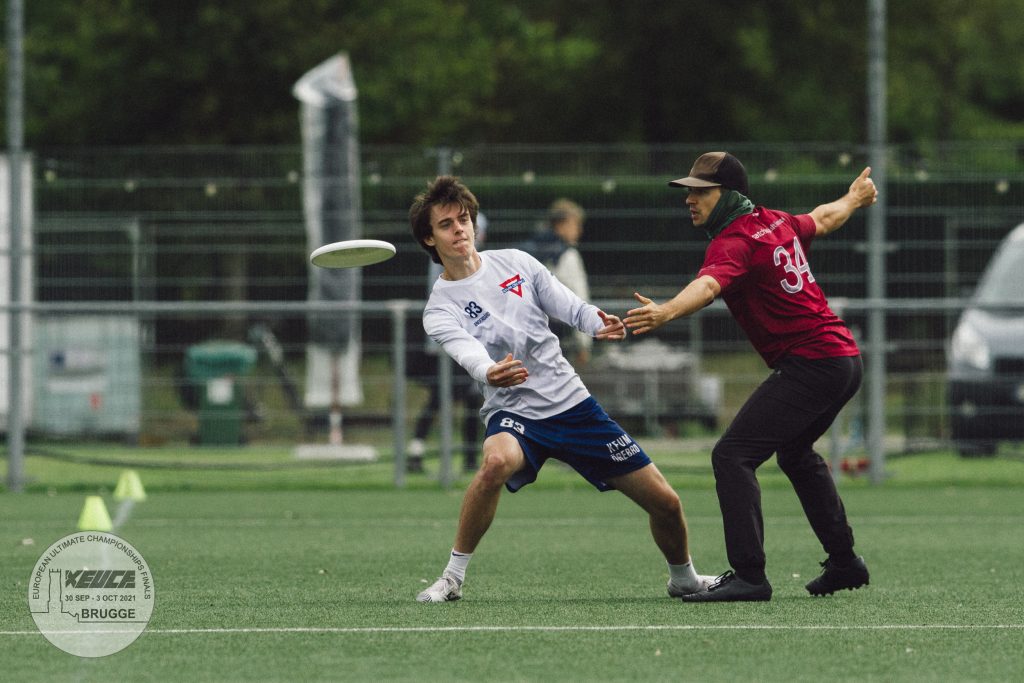 Despite a difficult tournament for his team, Angergård stood out as a player of huge talent in Bruges. His ability with the disc meant he could control his team's offense, and defensively he had the ability to challenge anyone he was marked up against. Playing both ways took its toll eventually, but he showed enough throughout the tournament that it's clear he has the ability to mix it with the best in Europe. He and sister Alva will be central to the fortunes of both club and country in the near future.
Teammate Simon Åkerling said: "To play with Jonatan is always a treat, his awareness on the field let him be a player you never can relax from. He may not be the noisiest of guys, but he instead shows his ability with the plays he makes, he has gotten us out of some sticky situations. It has been a treat so see this young skinny kid develop to one of Europe's top players in recent years."
Runner-up: Bruno Jurginsons, Salaspils
Another defender who played a key role on the Latvians' D-line in Bruges, Jorginsons drew the Ben Oort matchup in the final at xEUCF. His play in that game to limit Oort and make things difficult for the Dutch star marked Jorginsons as one to watch for future years. Despite giving up some height to Oort he was able to use short-space quickness to challenge him in the handler space and his smarts to take away lanes and push the offense back. He was also a steady hand as a D line handler, driving the Salaspils offense in their semifinal win over PuTi.
---
She started playing 13 years ago and yet somehow is still only 22 years old. ↩