Teams that settled in quickly and held their nerve find themselves in a good position after Sunday's pool play.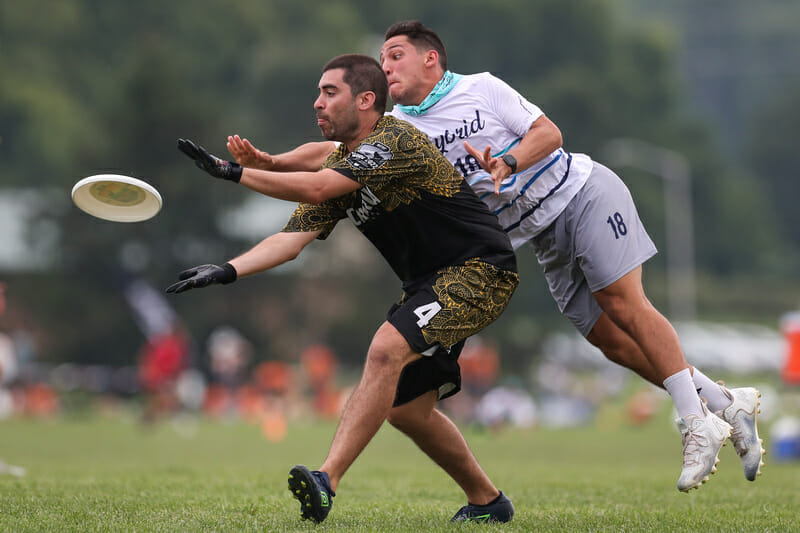 LEBANON, OH – Day 1 in the Mixed division was dominated by a simple mantra, 'Calm down.' Nerves sounded throughout the early exchanges of games as preparation and strategy took a backseat to adrenaline. We saw a lot of games start closely contested, before a coach or senior figure stepped in to remind their squad to take a breath, let the moment wash over you, and then get to business. This led to a lot of second-half blowouts, with an occasional battle to the bitter end.
In the end, all of the top teams held seed on Sunday and set themselves up well for the knockout rounds, while in some groups we had a few upsets as the generally mercurial Mixed division reacted to the squad changes that have happened across teams and around the world.
The division starts with two and a half days of round robin pool play. The top three teams in each of eight six-team pools will advance directly to the bracket, while the next two in each pool will play a crossover Tuesday afternoon to fill the remaining eight spots in the bracket. Below Laura and Lorcán break down all the action from the first day of pool play.
Pool A
Tournament top seed Seattle BFG (USA) rolled both Medellín Macando (COL) and Seoul Baehko (KOR) 15-6 and 15-3 respectively. We knew they would do that. Their offense made few mistakes and contributions were spread across the squad, speaking to the depth and intention of the reigning champions.
Santo Domingo Meclao (DOM) surprised people. Despite being the pool's bottom seed coming in and only one two-hour practice with the full roster before the tournament, they evidently pulled together a group of players who could work cohesively, supplementing their Dominican base with some very strong pickups. They had two impressive victories against Karlsruhe Colorado (GER) 15-101 and Macondo 15-11. In response coach Stephen Ierardi said, "We know we came in underseeded, but we don't know what our ceiling is." They'll face a true test of their upper limits tomorrow against the also undefeated Catchup Graz (AUT).
Catchup Graz had a relatively easy opener against Baehko, winning 15-6. In their second matchup of the day, Catchup needed to prove their mettle. After going down 8-6 in the first half to regional rivals Colorado,2 the Austrians looked shook. However, some calming words from their coach and some stellar play from the always reliable Valentine Fischer3 among others saw Catchup respond with a 3-0 run to take the lead after the break. Once they had the lead they never looked back. Coach Jan Bobinec explained: "The crucial adjustment in this game was to calm them down." A mantra several more teams would learn to apply throughout Sunday.
Winless Colorado are a few bad runs away from being undefeated themselves,4 and they'll need to build some consistency before facing off against the San Montagno-led Macondo, who are also searching for their first win.
Pool B
Ann Arbor Hybrid (USA) are taking nothing for granted, starting their week by pouncing on an early mistake by SUFC Valhalla (SWE) to break for the lead at 4-3 courtesy of Mya Hernandez and Justin Perticone and never looked back, seeing off the Swedes 15-8. They went into their second game with the same ferocity. Despite big defensive moves on Montevideo Charrúa (URY), who at one point in the game claimed a two-point lead against the powerhouse Americans, Hybrid cleaned up their play and the team from Uruguay could not keep up.
Winnipeg PBHG (CAN) also went undefeated on Sunday, though through the first few points of their inaugural WUCC excursion it looked like it could have gone the other way, as they went 5-2 down to Charrúa. The Uruguayans were having it any way they wanted, with crisp deep shots and cracking give-go play. Once more, the mantra of 'calm down and take a breath' was necessary as the Canadians took a timeout, refocused, and returned with a fresh delivery of "The Pain," going on an eight point run before finishing off their opponents 15-7.5 The Canadians also did some damage on Durham SMOG Rising (GBR), a team who looked young, scrappy, and hungry to score, though they could not seal the deal.
Eintracht Frankfurt (GER) started their day out with a loss against the B-team from England, Smog Rising, chalking it up to it being from nerves of the first game of the tournament. They faltered throughout the first half but grew better in the second, though it was too late at that point. They made adjustments that went into their next game against Valhalla and gained more momentum near the end of the game, winning 15-11.
"It's a growth for the team as we continue to get experience. We get to play these other teams here, our squad gets a bit more confident that they deserve to be here and can play against these teams and it doesn't matter who they are, it's a game of Frisbee," said Eintracht captain Daniel Tanner. "At the end of the day, we need to believe in our systems and what we want to be doing."
Charrúa made a habit of starting strong, but will need to find more stamina if they hope to fight through to the power pools against Eintracht Frankfurt and SUFC Valhalla.
Pool C
Seattle Mixtape (USA) did exactly what they came here for. With a star-studded roster – including Khalif El-Salaam, Bert Cherry, and Alexa Romersa, to name just a few – they were bound to do so. They went down against Reading Ultimate (GBR) throughout the entire first half of the game, but after tightening up lines and recognizing the male poaches, they only allowed the Britons two points in the second half with a final score of 15-9. The adjustments they made also carried over into their second game against Hong Kong Fireflies (HKG), who they beat 15-3.
Fireflies were unlucky to lose their best player, Sonny So, several points into their first game of the day against Wollongong Krank (AUS). The team from Australia only allowed two points against them in that game, as the Hong Kong squad struggled to cope with a clear height disadvantage. Krank lost their second game against Tokyo IKU! (JPN), 14-11. The game started off trading clean holds with hardly a turn in sight. However, after Krank made a drop in the end zone, the tides turned in IKU!'s favor. They started to pull away early in the second half and seemed to capitalize on almost every mistake the Aussies made down the stretch.
It was a similar story for the team from Japan in their opening game against Alligators Masi (ITA). The Alligators came in strong and at one point went up a few breaks. IKU! answered back, going on a seven-break spree and ended up with a 15-12 victory to start their tournament 2-0. The Italians meanwhile slumped to 0-2, falling to Reading 15-6 in the afternoon session.
Pool D
Madison NOISE (USA) dominated both of their matchups today, despite the best efforts of Toronto Union (CAN). Every time the Candians mounted a comeback, the Americans re-extended their lead, coming out on top 15-10 in the end. NOISE proved their dominance in their second game against Mexico City Condors (MEX), squashing any hope the Mexicans had early with a 15-4 win.
London Deep Space (GBR) were the other undefeated team in Pool D, opening their campaign with a 15-10 victory over Condors, which Ultiworld subscribers can watch here. Deep Space's success could be in part due to their main handler Akito Oyama, who sits atop their assist chart with nine, and their deep threat Alvaro Iturmendi, who had eight goals. They claimed a victory over Mainz Mainzelrenner (GER) with a second-half pull-away 15-12.
If Panama Two Oceans (PAN) had any nerves about being the first senior team to represent their country on the World stage they didn't show it, starting off by breaking Mainzelrenner twice in a row. The Germans responded by leaning on their experience playing together, and equalizing the game. The teams traded two-point runs to 6-6 before the Panamanians took a time-capped half at 7-6. It was then that Panamanian Spirit Co-Captain Tyler Sinjin Mead Fong organized a 'Calm' chant. Turning their style from Atlantic to Pacific, Two Oceans took control of the second half and won 13-8. Two Oceans definitely also gave Union a run for their money, finding themselves ahead by one or two breaks for a majority of the game. Yet, Union came back at the last minute with a run that saw them finish up two breaks to end the game as soft cap went off, with a final score of 11-9.
Pool E
Vancouver Red Flag (CAN) opened their campaign with a surprisingly competitive matchup against Paris Universite Club (FRA). William Vu – five assists and one goal in the game – is proving himself every bit as dangerous as rumors whispered he would be, but the Parisians have a lot to be proud of after sticking close to the top seed in the first half, before Red Flag pulled away to win 14-9. Red Flag also showed Bologna Red Shot (ITA) no mercy, leading the whole game and not letting up, ending with a sizable lead 15-5.
Durham SMOG 1 (GBR) spent the day confirming the legitimacy of their upper echelon credentials, drawing on their combination of depth and experience to beat young Italian upstarts Red Shot, 15-4. SMOG continued winning against Santander Voltaje (COL), with smaller margins but a comfortable lead nonetheless, 15-10, showing that they can hang with strong opponents and still get a victory.
Voltaje engaged in an always entertaining battle of hucks with Crazy Dogs Stans (SUI), keeping it relatively close in the first half, taking the lead 8-6. Unfortunately for the Swiss, they struggled to convert after catching their hucks and offensive errors outside the end zone mounted, allowing the Colombians to run out 15-9 winners. The increase of the wind became a factor in Crazy Dog's game against PUC Ultimate, and they could not compete with the Parisians, with a final score 15-8.
Pool F
Both Amsterdam GRUT (NED) and Montreal LAB (CAN) took care of their business today. Both sides unloaded on Brussels Owls (BEL), beating them 15-5 and 15-6 respectively. LAB similarly dismissed Zurich FucZH (SUI) 15-8. The top-seeded Dutch had more difficulty getting past Tokyo RATELS (JPN) on the showcase pitch. The first half was filled with errors on both sides as the Dutch and Japanese sides struggled to settle in. However, GRUT showed the mettle they spent the past four years folding into their ranks, slowing down, focusing on open unders, and winning the game 15-10. "D-line saved our ass," Ben Oort commented after the game. "That was a typical opening game for us; that's the type of game we would have lost four years ago."
These results set up a tantalizing gunfight between LAB and GRUT tomorrow morning as two teams harboring quiet ambitions for a deep run in the knock-out stages.
FucZH were more successful in their opening match against Bucaramanga Zen (COL), as they took advantage of their experience playing together to overcome the less cohesive Colombian side 15-10. The early exchanges were terse, with both teams fighting hard to establish themselves in Cincinnati, but as the game wore on, the training Zurich put in as a full squad this year shone through, and they won 15-10. FucZH coach Steve Bonneau explained, "We have put in a lot of work since last year, so it's great to see these players get the win they deserve."
Pool G
Brisbane Lunch Box Ultimate (AUS) were the only certainty in a tumultuous Pool G. The Aussies opened their campaign with a comfortable 15-7 victory over Grenoble Monkeys (FRA), before dispatching Chennai High Tide (IND) 15-3. Coaches Anson Chun and Brie Edgar were satisfied with the performance, but hesitant to look too far ahead. "Getting out of the pool was our first goal and after that…anything can happen in quarters, semis and finals," said Chun, "especially in the Mixed division where a lot of teams chop and change a lot."
"We're really interested to see how the weather impacts different teams in the tournament," added Edgar.
Weather was very much an influence on the performance of Tokyo CRAZY (JPN), whose sagging marks and 2-3-36 zone proved a trying challenge for teams in the wind gusts, but struggled to keep opponents locked down when the elements relaxed. Their 15-10 victory over High Tide exploited the Indians inexperience playing with each other, utilizing miscommunication and hesitancy on the part of High Tide to counter their impressive individual talent. In their scintillating universe point match-up against Singapore Otters (SGP), Singapore came ready for the Japanese with a well drilled strategy to cut through their zone, trading to 7-7 before taking a commanding 12-7 lead. Then the winds of change showed up and suddenly the Singaporeans couldn't fight their way through the CRAZY zone quite so easily, allowing the Tokyo team to fight back to 12-12.7 As one final middle finger to destiny, the gusts departed for just long enough to allow the Otters to finish the game with an arcing Gregory Phua flick across the pitch to Shia Bing.
Bottom seeded Copenhagen Njord (DEN) spent the day throwing shots downfield and spanners into the seeding of Pool G, led by Mads Gottlieb and Rikke Roervang. They were focused on "playing what comes available" and that seemed to be mostly hucks when they came up against Otters. The combination of defensive looks and offensive pressure from the Danes saw them beat Otters 13-8, before engaging in an intense battle with Monkeys. The French met fire with fire against Njord and spent the first half trading before Njord took it 8-7. However the second half belonged firmly to the French as Monkeys lifted themselves from the sideline and kept their hopes of holding seed alive to win 15-12.
In a group littered with close victories and open to a wide range of possibilities, High Tide were the only team to come away from day 1 without a victory. However, they seemed to improve with each point they played, slowly gelling more and more as a unit. Lunch Box coach Anson Chun put it best when he said, "I'm glad we get to play them today."
Pool H
Helsinki Pussin Tiristäjät (FIN) came in at the top of their pool and stuck to that. They went up with an early break against Freiburg Disconnection (GER) and kept scoring. Disconnection made a couple of runs themselves, but was never able to fully catch up to the Finnish team. In their second game, PuTi matched up against Buenos Aires Hammers Ultimate (ARG); the eponymous Argentines did their flashy best to stay close early on, but bracing against the cold precision of the Finns they could only hold on for so long before PuTi took control and won 15-7
Despite their afternoon outing, it's clear Hammers Ultimate did not come to WUCC to mess around. As the only team from Argentina, they had their country to carry on their shoulders, giving their opponents a run for their money. In their game against Bogotá D-CRASH (COL), they took half with a three-point lead. It took a while for the Colombians to get their heads on straight and this delay caused them to almost lose to the second lowest-ranked seed in their pool. However, as soon as D-CRASH whipped themselves into shape, they were able to gain a few late-game breaks and ended up with a winning score of 12-11. They carried this momentum through to their match-up Newcastle Pie Wagon (AUS) where they tossed aside the plucky pastries 15-8.
In their opening game Pie Wagon and Vienna W.underteam (AUT) took turns trading both holds and breaks. However, W.underteam started to pull away and the Aussies could not keep up, eventually falling 15-8. Unfortunately for the Austrians, their momentum stalled against their familiar foes from Freiburg, whose reputation as a 'second half team' shone through as they saw off their old rivals 7-2 following the break in their matchup.
---