The Power Pools are sorted, with advancement secured and other teams headed to consolation.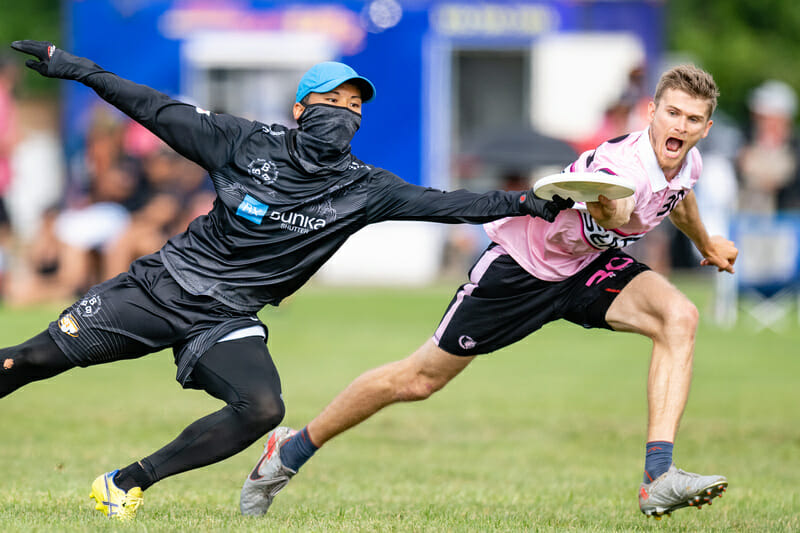 LEBANON, OH — Tuesday was moving day for the Open division at WUCC. Teams in the Power Pools played cagey games, seeing how they measure up against more difficult competition, while the Lower Pools duked it out to keep their dreams of making the bracket alive.
Fun fact: There were 11 games today in the open division that were decided by one point. Eleven. There were only 40 total games played today in the division, meaning over a quarter of the games played today in the open division were decided by one point. This is absurd. And we hope it continues on Wednesday.
Frustrations Flare in Francophone Faceoff
Ultimate is not always a pacifist sport. During the Noisy-le-Sec Iznogood (FRA) vs. Montreal Mephisto (CAN) game, there was a scene resembling an MLB mound rush that resulted in a surprisingly deep moment of camaraderie between the two squads.
The game was physical to begin with, and frustrations were setting in. During a particularly contested point, a defender earned a huge block on the goal line and immediately faced his opponent to taunt them. Following this, the taunter was blocked on a deep strike, and the first team scored a hold. In celebration, a disc was spiked very close to the head of a bidding defender, and we can only assume that the player's Friction Glove came off at the same time, because the gauntlet was thrown, and players from both sides took to the field to defend their honor. During the ensuing scuffle, participants got physical, and players had to be separated to prevent the situation from escalating.
After nearly two minutes of chaos, a spirit timeout was called and the players timidly gathered into a circle to try and reconcile the situation. I have no idea what was said, but it seems to have worked, because by the time the players dispersed, it felt as though all the tension on the field had been completely diffused. Mephisto went on to win by the count of 15-13.
As everyone returned to the sidelines, members of both teams were joking with one another and reenacting the very altercation that had just broken out. To say it felt surreal would be underselling it. One minute the field looked like the gang fight scene from West Side Story, the next everyone was making up and shaking hands.
It's not uncommon for tempers to flare in a tight, physical match like this, but actual fights are incredibly rare. Still, they do happen, and it's good to see that players are willing to look past the ugliness of it all and prove that spirit still counts for something in ultimate frisbee.
Where Did You Come From, Cotton-Eye Sho?
Sho Okajima has been something of a mystery this whole tournament for those not intimately familiar with Japanese ultimate. On the first day in Cincinnati, the centerpiece of the Rascals (JPN) notched 21 assists. Now, through Day 3, he has 47 assists and six goals, breaking the 50-point mark not even halfway through the tournament — by far the largest stat line in the division. It's the kind of performance that has sparked instantaneous memedom in the Ultiworld Discord1 and inspired reporter Jesse Strod to compose a haiku:
Sho Okajima
Is the best player alive
Where did he come from?
So, how does he do it? The Okajima brand of handling is a thing of beauty to behold. Regardless of where he is on the field, or where his teammate is cutting from, he has a supernatural ability to choose the correct throw, the technical skill to execute it, and nerves of steel to put it up, point after point after point.
The Japanese ultimate MVP when he was in college, Okajima is reserved, respectful, and always smiling. Despite his obvious knack for the game, Okajima is humble. "It's not me. It's because of my teammates," he said.
He deflected the compliment like a pro, but there is still a lot of truth to that statement. Rascals have made a concerted effort to build the team around their star player. "Most of us have been playing in Japan not only for a few months, but four years, five years playing with each other. So we know how Sho likes to pass, and he knows how to pass [to us]," said fellow Rascal Genichi Nakano. With so much time together as a unit, Rascals have built a lot of trust with one another. They know what their teammates are thinking without needing to say a word, and when Okajima has the disc, they know exactly where to go to get it.
Keep following along with Rascals, and we'll tally Okajima's final stat count at the end of the tournament!
Power Pools
Pool I
Raleigh Ring of Fire (USA) went 2-0 today, cementing their dominance over the field so far. They were challenged in both of their games but seem to be untouchable, winning 15-13 against both Toronto GOAT (CAN) and London Clapham (GBR). Thus far, Clapham has only been beaten by Ring and they look a strong contender to get to the semifinals.
On the other side of the pool, GOAT and Tokyo Nomadic Tribe (JPN) played one of the best games of the tournament so far, with GOAT needing an epic goal line handblock on double game point to beat the Japanese team. Nomadic Tribe have looked extremely solid in this tournament but they have fallen short of beating the elite teams, going 0-3 in Pool I. They'll be playing against Rascals (JPN) tomorrow, setting up for an excellent Japanese showdown at the midway point of the tournament.
Pool J
Pool J was wide open. Sydney Sunder (AUS) finished top of Pool J but not before losing on universe point to Iznogood, who were riding a wave called Joe White. However, it might have been just what Sunder needed to sharpen their focus for the rest of the tournament, proceeding to flatten CUSB 15-9 in their second game of the day without breaking a sweat. CUSB and Mephisto played a classic on the showcase fields, with CUSB pulling it out 14-13. In the last contest of the pool, Mephisto was able to top Iznogood to secure third place in the group. The story of that game was Malik Auger-Semmer vs. Joe White, which resembled more of a wrestling match than ultimate frisbee. When the bottom-place team in a pool beats the first-place team, you know it's a competitive pool, and the excitement we saw in Pool J is exactly what we hoped for coming into WUCC.
Pool K
New York PoNY (USA) looks every bit the title contender their seeding and reputation pointed to. They started out a little slow in the first two days, but looked unstoppable all of Day 3. Jimmy Mickle, Ben Jagt, and Jeff Babbitt were simply too big to stop, and they walked through both Portland Rhino Slam! (USA) and Brussels Mooncatchers (BEL). The pool finishes with PoNY in first and Mooncatchers in second, allowing them to skip the crossover round, while Rhino and Bogotá Euforia (COL) drop down to face contenders from the lower bracket.
Pool L
Just like Ring and PoNY, Seattle Sockeye (USA) have been excellent at WUCC so far. They are undefeated and their closest game so far has been a 15-11 win today against Tokyo Buzz Bullets (JPN). Not too shabby. Buzz Bullets, to their credit, have been great… just not as great as Sockeye. Their only loss so far is to the Seattle outfit and their closest game has been the 15-12 win they took over Berlin Wall City (GER) in their first game today. That score looks close, but Buzz broke early and the game always felt in their control even before they pulled farther away. Wall City came in third after they defeated Cape Town Mutiny (RSA) 15-13, while the South African squad finished fourth with an 0-3 record in the pool.
Pool M
Pool M is the first of the Lower Power Pools that we'll be mentioning today, and that means that only the top two finishers will remain in medal contention. In Pool M, Rascals (JPN) and Ghent Gentle (BEL) asserted themselves over Tenerife Guayota (SPA) and Tijuana Baja Ultimate (MEX). Rascals finished 3-0, bringing in their universe point win over Guayota before taking down Gentle and Baja, 15-12 and 15-10 respectively. Gentle put themselves in the crossovers with an easy 15-3 game over Baja, and a tougher 15-13 win over Guayota. Baja rounded out the group, with Guayota coming in third after grinding out a universe point win over the Mexican team. Even coming in fourth, Baja have a lot to be proud of and fight for.  "We are going to play every game as a competitive one and finish as high as we can," said coach Carlos Ruiz.
Pool N
Things have not been easy for Melbourne Ellipsis (AUS) this tournament. With the exception of being on the receiving end of a walloping by Clapham in their first game, Ellipsis have had nothing but close contests for the entire tournament. Day 3 was no exception, as Ellipsis found themselves in back-to-back DGP situations. "We started off with a really tight game against Ibagué URO Monster (COL). They came out firing," said Nicholas Whitaker, a New Zealand pickup for the squad. "We went down before half and then we were fighting back the whole way and managed to take that game on universe."
After a battle of a game, the Ellipsis starting seven was running ragged, but the hardest was yet to come. "A similar thing happened in the afternoon against the Wildcats … it felt good to play hard the whole way through and end up with a similar universe point victory," continued Whitlock. In short order, Ellipsis narrowly claimed the top spot in the pool, despite being just two points away from elimination. With Ranelagh having a great day, beating both Wildcats and URO Monster (also on DGP), they join Ellipsis in the crossover round.
Pool O
Københavns Frisbee Klub (DEN) and Glasgow Alba (GBR) will represent Pool O in the crossovers, but they did not win themselves a clear mandate. While Warao (VEN) finished 0-3 in the pool, KFK, Alba, and Heilbronn Bad Skid (GER) all finished 2-1. With Bad Skid beating KFK, KFK beating Alba, and Alba beating Bad Skid, WFDF had to dig into their tie break formulas to decide who would move on. Bad Skid will feel hard done by, but we all know that tie breaks almost never feel fair and yet ties always need to be broken to move forward with the tournament.
Pool P
The last of the Power Pools is Pool P, where Vancouver Furious George (CAN) were clearly the best team in the pool. Bringing in a tight 15-13 win over Pornichet Tchac (FRA), Furious dealt with Singapore Koels (SGP) 15-9 and then Birmingham Chevron (GBR) 15-11. Tchac finishing second in Pool P was the final example of the strength that was in Pool E, one of rumored Pools of Death.
After finishing fourth in Pool E, the French team dispatched Chevron 15-12 and then were able to pull out a defensive battle with Koels on universe, 15-14. Chevron finished in third place with a 1-2 record and Koels finished last in the pool with an 0-3 record.
---
A perk available for all Full and Plus Ultiworld subscribers! ↩