A continent-by-continent look at the teams remaining in the championship bracket.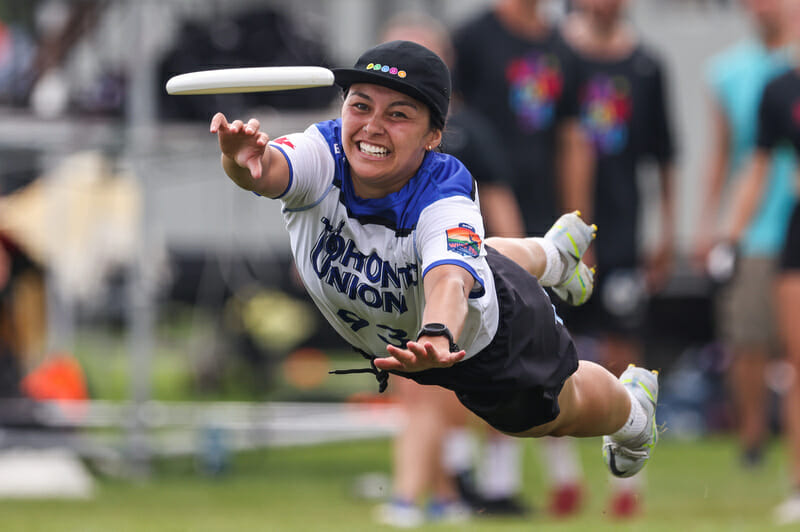 LEBANON, OH – In keeping with WUCC Ohio traditions, Wednesday saw the heavens open, and with the rain came the winds of change. A storm that has blown across the worlds stage and scattered the the competition in Cincinnati. Those left fighting for glory are not the standard fare, as unexpected upsets and inspiring runs see a more balanced international representation in the latter stages of the Mixed division than we have ever seen before.
There are throughlines in the stories about teams from each continent. Let's explore region by region to understand how we got here.
Eurovision
No European team has ever made the Mixed semifinals of a WUCC event. It's a fair reflection of the focus European clubs have traditionally put on the Open and Women divisions. After today, the continent is guaranteed to break that streak. Reading Ultimate (GBR) and Helsinki Pussin Tiristäjät (PuTi) (FIN) will face off Thursday at midday to see who will make history for a continent defined by it.
There are few clubs in Europe that are committed to playing the Mixed division primarily, and it has shown on the international stage. However, for those that have dedicated themselves to the division, the rewards are starting to come in like a summer storm.
PuTi have fulfilled the challenge of holding seed as a pool topper, though it has not been an easy route for them. Two universe point victories — one over Bogotá D-CRASH (COL) in their pool, and again Wednesday afternoon when facing Montreal LAB (CAN) — show the mental toughness hardened across a season filled with close matchups.
"We've had so many tight games in our preparation in Windmill and here as well," explained captain Jarno Sihvo. "We went to the universe and had to work our asses off because we took a few blocks there as well."
Working your ass off as a collective is an ability that only comes through experience and trust. Two things that LAB tested time and again throughout the prequarter, chipping away at the 4-0 lead PuTi stormed out to and grimly held onto for the rest of the game. Tomi Sandburg orchestrated from the backfield, marshalling the enduring efforts of Maija Leino, Erkka Niini, and Eerika Kauppinnen into a legitimate force deserving of their tournament seeding. Meanwhile, on the defensive end, Roni Hotari and the rest of the D-line made sure to inject just enough doubt into LAB's attempts to ensure they were never realized.
The Finns' quarterfinal opponents Reading also drew upon a connection that can only be built by true commitment to each other in order to overcome upset darlings of the tournament Santo Domingo Meclao (DOM)1 Despite trailing for the majority of the game, the British side showed just how great they can be with a late-game surge to close out on a 3-0 run and take the win 15-13.
"We did not expect to be here," chuckled Bex Palmer after Reading's incredible prequarter performance. "We changed our game plan and kept throwing lots of different things at them and somehow we came out on top."
The versatility at the disposal of Reading gave them options that are unavailable to teams that simply come together for a Mixed season while waiting for the Open and Women ones to start.2 Winning the second half 10-5 is a product of the community Reading have spent years building, and 100 strong club members cheering them on back home.
Europe is also guaranteed to send at least one more team to the quarterfinals as Freiburg Disconnection (GER) face Amsterdam GRUT (NED) in a prequarter Thursday morning. We have documented GRUT's journey in detail. Freiburg are perhaps the least appropriately named team in the whole tournament, evidenced by the 13 different players who picked up scoring stats in their 14-12 Round of 32 win over Santander Voltaje (COL). Grenoble Monkeys (FRA) have a chance to bring the number of European quarterfinal contenders to four3 when they face the on-form Vancouver Red Flag (CAN) in a prequarter.
Form Warning
Red Flag represent the last chance for Canadian hopes. Despite being a relatively young club, they boast a wealth of talent and have built themselves into a consummate and communicative unit through this week and the Canadian club season that preceded it.
Speaking about the upcoming prequarter, Coach Alex Lam sa noid, "We're just gonna keep doing what we've been doing all tournament, which is having nice, clean offense and really tight defense."
American teams traditionally work their way into the latter stages of WUCC events gradually, a point we have touched upon in an early recap. However, due to Seattle BFG's (USA) upset loss to Meclao', we were treated to an All-American altercation earlier than expected.4 The game was an uneven one, that belied the true potential of both sides. In the end, Hybrid continue on to the quarterfinal against Brisbane Lunch Box Ultimate (AUS).
Seattle Mixtape (USA) and Madison NOISE (USA) still have prequarters to play against Medellín Macando (COL) and Tokyo IKU (JPN), respectively. Speaking to NOISE captain Katy Stanton about the coming challenges for her squad and their approach she explained they are going to "Keep on Chonking," a mantra we can all truly learn from.
Full Band Fiesta
Macondo earned their spot against Mixtape the hard way, battling back from 8-4 down against Toronto UNION (CAN) in the second half with particularly herculean efforts from Daniel Montoya, Valeria Duque Villegas, and Kaitlyn Dermen, though it would be a disservice to Macondo to deny any member of their squad credit for the incredible energy and play that lifted them into the prequarters. Coach Filipe Alvarez bucked established norms and committed to using as much of the roster as he had at his disposal to maximize their potential, something they'll need every ounce of when trying to bring down the high-flying Seattleites on Thursday.
Rising Sons and Boosting Daughters
IKU have a wealth of tactics to try and silence NOISE tomorrow. Interim captain Reina Ishizu explained:
"We don't have height, but we can run, so [in match] we try to force under, and on offense we create space and rely on the accuracy of our throwers."
IKU augment their shoulder-strap-tight match defense with two zone looks built to limit deep shots and attempt to clutter the middle handler space. These different factors came together precisely for them in Round of 32 against SUFC Valhalla (SWE). Those familiar with 'Japanese Style' offenses have come to expect full-width blading passes, but IKU set themselves apart by sending perfectly weighted hucks into the back corners of the end zone and the awaiting arms of their speedy receivers. They'll need to be near perfect tomorrow against NOISE, as their only loss so far this tournament came against a Mixtape side that utilized their size advantage in devastating fashion.
The Thunder From Down Under Rumble On
Building louder everyday, Lunch Box have gone from strength to strength, smiling the whole time in Cincinnati. Their style is as irresistible as their charm, drawing on the all-star elements of their squad to produce a mix of incredible defensive pressure, consistent offensive power, and the occasional ludicrous highlight play.5
"We we were at this stage eight years ago in Lecco," detailed Coach Anson Chun. "We didn't really go through with it. But I think this group here is completely different. There is a lot of depth. There's a lot of trust amongst this group. There's a lot of belief as well. And I think we showed it this couple of days so far to get to this point. And yeah, no better opposition."
This enthusiasm is echoed by his team and co-coach Bree Edgar, who encapsulated her team's feelings about the coming match against Hybrid simply: "I'm just so pumped."
Lighting the Stage
The weather has disrupted the schedule somewhat, turning Thursday into a mismatch of prequarters and quarterfinals. But for the teams left battling it is simply one event — judgement day. All the preparation, the practice, and the trials by earth, wind, and fire of the past week have shaped them for a Thursday to be remembered.
The lightning has struck the fields of Cincinnati, now we get to see who bottles it.
---