There's plenty still to play for in the last round of pool play on Tuesday.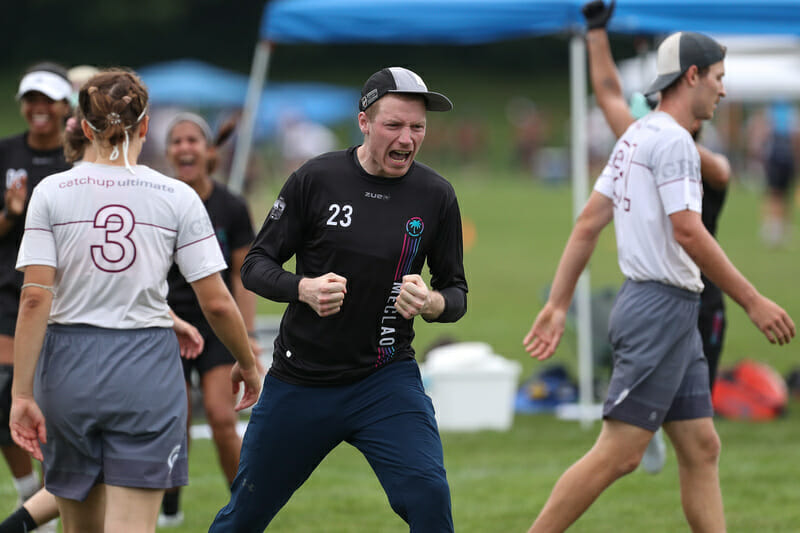 LEBANON, OH – The Eleventh Commandment, as passed down from the Appalachian mountains, is 'Thou Shalt Not Pass.' An age-old adage that has haunted all comers to the New World. The reality of American dominance at world club events is gospel.
Nothing about WUCC 2022's mixed division has yet challenged that matter. The four US mixed outfits — the tournament's top four overall seeds — are a combined 16-0, each winning their pool, with an average goal differential of nearly +35.
It begs the question: amongst the comprehensive victories, how do the top American teams remain prepared for the knockout stages when they spend the opening exchanges of this tournament battering their far-flung opponents around?
Speaking to members of these behemoths, the reality of their unique challenges becomes apparent. A world where games are reduced to smaller sections, and goals are defined by three-point segments of personal objectives and collective focus. "Scores don't always represent the work put in; every team are tough competition and each one has taught us something in the process," explained Madison NOISE (USA) captain Katy Stanton. "We take every competition seriously [because] this team is about process. We try not to focus on the outcome, but on the systems and the foundations that facilitate the process."
This humble approach to growth is matched by all four Yank outfits. Michigan Hybrid's (USA) Axel Agami Contreras echoed much the same message. "A lot of the teams we play are happy to be here, they target us, and it's interesting to see that we're getting everyone's best game. We came out flat against Charrúa and we went down 6-5. One thing we do is break games down and work out what we're doing wrong. Reassessing using our timeouts to recalibrate — it helps us stay focused."
This practical approach to the challenges posed by foreign teams enables the more experienced American sides to stay on their toes and prepare for the knockout stage where more realistic threats await them. "We really focus on our systems and refining them in pools," detailed Seattle BFG's (USA) Kaitlynne Roling. "What we call our 'ramp up' to bracket play. We focus on setting our intensity, it refers to individuals as well [as the team] and what they need to do to 'ramp up' for the bracket."
It is crucial to not mistake this approach for hubris; the Americans know their place in the pecking order and are aware of the dangers of losing that perspective, a position reinforced by Seattle Mixtape's (USA) opening matchup with Reading Ultimate (GBR). "We got punched in the face the first half of the tournament by a great Reading  team. They went up 7-5, and it really took us a couple of timeouts to wake up," relayed Mixtape's Jesse Bolton. "Since then we've been rolling. The way we've been doing that is sticking to our system, sticking to the games to three, worrying about those rather than the game to 15 and really relying on our women to win their matchups and have our men contain because we're a women's team with a men problem."
This focus is key to preparing the American sides for the more challenging encounters that await them in the coming days.
This iteration the upper seeding domination of the pool stages was not limited to teams from the Land of the Free, as Amsterdam GRUT (NED) and Brisbane Lunch Box (AUS) also enjoyed largely uninterrupted runs to the round of 32, both with point differentials in line with what we've seen from the US teams. However they've handled it, those two will certainly be among the cohort of squads gunning to take down the Americans once we get to bracket play,
Still to Play For
In the realm of mortals there remains a wealth of deciding games to be played on Tuesday. While some pools are largely decided, here is a guide to the matchups to keep an eye on as teams fight to challenge for knockout positions.
Pool A: Scrapping and Surprises
To momentarily go back on the above, it is worth noting that surprise of the tournament — Santo Domingo Meclao (DOM) — have an outside chance of upsetting BFG if the stars and their pickup-heavy front seven align in just the right way. Catchup Graz (AUT) still have a chance to avoid the crossover round if they can best Medellín Macondo (COL) in the battle for third. "It's important to be positive at the start of the game," Graz coach and captain Felix Mehsner outlined. "You can gain the momentum with hustle and hard work."
Pool D: By Their Fingernails
After falling to the deceptively deadly Panama Two Oceans (PAN) on Monday, London Deep Space (GBR) are not entirely without hope. Toronto Union (CAN) have had far from a flawless run to the second spot, and with focus and a bit of luck,1 the Londoners can still sneak a direct spot into the round of 32.
In a matchup of teams it's simply impossible to dislike, Mainz Mainzelrenner (GER) and Mexico City Condor (MEX) are both still searching for an elusive initial win. Neither team has much hope of going beyond that point, but their collective penchant for high spirit and shock runs means anything can happen.
Pool F: Seeding Size-ups
Tokyo RATELS (JPN) and Montreal LAB (CAN) have spent the past two days letting teams get close before finishing them off with style and certainty. Their Tuesday matchup promises to be an exciting one, and with the opportunity to get an easier opponent from the crapshoot Pool G contingents2 up for grabs, expect both sides to go all out. Styles make fights and RATELS unorthodox grace will be a challenging door for LAB's power-based attack to kick down. A prospect the Canadiens relish, as coach Steve Bonneau outlined: "We're here to play tight games." It's an aspiration the Japanese have proven themselves more than willing to accommodate against Brussels Owls (BEL) yesterday afternoon in a 15-13 nail biter. As for the Owls, they will lock talons with Zurich fucZH (SUI) in the fight for fourth and central European bragging rights.
Pool G: A Spinning Switch Show
In a pool where the points seem to be made up and seeding seemingly doesn't matter, every position remains up for grabs. Lunch Box are fairly entrenched in the top spot, but Copenhagen Njord (DNK) are the only team in the group who can match the Aussies for size. Tokyo CRAZY (JPN) and Grenoble Monkeys (FRA) could be the matchup of the morning, and has repercussions that could send either team into the highly undesirable fourth place position.3
Meanwhile the ever-spirited Singapore Otters (SGP) face off against a Chennai High Tide (IND) team that is still searching for its first win. The Otters have been very unfortunate to only pick up one victory so far and their youthful exuberance and penchant for attempting unassisted flight makes them a crossover no one will want to see in the knockout stages.
Pool G has been the most open and entertaining group of the Mixed division and today promises to see that come to an electrifying head.
Pool H: Faulty Wiring
Freiburg Disconnection (GER) vs Bogotá D-CRASH (COL) is the main contest remaining in Pool H. Both squads share a loss to Helsinki Pussin Tiristäjät (FIN) and wins over the rest of the squads. The Germans' stalwart offense poses a resolute opposition to the fire the Colombians bring to each encounter as they face off for the coveted second spot. Expect plenty of deep shots and tight defense from two teams who have quarterfinal hopes but a tendency for giving their opponents the opportunity to come back in games.4
Fan favorites Buenos Aires Hammers Ultimate (ARG) are by no means guaranteed a win over Newcastle Pie Wagon (AUS) but their eponymous habits are likely too much for the the Aussies to pick up their much sought but yet elusive first win of the pool stage.
—
Tuesday will see the stage set for the round of 32 and access to the rarefied air of mid-week eliminations rounds. The action is just heating up, and in a division as mercurial as Mixed, it's clear things are building to a boil.
---