Vancouver Red Flag storm to the final with a huge win over PuTi.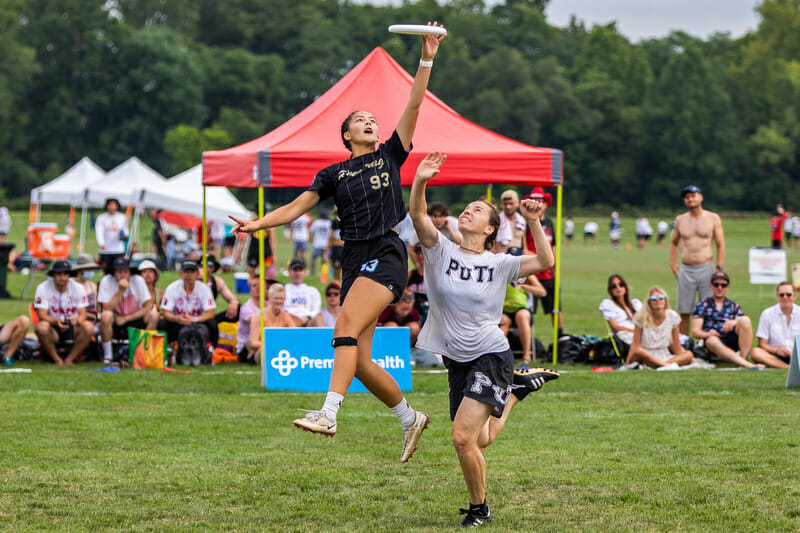 LEBANON, OH – The unknown shapes us all, as we gather what experience we have and try to face the challenges that lie ahead of us in the tall grass. Ambition and anticipation combine as we fight our way forward, certain only in our need to keep going.
Helsinki Pussin Tiristäjät (FIN) have already made history by becoming the inaugural European team to make it to the final four of WUCC in the Mixed division. Awaiting them were the young and hungry Canadians, Vancouver Red Flag (CAN). An early defensive blitz combined with some impressive big shots to athletic receivers saw the Vancouverites run out consummate 15-6 winners against the northern Europeans and become the first Canadian team to make it to the Mixed final at WUCC since Quebec ONYX back 2010.
"Coming in, we knew we wanted to apply a lot of pressure on defense," said Red Flag coach Alex Lam. "We have good strikers, and we have good throwers, so if the option's there of course, we'll hit it. We also like to think we can work on this, but I mean, nothing gets the team going like that nice strike."
The stifling Red Flag defense started the game immediately intimidating the PuTi O-line. Leading from the front, as is his nature, William Vu was a constant threat, stealing away from Jarno Sihvo at every opportunity to interrupt passing lanes and complicate handler resets.
"When I play defense, I always try to help my teammates as much as possible," explained Vu. "I just want to give it my all every time so there's nothing in the tank."
"They poached our set plays, and we were kind of off with handing [it] out to the free players," admitted PuTi captain Sihvo. "Definitely we weren't ready for the physicality and their just great start at the beginning, especially on defense."
In the early exchanges this defense by Red Flag led to several close calls but PuTi, led by Mariia Martus, Tomi Sandberg, and Emil Videman, stayed within touching distance. Flag players were flying all over the pitch, especially Kevin 'gravity sounds like a you problem' Tong. Red Flag stumbled on some early looks but settled after a short while when the veterans Vu and Edward Guo got cooking on deep strikes.
After a timeout by Red Flag at 2-1 the Canadians took over the game. Getting turns on almost every PuTi possession and continuing to connect on deep looks from their D-line and with versatility the few times their O-line did step on to the pitch. Neo Debroux, Gagandeep Chatha and Julia Zhao were particularly impactful at holding the line and ensuring the Finns didn't get a break all game and Red Flag took half with a commanding 8-3 lead.
"During our quarterfinals against Madison NOISE we went up 5-1," said Vu. "[Then] we let them catch up, and we obviously got away with that one. [When] we were going into this game we wanted to emphasize that we've got to close out and finish off the [first] half and second half. Obviously it paid off."
PuTi were in no mood to get unceremoniously dumped out of the semifinal they'd fought so hard to get to. However Red Flag's offense was at its most potent all week while their lane-filling, ground-leaving defense seemed to be causing the Finns to look off dump throws they've spent the past five days making cleanly.
"We just kept talking, 'let's not give them the hucks' but they just kept giving space for their cutters to go and after hitting the upline they went deep and they executed so well," explained Sihvo.
The second half went much the way of the first, with Red Flag winning it 7-3. PuTi were not without their moments, especially through talismanic players like Hytönen, Vappu Reunanen, Jesse Saastamoinen and Roni Hotari. Ultimately the Canadians proved too much, bringing their full squad to bear throughout the second half; Abeer Lamda, Sandra Balitaan, and Miu Shiraiwa being particular standouts.
Looking forward, the Red Flag captains Zellema Mot and Katie Wong are eager to play regional rivals Seattle Mixtape.
"It's been a long time since Vancouver's had a strong mixed team so we're really excited to see the finals," beamed Katie Wong. "We've been a club for three [years] and the first year was in the pandemic. Our first tournament was last October at Canadian Nationals,1 this is our second."
This may give them a neophyte reputation on the international fields, but they have more experience playing against Seattle than most of the other teams at this tournament.
"We had an early season scrimmage against them in Bellingham," explained captain Zellema Mot. "They didn't have their full roster, but we got a taste of some of their players and I feel like it's honestly a really great matchup for our team."
"We didn't have a full roster either," added Wong. "So it's gonna be interesting to see what they're like with both teams full of all of our talents."
"I played women's before, so I do recognize some of the ladies," continued Mot. "Obviously, [Qxhna] Titcomb and Kelly Johnson. Those two are like some key players, but really we're just gonna play our game. I believe that we give a lot of defensive pressure to any team that we play again. So as long as you're grinding their own line, and, you know, when we do get our break opportunities, like punching those breaks, I think we can take the game."
One of the defining aspects of Mixtape's WUCC campaign so far has been their 'relentless positivity' ethos. A team-wide commitment to being as upbeat as possible with loud cheers designed to keep them competing regardless of the situation they face. Red Flag will need to find an answer not only for the physical and technical skills of Seattle, but also their mental toughness.
The Red Flag captains remain unfazed by this imposing philosophy.
"We'll shut it down," said Wong confidently, "We have more swag than them," Mot added.
Red Flag will need more than swagger to see off the established force of Mixtape. The Canadians penchant for big shots will be punished by a Seattle side that has become more clinical as the standards of their opposition have gotten closer with their own over the past two days. Still, confidence is nine tenths of the law, and if Vancouver can maintain their swagger as they head into the unfamiliar rarified air of a WUCC final, who knows what will happen?
---
Which they won ↩