In a sloppy game filled with runs, the San Francisco juggernauts were able to keep their composure enough to see their way back to a WUCC final.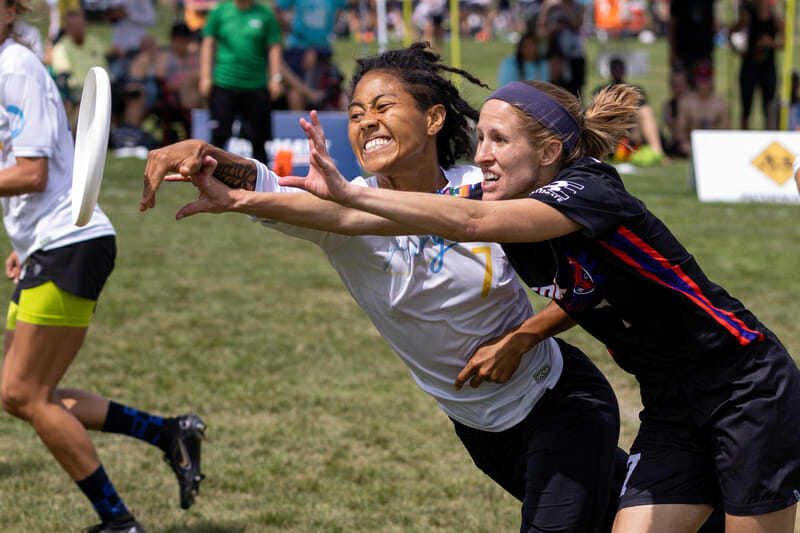 LEBANON, OH – In a sloppy game where the defenses scored as many times as the offenses, San Francisco Fury (USA) had one more run than Raleigh Phoenix (USA) were able to manage. The team that's been on this sort of stage countless times over the years better weathered the game's ups and downs and topped their relative newcomer opponents 15-11 to advance to the gold medal game.
Neither offense left the game covered in glory and the tone for the turnover-laden game was set from the first point. Fury turned it over twice in their own half of the field and Phoenix was able to grab a break to start the game. Two more turns from the Fury offense ensued on the following point, though Phoenix couldn't punish them on either occasion.
The Phoenix O-line had even more issues than the Fury's, giving up two breaks on each of their first two points. In fact, the Phoenix starting O-line personnel – Ashley Powell, Bridget Mizener, Audrey Lyman, Kami Groom, Sarah Meckstroth, Ella Juengst, and Julia Zwierzynski – didn't get their first hold until they made it 4-4. It took Phoenix bringing over D-line players to get their first hold to end an early three-goal run from Fury a point earlier.
By the end of the half, the two sides had committed a combined 21 turnovers, and that total was in spite of three turnover-free points towards the end of the half. The nature of the game was stark in contrast to when these two last met in the semifinals of the 2021 USAU Club National Championships, when the two clubs combined for 23 turnovers for the entire game.
"I think we just need to remember what we do on offense," said Phoenix head coach David Allison in the halftime interview on the live Ultiworld stream. "We're just getting trapped on the low side a little bit, on the trap side. Once we start getting the disc off the sideline then we'll start seeing the offense we wanna play."
But Phoenix continued to struggle with getting the disc off the sideline and their 8-6 halftime deficit ballooned to 10-6 after the first two points of the half. It didn't matter whether Fury played their four-person cup or matchup defense, Phoenix's handlers were never able to find any real consistency and the team across the line struggled in the reset space.
The wind did affect a lot of throws, but Fury didn't seem nearly as bothered by it. Instead, Fury's turnovers came more from forced looks and savvy defensive plays from Phoenix. Jesse Shofner, in particular, had some high-awareness poach blocks. Shofner, who's currently not slated to play the USAU season with Phoenix, was a spark plug against Fury.
The World Games alternate ended the game with one assists and two goals, which doubled her total for the tournament, as well as a pair of blocks. But more importantly, Shofner seemed to inject some fearlessness into the Phoenix line when she was on the field. She had a few big upwind hucks and played with an urgency that helped flip the game around for Phoenix, who rattled off a 5-1 run to get the game all square at 11-11.
Like their run to win against Ellipsis in power pools, as well as their comeback in that 2021 semifinal, the Phoenix comeback was a surprising spark. Especially considering the team was without a key pair of defenders in Mary Rippe (COVID) and Amanda Murphy (hamstring), as well as O-line cutters Karen Ehrhardt (COVID) and Katie Backus (hamstring), their ability to get back into the game was impressive, and perhaps becoming a pillar of the team's identity.
But as a young squad still new to these high-pressure games, at least relative to Fury's unmatchable experience in them, they're still learning how to win these games as well.
The fifth goal of the 5-1 run to tie it up was the last Phoenix would score in the game. They earned a couple more chances to break at 11-11 but couldn't convert and then the team's difficulties in getting the disc off the sideline returned for the offense, leading to a rally of three straight Fury breaks to end the game. It was the one Fury run of the game that Phoenix were unable to match.
It was yet another game for Fury where they could lean on their vast experience of winning these games regardless of the game's momentum or late game circumstances. Fury doesn't have to believe they're going to win. They know they are, because they've done it so many times before. It is their most powerful superpower, and one that Phoenix is still in the development stage of.
"The ability to have kind of faith and trust and stay in the moment when you're down is really important and the more experience you have, the more you kind of understand what that feeling is and you know, I think Phoenix will get there honestly," said Fury head coach Matty Tsang. "Like they were down, 8-6 to Ellipsis in power pools, but obviously not in a pressure situation. The only way you can get that experience is to be in those places and so like them getting that experience and, you know, we have a lot of players who have been in that place as well."
And it's not every player on Fury who has that experience necessarily. In fact, Fury has more new players this year than we're accustomed to seeing on their roster from year to year. Players like Lo Guerin, who, for the second game in a row, has the joint game-high in goals and was a constant thorn in Raleigh's side on defense.
But the players who have been on Fury for so long, and Tsang himself, possess so much of that experience, that it's impossible for it not to belong to the entire team, even when they aren't playing their best.
"It comes back to the reps," said Shofner. "The reps contained within all of those individuals, as a unit, has been decades long. And so it's something they can lean on when they get broken first, when they have some out-of-character mistakes or whatever, they lean on all of those reps, historical reps. I think that's so powerful. It's not really about, like, their flick form, right? It's about how they conduct themselves in those hours of being challenged."
In riding that experience, Fury now advances to the gold medal game against Medellin Revolution (COL). Shockingly, they'll be playing for their first world gold medal in over a decade.
"I think it would be big, you know, especially for this team. We're talking about creating our own history. Like we have a big legacy and if they're able to do this, this is something that Fury hasn't been able to do since 2010," said Tsang. "So really it is their history and not somebody else's legacy. So yeah, I think it's gonna be a big thing for us and it's gonna be against a really awesome opponent."
Fury is a team that has more successfully created its own history than any other in the history of the sport. And it manifests itself in more than their overflowing trophy cabinet. They'll have that advantage again in the final as they did, pivotally, in their semifinal win over Phoenix.