An impassioned and hard fought battle for the right to challenge the best of the US for the gold medal.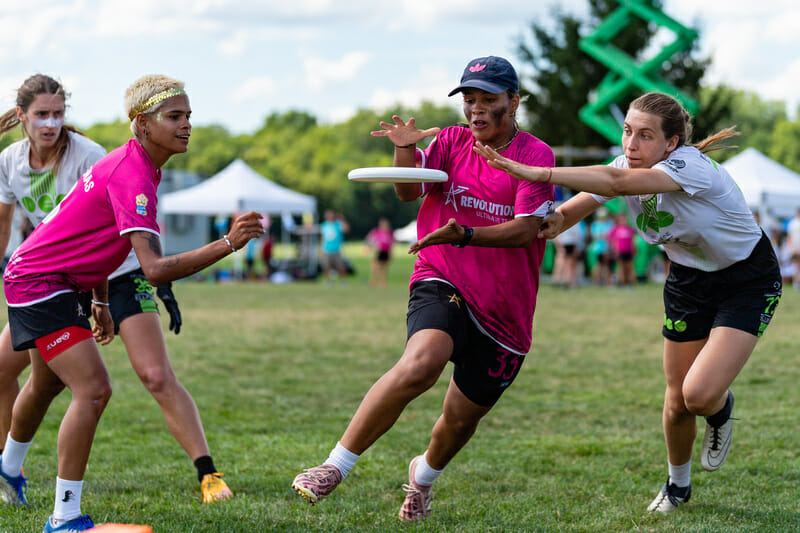 LEBANON, OH – Clad in their signature pink, Medellín Revolution (COL) took to the field with the swagger of an undefeated team. They had been untouchable all week and remained so after knocking Melbourne Ellipsis (AUS) out of the semifinal, 15-12. In an intense assembly of high-caliber athletes, each club wielded their weapons with aplomb. As soon as Elizabeth Mosquera of Revo had released the plastic from her fingers with the opening pull, the duel had commenced.
Despite facing one of the most intimidating teams in ultimate, Ellipsis arrived with confidence and took the field with a cool-headed craving for victory, fixed on the point directly in front of them. The Australian women made the first point look like practice, working the open side unders all the way down for the first hold. It was a similar story on their second offensive point — quick and easy.
Meanwhile, Revo's offense wasn't quite so clean in the early going, coughing up possession on each of their first few offensive points. Both teams are defensively driven sides, capable of both intense, calculated pressure and spectacular blocks. These assertive defense styles translated to big bids and high stalls, and made for many break opportunities for both competitors.
However, neither team seemed to be able to figure out how to smoothly convert and put breaks in the bank in the first half. While there were 12 holds in the half, only half of them came cleanly. Ximena Montaña caught the first break of the game to put Revo up 3-2, but it took until their third possession of the point to punch it in.
One of a pair of sister duos in this game,1 the Cardenas twins — Valeria and Manuela — who celebrated their 23rd birthday on Thursday, were as crucial as ever for Revolution. Manu is both a D-line anchor, consistently forcing turns, as well as an offensive challenge for defenders, to say the least. She commands flow and handles the disc with ease and skill that few possess. Alongside sister Valeria, who scored five times in addition to throwing two assists on the day, and other O-line stalwarts like Yina Cartagena, the Revolution machine is hard to slow down, but Ellipsis clogged their gears more than any other team had previously in the tournament.
After a series of hard-fought holds and one more break each way, Ellipsis scored to make it 7-7 after Canadian pickup Anouchka Beaudry ripped an epic hammer to Olivia Carr. Half was up for grabs from either team. Revolution needed to hold, making Ellipsis' job slightly harder, but the Australians have time and time again demonstrated their defensive prowess. Revolution quickly halted Ellipsis' hopes of a lead and won half, their momentum shifting upwards as Ellipsis had to overcome the mental hurdles of needing breaks they weren't converting.
The failure to convert belied Ellipsis fierce competitiveness throughout the first half. Australia was outplaying Revo in the air and making throws into the wind look effortless. They forced plenty of turns from Medellín, often trapping and isolating the most threatening handlers or plucking the disc clean out of the sky when Revo tried hucking it off of turns. Largely, Ellipsis was one of the few teams on earth who looked capable of keeping up with Revo's A-game, but they just couldn't quite level up to finish the points they needed to pull ahead.
"Our D line got blocks on nearly every point, we just were not quite as clean as what we have been all week with our O. I think we gave it back to them a little too easily, and that's a credit to their pressure," said Cat Phillips after the game, who threw a whopping six assists and had countless defensive contributions.
Ellipsis stayed athletic and dialed in during the second half, utilizing their roster depth to keep pressuring the Colombians. Unfortunately for Ellipsis, this athleticism was not quite enough to derail Revo's train to victory.
This may have been a different story had Revo played the second half as they did the first. Mauricio Moore, head coach of Revolution, wears a striped sun hat and some light pink and gold glitter above his left eye. He thinks of this team as family and knows the game of ultimate concerningly well.
"We were turning it over and would huck right away every time and lost those opportunities and at the same time giving more energy to the other team," said Moore of his club's halftime break adjustments. "So let's just try to turn it over and run fast so their O-line had to run and try to re-power."
Revo got down to business, making the necessary adjustments and pushing Ellipsis just a touch more than they were equipped to handle. The little tweaks made by Revo in the second half buried Ellipsis deeper and deeper into the break deficit that ultimately brought their demise.
These two well-matched opponents gave the audience a gob-smacking showcase of athleticism. The crowd glued themselves to the play with inquisitive eyes and exhilarating uncertainty when matchups like Manu and Cat Phillips, or Mosquera and Eva Weatherall both went up in the air for a disc. Claire Chastain, who won gold with Team USA at the World Games not but two weeks ago, returned to the field on Thursday, reinforcing the Revo roster. She was a reliable force, operating comfortably on the field. Levke Walczak, the German pickup player who competed at the World Games for her country of origin, was a bulldozer. This came in handy for Revo on Friday, as it has every day, with the German frequently finding her way to the disc, scoring three of Revo's goals, and being a key contributor to many of Revo's holds. Ellipsis tried with a variety of defenders, but could not contain Walczak's drive for the disc.
Aside from legendary bids and herculean blocks, it must be said that stretches of this game were pock-mocked by calls and long discussions. None of the calls were particularly outrageous or desperate — the teams ultimately gave each other solid spirit scores for the match — but many calls entailed an in-depth conversation, usually a reenactment, and a replay on the jumbotron before someone acquiesced and allowed the game to keep moving. Every call has the potential to change the course of the game, even if minorly, and in an alternate universe, the outcome here may have been a little tighter if some calls had gone differently.
That said, there is no doubt Revo won this game with skill and strategy, not calls. For as well as Ellipsis played and looking by far the closest to matching Medellin's team speed, they could not stop what has felt like an inevitable Revo march back to the final for the second straight WUCC.
Their win sets up a clash of two titanic programs: Revolution and San Francisco Fury, the most successful club team in US ultimate over the past two decades, with a gold medal on the line. Be sure to tune in.
---
The other being Australians Michelle Phillips, playing with Revolution, and younger sibling Cat, playing for hometown Ellipsis ↩