DC, Minnesota, and Salt Lake advance, with eight teams remaining in title contention.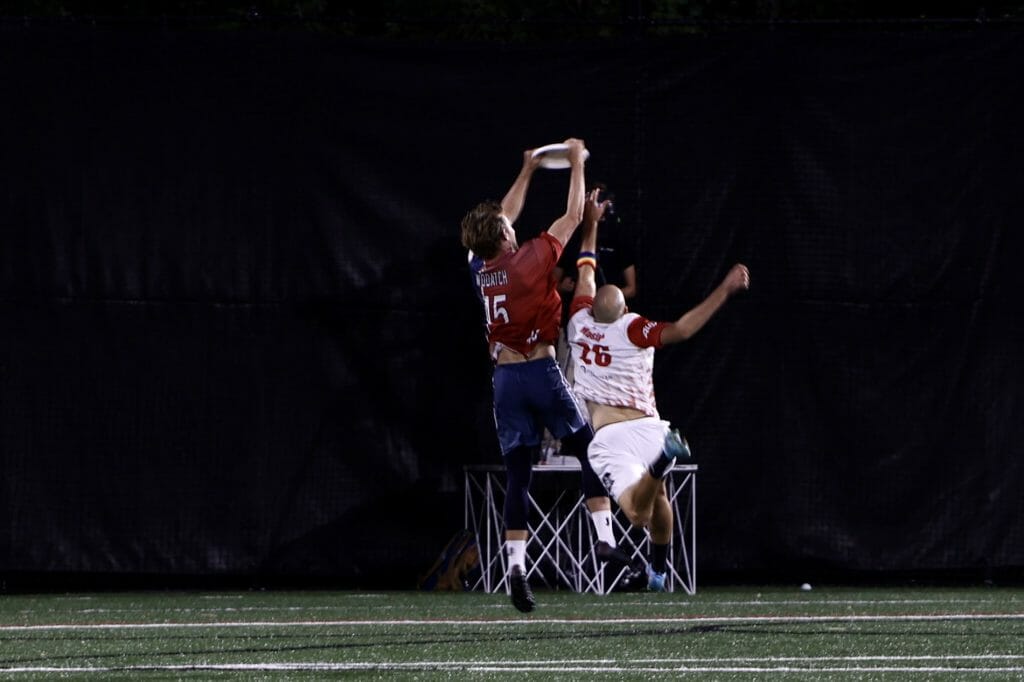 Our coverage of the 2022 AUDL season is presented by VII Apparel Co., who provides premium performance apparel for the active world, featuring their proprietary GreenLine fabric made from 100% recycled plastic bottles.
The first round of the AUDL playoffs functioned as something of a play-in, with the second and third seeds from the Central, East, and West Divisions fighting to get reach the Divisional Championship round. The favorite in each matchup glided to the finish line comfortably, even if the scorelines don't indicate it in all cases.
DC Dominant, Defeats Philadelphia
In one of the cleanest offensive displays of the year, the DC Breeze dispatched the Philadelphia Phoenix 23-18. While both teams put out a crisp product, the Breeze simply did not let the Philadelphia's D-line gain any momentum, only giving up four blocks and holding the Phoenix to a single break score on twenty chances.
For a while, Philadelphia's offense was able to keep up. A back and forth first quarter opened up midway through the second, when DC was able to punch in consecutive breaks with the help of a timeout to sub on the offense. Philadelphia did answer right back with a hold and a break of their own, and went into halftime down just 12-10.
A five throw hold opened the second half for DC and they did not look back from there, slowly extending their lead as Philadelphia could not muster the performance it had earlier this season in two one-point losses to the Breeze. Jonny Malks paced the team on 55/55 throwing for two assists and five goals. Rowan McDonnell led the team with four assists, adding two goals and 385 yards of total offense. Delrico Johnson, in his first game in over a month, notched three blocks to lead the defense.
For Philadelphia, breakout star James Pollard led the game with 626 total yards. His three assist, two goal performance was balanced by six turnovers, two of which were end-of-quarter prayers, while others led directly to breaks. Sean Mott tallied five assists and three goals while Greg Martin pulled down six scores. Alex Thorne led the game with 469 throwing yards on a 52/52 night.
The DC Breeze move on to play the New York Empire for the divisional championship and a spot at Championship Weekend. This game is a rematch of the 2016 first round (DC won) and the 2018 first round (New York won). New York has already defeated DC twice during the 2022 regular season.
Minnesota Earns First Playoff Win
With separate 4-1 runs in the first and fourth quarter, the Minnesota Wind Chill never had a doubt about earning their first ever playoff win, defeating the Indianapolis AlleyCats 20-18.
Minnesota brought strong pressure defense, limiting Indy's Keegan North – typically a go-to offensive chess piece – to just 16 completions. With the pedal to the proverbial floor, the Minnesota D-line offense cruised to break scores, converting seven of their ten chances with Defensive Player of the Year candidate Dylan DeClerck scoring three himself. Bryan Vohnoutka, who split his playing time between offense and defense led the team with four assists and a +/- of 5.
Indianapolis came out with an aggressive offensive strategy, looking to stretch the Minnesota defense in the deep space despite a mild wind that forced a few turnovers. Once the AlleyCats got settled in the game, they were able to stay with the division favorites, but their efforts appeared to be too little, too late after Minnesota raced out to a 5-2 lead in front of a record setting home crowd. The AlleyCats' Jeremy Keusch had a breakout game, leading the team with four goals. North managed four assists and three goals despite his muted offensive role.
Minnesota moves on to face the Chicago Union in the central division championship game. The same two teams met in the same round in 2021; Chicago ended that game on a 5-0 run to complete an improbable comeback and secure their spot at Championship Weekend. With that memory still fresh, Minnesota will hope to author a different fate this time around.
Salt Lake Sets Up All-Expansion Team West Final
The Salt Lake Shred won their first ever game in Week 1 this year after going down early, then running over the San Diego Growlers with athleticism and grit to notch an upset. The Salt Lake Shred won their first ever playoff game despite going down early to the San Diego Growlers by playing to their athleticism and grinding out some long points to advance to the divisional final.
Despite coming in with two of the best offenses of the league, the game turned into a sloppy slog that featured over fifty turnovers in some unusual gusts. Longer points favored the younger, springier Salt Lake athletes. The Salt Lake defense clamped down on some of San Diego's favorite moves. Devon Terry held Goose Helton in check to the tune of three blocks, a count matched by Ben Green.
Salt Lake held San Diego scoreless for over 12 minutes of game time spanning the first and second quarters, scoring six straight goals after giving up an early break. A separate five goal run in the third quarter held San Diego off the board for over eight minutes. Though two fourth quarter breaks were able to make the scoreline close in the end, Salt Lake never felt in trouble again despite making their playoff debut against the two time defending division champions.
San Diego had a few bright spots on offense — Sean McDougall's 3A/2G/4B statline stands out — but struggled mightily. Scoring just 10 out of 35 offensive possessions, including a 11/19 red zone conversion rate, is no way to win a playoff game. Offensive handler Paul Lally had a particularly rough game, posting nine turnovers as a high volume thrower in the tricky environment.
In a battle of 2022 expansion teams, Colorado will host Sale Lake to determine which will head to Championship Weekend to represent the West Division. Last time these two teams played in Colorado, the Summit prevailed 21-20 back in May.
Postseason Power Rankings
Looking Ahead
The defending AUDL champion Carolina Flyers and the Austin Sol will play for the South Division title and a trip to Championship Weekend. Austin upset Carolina 21-20 in late May, but the Flyers have not lost since. The Sol, who have not had to travel since early July and lost their only game in Carolina this season, are riding a six game winning streak.