Theo Wan presents a run-down of the teams participating in the 2022 Canadian Ultimate Championships, which begin August 18.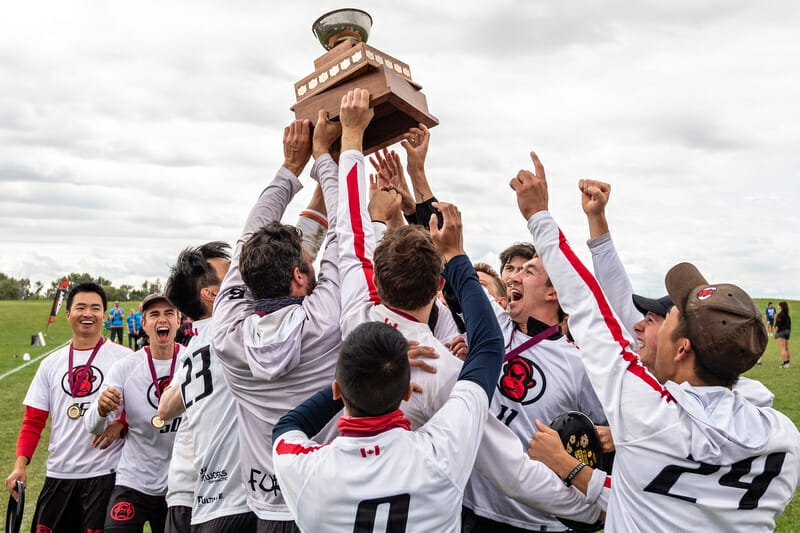 The Canadian Ultimate Championships make their anticipated return after a three-year hiatus. In 2021, Ultimate Canada put on a two-day tournament aptly titled the 'Ultimate Canada Invitational' with multiple bids to WUCC being handed out to podium finishers and beyond. In 2022, it's a much different story. With few of the top teams in attendance, it's a chance for other teams from around the country to win some hardware and be crowned national champions.
The teams won't just be playing for pride as even-year national championships lead to bids to the Pan-American Ultimate Championships (PAUC). With bids to an international tournament on the line and a chance for many teams to be crowned first-time champions, the 2022 Canadian Ultimate Championships is sure to be intriguing and unpredictable.
Tournament Profile
Dates: August 18-21, 2022
Location: Creditview/Sandalwood Sports Fields, Brampton Ontario
Weather: Rainy Thursday and Saturday, sunny Friday and Saturday with highs of 26-30 degrees Celsius
Winners and runners-up from the last five championships (including UCI) participating:
Streaming Schedule
Thursday, August 18
10:30 AM: Alberta Remix vs Ottawa Luna (W)
12:30 PM: Sherbrooke Red Fox vs. Saint-Jean-sur-Richieliu Harfang (X)
2:30 PM: Winnipeg General Strike vs. Montreal Manic (O)
Friday, August 19
10:30 AM: Open Power Pools (O)
12:30 PM: Winnipeg PBHG vs. Vancouver Fable (X)
4:30 PM: Women's Quarterfinal (W)
Saturday, August 19
10:30 AM: Women's Semifinal (W)
12:30 PM: Mixed Semifinal (X)
2:30 PM: Women's Bronze (W)
4:30 PM: Open Bronze (O)
Sunday, August 19
9:30 AM: Women's Final (W)
12:00 PM: Open Final (O)
2:30 PM: Mixed Final (X)
Tournament Format
It's back to a regular format for the mixed and open divisions as they feature 20 and 16 teams, respectively. The mixed division will start with four pools of five teams, with the top team in each pool getting a bye into quarterfinals while the second and third-place finishers playing in cross-over games to qualify for the round of eight. In the open division, there will be four pools of four teams, with the top two finishers in each pool entering a power pool. The lowest two teams from each power pool will cross over against the top two teams from the bottom pools for a chance to make the quarterfinals.
The women's division has ten teams and will start with two pools of five before going into a power pool of six featuring the top three finishers from each pool. For the play-in (quarterfinal) games into the semifinals, the third to sixth place teams in the power pool will play to get a spot into the semifinals while the top two teams will get automatic byes.
Open Division Storylines
Wide Open Division
For the first time in a long time, the open division is wide open. Unlike the other two divisions, there will be no WUCC teams in attendance. With #17 Montreal Mephisto dropping out of CUC after previously registering, there is no clear cut favorite in 2022. In previous years, it has been easy to pencil in a Toronto GOAT vs. Vancouver Furious George final. But with those two teams also not in attendance — along with perennial contender Ottawa Phoenix — this year is the chance for other teams in Canada to make their mark.
Going into the tournament, the top seeds all have question marks. The no.1 overall seed Quebec Quake dropped a universe point semifinal game to the Ottawa In-Laws (essentially most of Bhoenix) at No Borders but have defeated many nationals teams in attendance — including Montreal Manic — multiple times.
No.2 Bhoenix had strong recent regular season results, winning Ontario regionals. However, they also dropped games to national qualifiers Durham Houndd and no.1 overall seed Quake in June, finishing sixth at Jazzfest. How will the young Ottawa squad respond to the pressure of later tournament games, when many of them have never been there before?
No.4 Vancouver Blackfish had a lackluster finish in 2021 and face significant roster turnover with only seven players returning. Will this new version of Blackfish be able to get themselves to the final?
Move yourself down the line to the no.5 and 6 seeds in Manic and Toronto BOAT, and you see two teams who are capable of making a semifinals run and beyond. Manic won the classic bracket at Boston Invite while BOAT took home the Jazzfest title. That said, both teams suffered losses to regional rivals at the more recent regional tournaments, so which version of these teams will we get at CUC?
Will the Prairies Take it All?
Two teams knocking at the door of national glory are Winnipeg General Strike and Alberta Rumble. General Strike finished second in both 2016 and 2017, but have yet to reach a final since. The squad from Winnipeg had a disappointing 2021 Ultimate Canada Invitational, finishing eighth, but experienced some positive results at Pro-Elite Challenge this July in Colorado and continue to benefit from a great pipeline from their juniors system. Can General Strike finally get over the hump and win a CUC title?
Alberta Rumble fell in the 2018 final to Ottawa Phoenix, their best finish as a program. The next year, the group from Alberta lost in both the semifinal to Furious George 15-6 and the bronze medal match 15-8 to General Strike. A fifth place finish in 2021 at UCI should give them confidence heading into 2022 considering three of the teams that finished ahead of them are not in attendance this time around. However, this team is relatively untested compared to other teams at CUC due to their geographic location. With only seven players remaining from that 2018 silver medal squad, will they be battle tested enough to make a championship run in 2022?
Underperforming Teams at Regionals Ready to Upset
Durham Houndd and Gatineau OUT are two teams no one wants to see in pool play, with both posting strong regular season results before their respective regional tournaments. The former came second at Jazzfest while the latter finished fourth. Houndd came into Ontario Regionals as a favorite but dropped a pool play matchup to nationals two seed Bhoenix, going down 8-0 at half. Houndd also lost the third place final to Grand Trunk on universe after starting on offense. Having more than a full line of Toronto Rush (AUDL) players along with some GOAT practice roster members, this team should not be seen as a traditional 15th seed. Can this talent-filled roster put it together for CUC and erase the doubt created by their regionals finish?
In early season play, OUT took down the no.5 seed Manic in the quarterfinals of Jazzfest before dropping two straight games to finish fourth. The group didn't send their full squad to Quebec regionals though and had to defeat Magma in the game-to-go to earn a fifth place finish. Their experience coming in 12th in 2021 could bode useful as they try to make a quarterfinals run in 2022. Don't expect this 14th seed to go quietly into the Brampton night.
Other Nuggets
No. 5 seed Manic defeated a shortened Montreal Mephisto squad in pool play at Quebec Regionals
No. 10 seed Newfoundland Regiment are your defending spirit champions in the open division and are looking to improve on their 10th place finish at UCI in 2021
No. 7 seed Sherbrooke Ascension makes their debut after rebranding from the previously named Gentlemen's Club
2016 champions Toronto Grand Trunk (No. 11 seed) only have one member remaining from that year in 2022
Women's Division Storylines
Iris and Stella set for final showdown
The top two seeded teams in the women's seem primed for a rematch of the 2018 final in which Iris came out victorious. Both teams come into this weekend with WUCC experience under their belts, finishing 13th and 29th, respectively, in Cincinnati. The Quebec squad picked up big victories over #10 Pittsburgh Parcha, #14 Chicago Nemesis, and #15 San Francisco Nightlock — an impressive feat considering all three qualified for the 2021 USA Ultimate National Championships. All but three of the players on Iris played last year at UCI so continuity is strong with this squad. Despite losing both Jessie Grignon-Tomas and Anouchka Beaudry from last year's roster, this team has shown the ability to win tough games both at Fishbowl, a women's round robin tournament, earlier this season and at WUCC. Could Iris take home their second CUC title?
On the other side of the bracket stands Stella, a group that went 4-5 at WUCC, finishing tied for 29th place with fellow Canadian squad #21 Halifax Salty. Along the way Stella put up tight games, losing by one point to Winnipeg Fusion and #17 Minneapolis Pop, the latter a 2021 USA Ultimate National Championship qualifier. Stella also participated at Fishbowl where they finished 4-2, including a 12-3 win over Iris. Stella's victory marked the first time they beat the Quebec squad since 2017. This momentum should help fuel the Ottawa squad to the final and perhaps another victory over Iris, albeit on a much bigger stage.
First-year Teams Ready to Make a Splash
With the return of CUC and a regular format comes multiple first-year squads trying to make their mark in Canadian ultimate. The last time we saw Toronto's second team was in 2019 where Tox6ix finished 9th. Since the pandemic, the Toronto women's system has rebranded and retooled, coming in with a new name and a new leadership/coaching group in tow. The upstart incogniTO had strong results, finishing fourth at Jazzfest as well as defeating all Ontario teams that participated at regionals in July.
Another new squad making their debut in 2022 is Drift from Vancouver. The squad comes from the ashes of koiSHH, who finished last at 2021 UCI. Boasting a group of young up-and-comers from the Rain City, will their lack of experience show up at CUC or will their energy be enough to carry them far into the bracket?
The final first-year squad coming to CUC is Remix, a conglomeration of players from both Edmonton and Calgary. In 2019, Edmonton's Flurry came 10th while Wild from Calgary finished 12th. In 2021, Widishh came in 8th and only four members from that 2021 squad are suiting up for Remix. Expect a much younger squad ready to make a run at this year's edition of the national championship.
Reduced Division (Once Again)
The lack of teams in the women's division for a second straight year cannot be ignored. After 16 teams competed in 2019, it's been two straight years of ten teams and reduced participation. In 2021, we saw teams missing like Korra (Saskatchewan), Tempest (Newfoundland), Foxx (Ontario), Noxx (Ontario), and Tox6ix (Toronto), with many of those teams no longer exist in 2022. You can count four teams that just played at WUCC not too long ago in Halifax Salty and Winnipeg Fusion along with perennial powerhouses Vancouver Traffic and Toronto 6ixers as teams missing from the 2022 edition. A concern raised in 2021 that will be asked again in 2022 is if this downturn will have long-range effects in the women's division, or is it just a blip on the way to a full post-pandemic recovery?
Other Nuggets
No. 3 seed Quebec Qub defeated Iris in pool play at Quebec Regionals and finished second at Jazzfest earlier in the year
No. 7 seed Victoria Venus won Jazzfest in June and finished second at Boston Invite
No. 10 seed Ottawa Luna boasts a couple U20 Team Canada members and are ready to make some noise
Mixed Division Storylines
Worlds Teams Cream of the Crop
Like the women's division, it seems like there are two squads headed for a crash course in the final on Sunday afternoon. First is Toronto Union, a team who finished 5th in 2019 and 3rd in 2021, with the latter result earning the group a bid to WUCC. At worlds, Union experienced a heartbreaking universe point loss to Colombia Macondo in the Round of 32 before winning three of the next four games to finish 19th. The Toronto squad was also able to defeat a common opponent in Deep Space (UK). Battle-tested and with a leg up on their challengers PBHG, can the top mixed team from Toronto win their first CUC title since 2013?
Headed for the final on the other side of the bracket are Winnipeg Pretty Boys and Handsome Girls, the silver medalists at 2021 UCI and 26th place finishers at WUCC. At the worlds tournament, it was evident the Winnipeg group brought in a star from Australia in Tomas Boyle, who led all players in the mixed division with 40 assists and 13 goals for a whopping 53 points. Only one player from that 2021 UCI silver medal squad does not return, so this Winnipeg squad is not only full of chemistry but trust and poise. Will this continuity produce PBHG their second national title?
Quebec Ready for Podium
Looking to upend the top two seeds are two Quebec squads: Sherbrooke Red Fox and Saint-Jean-sur-Richelieu Harfang. The former out-performed expectations, finishing sixth in 2021 after being seeded last in Pool C. Red Fox then went and defeated every team placed in front of them at Quebec Regionals before also winning No Borders, dispatching Nationals teams Crash, Crux, Harfang, Crank, and Local 613 along the way. With most of their roster returning in 2022, can this Sherbrooke squad continue their momentum all the way to the top?
Out of the ashes of the 2019 bronze medalists Battleship rises Harfang. The Saint-Jean-sur-Richelieu contingent returns 11 of its players from 2021 and has infused itself with some new talent to create a team that finished second at Quebec regionals. At No Borders in July, Harfang had mixed results, defeating Local 613 in pool play 12-11 as well as Crank 11-8, before falling by one to Crash and four to Red Fox. The squad would end up finishing fifth, defeating Crux and Danger Noodle, two other Nationals qualifiers seeded below them. A win in their Thursday encounter against Red Fox could foreshadow eventual success at this tournament. Can this first year squad make it to semifinals and beyond?
Is this the year for Vancouver?
A team with an immense amount of talent and promise for the last few years has been Vancouver's T.T.. The group finished 9th at UCI in 2019 and 7th in 2021, but despite the middling results in the last two championships, this squad is primed to make a deep run. The Vancouver squad is seeded fourth, their highest seed since 2018 when they were seeded third and finished 6th. T.T. went 3-1 at BC regionals, winning the tournament on a three-way tie. 2022 represents an opportunity for them to get their highest finish as a program. Can this group finally put it together and make their way to the semifinals for the first time in program history?
Other Nuggets
No. 7 seed Local 613 finished second at Ontario regionals and No Borders
No. 10 seed Lit finished 12th in 2019 and make their return to Canadian competition after not participating in 2021
No. 12 seed Spawn is the lone representative from the East Coast and are hoping to improve on their 11th place result in 2021
Two first-year teams make their debut at CUC: 18th seed Kombucha Culture (QC) and 19th seed Danger Noodle (ON)
Related Content
Huckin' Eh: WJUC Recap, CUC – Senior Mega-Preview
In the mega preview for CUC – Senior, Theo breaks down every team and every pool as well as the games to watch, and his picks to win in each division.