Drag'n Thrust's wild comeback capped off an exciting weekend in the mixed division.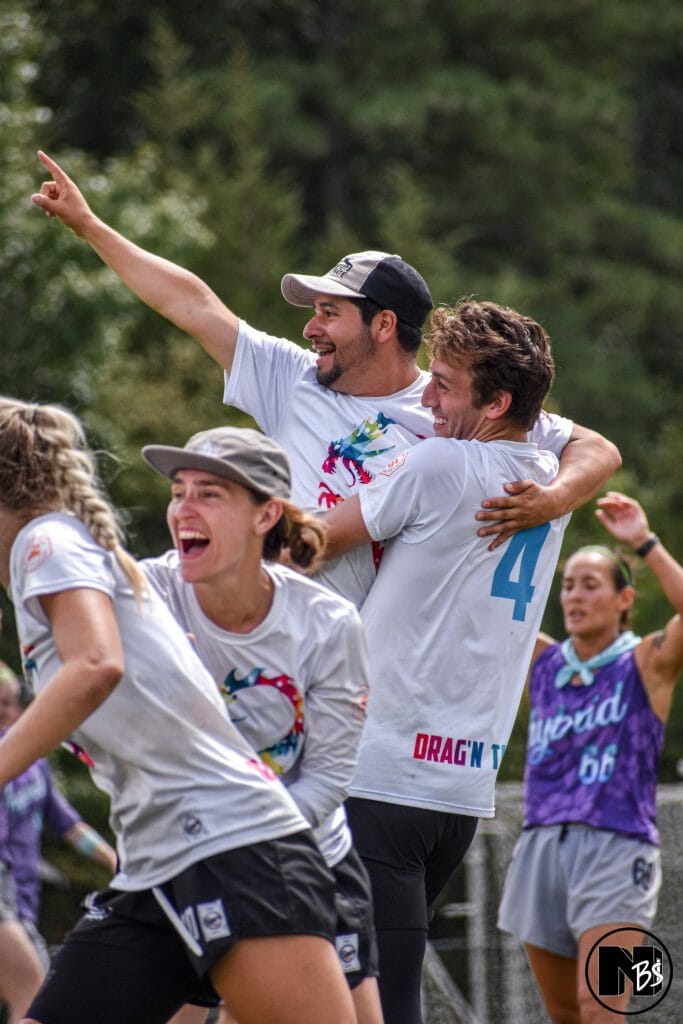 RALEIGH, NC — After digging themselves an 8-2 halftime deficit, #8 Minneapolis Drag'n Thrust scored the last six points of the final to complete an unexpected comeback and take down #3 Ann Arbor Hybrid to win the second leg of the Triple Crown Tour.
This game featured an exciting strength-on-strength matchup, with Drag'n Thrust's practiced offense facing off against Hybrid's rangy and fast defense. Hybrid found success by scoring efficiently with their offense and letting their powerful D-line go out and build an early lead.
"Our O-line got off of the field quickly in the first half," Hybrid captain Dan Donovan said. "Everybody thinks that's the narrative with us, so the fact that we got it done for the first few points and got our D-line back on really helped."
In the first half, the Hybrid offense only needed to play three points. Though they threw two turnovers, foretelling what was to come in the second half, they passed all of the tests by converting all three points. Meanwhile the Hybrid defensive unit was taking advantage of every Minneapolis mistake.
Hybrid's counterattack offense, led by Theo Shapinsky, Axel Agami Contreras, Nathan Champoux, and Sara Nitz, moved quickly when given the chance. Not afraid to take shots, Hybrid looked unflustered in the face of wind and defensive pressure. Drag'n Thrust tried a few different approaches — set plays, dominator sets, and deep looks — but it seemed like Hybrid had an answer for everything as Nitz, Jake Steslicki, and Mya Hernandez recorded blocks against Drag'n Thrust's stars to build their six-goal halftime lead.
"We had a good mental approach and good sideline support," Donovan said. "Almost every single pass felt like we were putting some pressure on it. Making them think and making them work into small windows. If you do that to a team for 10, 15 passes, you're going to get mistakes and players are going to make plays."
Despite trailing by what many viewers considered too large a lead to mount a serious comeback, Drag'n Thrust never gave up and picked each other up during halftime.
"Oh, we're always in the game," Drag'n Thrust coach Carlos Lopez said on the Ultiworld broadcast during a halftime interview. As a smile crept across his face, Lopez continued, "There's no doubt in our mind that we can make a comeback. We're looking to do it and it just starts with energy on the sidelines, so we're excited for the second half."
"We can't give up on ourselves. We can't give up on each other," Drag'n Thrust captain Danielle Byers said after the game, reflecting about the team's mentality at halftime. "We're still in this. The game is not over until they call it."
Knowing that they could only score one at a time, Drag'n Thrust methodically began their comeback. On offense, the team adjusted by playing their stack closer to the opening dominator set, to connect cutters with handlers quicker in the point. This led to an easy hold at the start of the second half when Josh Klane powered upline and fired a flick huck with some fade to the breakside to Byers who timed her cut perfectly. Byers, who earned the nickname "Buckets" led the team in goals this weekend.
Drag'n Thrust scored their first break of the game when Caleb Denecour peeled off of his mark to block a huck that sailed over Madalyn Simko's head. On the counterattack, he high-pointed a disc between two defenders and immediately stood up to launch a seeing-eye flick huck to the break side of the end zone. It was just the spark Drag'n Thrust needed.
After turnovers, Minneapolis started leaving help defenders deep, thwarting the Hybrid D-line offense that relied on quick-strike hucks to convert their chances in the first half. Drag'n Thrust still gave Hybrid plenty of second-half opportunities, but rather than try to work the disc slowly, Hybrid's counterattack forced the disc deep despite the defensive coverage.
In the early stages of the second half, the teams mostly traded holds. Hybrid notched a clean hold to build an 11-6 lead with about fifteen minutes left until soft cap. It would turn out to be their last score of the game.
Drag'n Thrust's game-winning string of breaks started with a Bryan Vohnoutka high-stall scoober — one of his three assists in the game — amidst good end zone defense from Hybrid. Though they were still energetic on the sideline and playing with confidence, Hybrid would slowly unravel through a string of execution errors over the next several minutes.
Soft cap went off with Ann Arbor still clinging desperately to a fading 11-10 lead. Drag'n Thrust's Sam Berglund undercut and blocked Nitz's floaty upline throw to an isolated Shapinsky. Picking up near his own goal line, Berglund uncorked a blazing flick huck for Vohnoutka who read it and timed his jump perfectly to grab it before his defender had a play on the disc. With inches to go, Vohnoutka calmly flipped the disc to Brett Bergmeier to set up double game point.
The gravity of the Drag'n Thrust comeback hit the stadium suddenly. With the score tied at eleven apiece, the teams took the heat timeout that normally would take place after one team reached twelve points. In this game, twelve would be all it took for a win, and the teams had an extra three minutes to concoct their strategy.
Each team put out their top lineup and Hybrid moved the disc intelligently two-thirds of the way up the field against a very soft Minneapolis defense. As the defense tightened near the end zone, Axel Agami Contreras made an upline cut that was covered well by Denecour. He cleared back into the stack, but Simko, who had the disc about ten yards away, thought he was continuing the move back to the open side and threw a blading flick that hit the turf.
Drag'n Thrust moved the disc upfield against an energized defense. With the pressure mounting, Vohnoutka lofted a soft hammer towards a wide open Sarah Mondschein on the break side. Raymond Lu peeled off of his assignment and blocked the shot, but crashed into Mondschein after he knocked the disc away, and she called a foul.
The play went to the observer crew, who were in disagreement themselves over the correct call, and the disc went back to Vohnoutka as a contested foul. With a second chance, Drag'n Thrust inched the disc closer to the goal line. As the stall count rose, Marty Adams led Rachel Johnson into the end zone with an outside-in backhand that curved over her defender and into the front of the end zone. What looked like a centering pass reset turned into the game winner that completed a total stunner of a comeback.
"This is a very talented team. We had a lot of depth," Johnson said on the field after the game. "Really we just need to get in gear and get going and we dug deep and were able to pull it out."
Johnson's focus on depth was on point; including her last point goal, eleven different players caught goals for Minneapolis. "The Drag'n Thrust name in previous seasons means nothing," Byers said after the game. "It's still our name, it's still who we are. But at the end of the day we're a new team, we're a new group of players, and every time we play we have to prove ourselves."
In the most important game of their season, at least to this point, Drag'n Thrust proved to the world that this team is championship material.