It's tight at the top between as many as eight teams this year!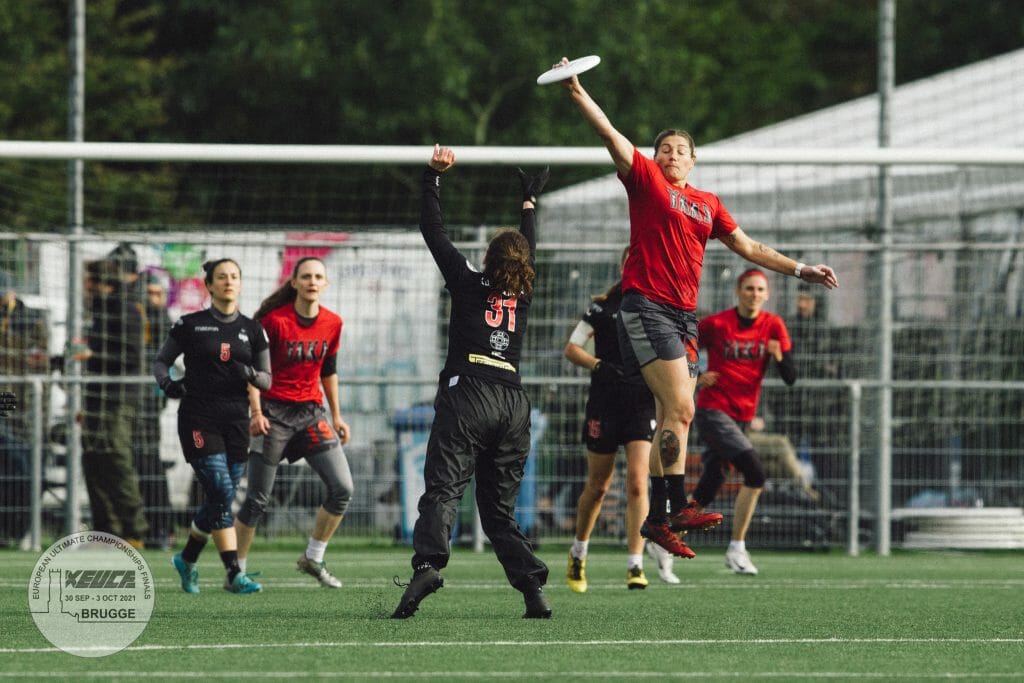 The women's division at EUCF 2022 is arguably wide open. Due to a lack of entries, women's teams didn't have to qualify for the event which could result in a wide range of experience with several teams making their debuts. Having said this, many of the top teams competing this weekend have already met in some tight games over the course of this packed season, across Tom's Tourney, Windmill, Elite Invite, London Invite and, of course, WUCC earlier this summer. How the teams have stacked up against each other at these tournaments is far from clear cut, and there are several who might reasonably expect to have a shot at taking the title.
The 22 women's teams are split across six pools with either three or four in each pool. The top two from each pool, alongside the top four third-placed teams, will qualify for the pre-quarters. In the two pools of three there will be crossover games between first in one and second in the other. The top third-placed teams will be calculated by goal difference against the top two with games against fourth discounted, so the pools of three will have the same system as the rest. Once the top 16 has been determined, it's knockouts from there.
Tournament Profile
Date: September 29 – October 2
Location: Caorle, Italy
Weather: Wet with dry spells, temperatures in high teens C/high 60s F and light wind
How to watch: On Ulti.TV's YouTube channel
Team breakdown:
Four teams: Italy
Three teams: Great Britain, Germany
Two teams: Austria, Czech Republic, France, Poland
One team: Ireland, Slovakia, Sweden, Switzerland
A repeat of last year's final?
Returning after the last year's success are xEUCF 2021 finalists YAKA (Noisy-le-Sec) and CUSB Shout (Bologna). It's difficult to call how things will fall if these two teams, who are the top seeds for pools A and B, face each other. Earlier this year Shout beat YAKA to take third at Elite Invite and then came out victorious again in the London Invite final. YAKA, however, was much more successful on the world stage, finishing 15th at WUCC while Shout finished 24th.
YAKA is seeded top of pool A, where it will face Bristol, Heidees (Heidelberg) and East Block (Prague). On paper, none of these teams should pose a problem for YAKA, which convincingly beat second seed in its pool, Bristol, 15-4 at Elite Invite six months ago. YAKA will be boosted by the return to its ranks of American star Robyn Fennig after she played with local team NOISE at WUCC. The Parisians may, however, have to contend with an injury to the heart of the team Aline Mondiot1. She was on crutches with a strapped ankle at a tournament a few weeks ago so it's something to keep an eye on.
Shout also shouldn't have too much difficulty in pool B, where it will need to beat Iceni (London), Panthers (Wroclaw), and Swing to Hell (Bratislava) to secure itself as top seed on the other half of the bracket. Two of the best players on the team, Laura Farolfi and Anna Ceschi, look to be returning after missing WUCC and, in Farolfi's case, xEUCF last season. Their ability, experience and competitive fire will be huge additions.
Strong German teams ready to shake up the standings
Hoping to shake things up, however, are two German teams: jinX and Seagulls. jinX, from Berlin, is the top seed for Pool F, while the Seagulls from Hamburg might be set to disrupt E pool.
These two German sides were the top two highest ranked European teams at WUCC in July, claiming tenth and eleventh, respectively. jinX also won the Elite Invite in Bologna in March of this year and came out on top 15-10 at WUCC when the teams played each other. Both teams will be looking to claim a European title and it's even possible we'll see a first-ever all-German final. jinX features Nici Prien, Katharina Schulze and Anna Gerner who all starred for the German World Games team earlier this year as well as alternate Charlotte Schall, while World Games player Kyoko Binnewies and Swiss star Laura Kunzelmann2 will be key for Seagulls.
Before either gets there, however, Seagulls will have to face Czechs and Windmill finalists 3SB (České Budějovice), which is seeded top of its pool, and Synthesis, an amalgamation of three British teams3. Meanwhile, jinX is seeded top of their pool and will need to play Freezgo (Blois), Troubles (Warsaw) and CUSB development team Cheetahs (Bologna). The French team could be a particularly tricky opponent with a squad that features French World Games players Coralie Fouquet and sisters Lison and Eva Bornot alongside a number of the young women from the hugely impressive French under-20 team4 from JJUC earlier this summer. Even if Freezgo doesn't do well here, if this group stays together it could be one to watch in future years.
Close competition likely in C and D pools
Pools C and D will potentially be less predictable. Pool C is topped by xEUCF bronze medallists Dublin Gravity, the only participants from Ireland and recent runners-up at UK Nationals, which faces FABulous (Bern), CUS Padova (Padua) and Mantis (Vienna). FABulous could give Dublin Gravity a close game. Both teams will have gained a huge amount of experience in the past year, having both competed at the highest level at WUCC. Gravity added some players ahead of UK Nationals and has picked up another in Alana Archer, who played for Spice in the UK and made the Great Britain mixed beach team in 2020.
Meanwhile SUFC Valkyria (Stockholm) takes top seed in pool D, having come fourth at xEUCF 2021. The Swedes will take on Box (Vienna) and DiscoBolo (Bologna), both of which also competed at xEUCF 2021. Any of these teams could legitimately hope to do well in the pool, although Valkyria looks to be in a strong position with the return of Molly Robbins to the squad after her departure to the US last year.
The battle for the top 16
A 22-team division makes for a slightly complicated schedule. The best third-place teams being determined by the best point difference means that the difference between losing a game narrowly and losing by a large margin could be pivotal for progressing to the top 16. Games that might in other situations be blowouts where both teams lose concentration slightly could remain competitive and intense throughout as teams battle for the best points difference they can. In this scenario, a pool with lots of parity but no elite team could see the most qualifiers. It could also mean that all three teams in the pools of three (D and E) qualify for the pre-quarters. Pool E, in particular, looks strong and balanced.
---