New York's relentless defensive performance proved too potent for a weary Chain Lightning to overcome.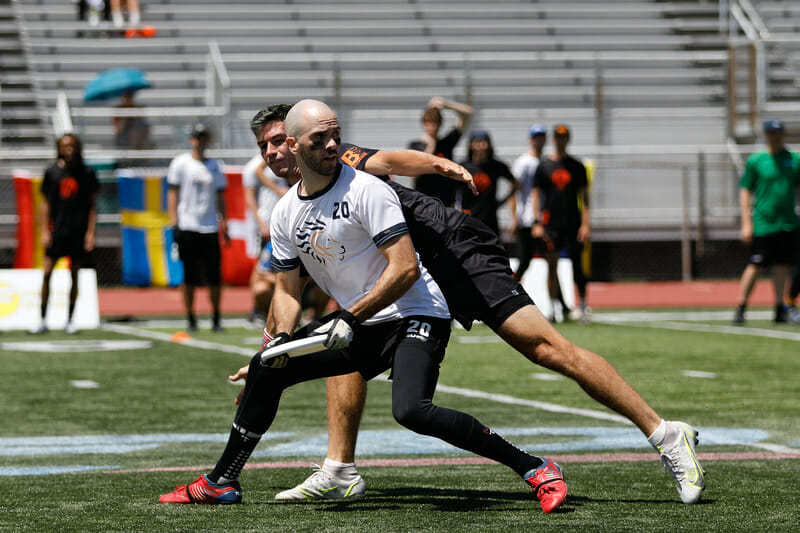 Ultiworld's coverage of the 2022 Club National Championships is presented by Spin Ultimate; all opinions are those of the author(s). Find out how Spin can get you, and your team, looking your best this season.
"Our motto has been putting our foot on the gas and not letting up the whole time," said New York PoNY D-line player Conrad Schloer. "And driving it off the cliff."
They lived up to that motto and then some on Friday, wearing down Atlanta Chain Lightning all the way through a Daniel Meiland layout block on the way to a break to win the game by a staggering 15-6 margin. The quarterfinal win was the best yet for a PoNY team with their eyes on the team's first championship since their 2018 run.
They didn't just end with their foot on the gas: they started there, too. PoNY put the clamps on Chain's offense to earn two breaks, ensuring that Chain faced a 3-0 deficit before they managed to get on the board. Jibran Mieser jumped all over an inside backhand break attempt to get the disc for their opening D-line. The second D-line pushed a throw to Brett Hulsmeyer all the way to the sideline, where he couldn't make the catch in such a skinny window. Both times, the D-line offense fired a quick-strike attack to punch in the breaks: first, a Grant Lindsley forehand bomb for Schloer's full-tilt sprint; then three zipping passes between Ben Katz, Tyler Haskell, and Ben Spielman.
Chain center handler Tom Tulett – one of the many Chain offensive players faced with the nigh-impossible task of breaking through to the end zone – credited PoNY's defense as the best the team has seen all season. Interestingly, he framed it as a problem of exposure for his own squad: the team did not get an invitation to Pro Champs. "I guess what we need to do as a team and as a program is win through the rest of today so we can qualify to play those bigger tournaments and get that more sustained exposure to top-tier defenses throughout the season, so when we get to a game like that, it's not like a shell-shock situation," said Tulett.
In the here and now, though, it was not pretty for Chain. They had dropped goal passes, stark overthrows, and some points where they didn't make any progress at all. The first point out of half was a curiosity shop of mistakes: the lowlight, Jeremy Langdon boxing out teammate Aidan Downey instead of the PoNY defender on a deep shot where they were both in position to catch the disc.
PoNY's D-line offense made a few errors, but by and large they were in service of field position, as they continued to look for opportunities to put Chain's offense on their heels. With Grant Lindsley guiding most of the counters, though, they didn't have much trouble moving the disc any which-way they wanted. "Grant would be a top O-line player on any team. Getting him on the turn for us is just incredible… No one can guard him. No one can handle him," said Schloer.
The New York offense gave up a single break early in the game after a huck caught a tailwind. Otherwise, they were clinical. Mickle is having his best season in years. He was an explosive presence with and without the disc, spotting full-field hucks in the wind with precision and staying open upline or for resets whenever the offense bogged down. "Jimmy's the truth. We all know it," said Schloer. "He's the best thrower in the game."
Ben Jagt was the other stand-out for the offense. Not only did he come down, as expected, with a couple of deep shots, he also demonstrated an ability to shoot a perfect 30-yard leading forehand down the sideline against a steady crosswind. If Jagt continues to flash his chops as a thrower, break opportunities against PoNY are going to be extremely limited for the remainder of their tournament.
All in all, PoNY will be encouraged by this last tune-up before they play their stiffest competition of the tournament so far. A stingy Truck Stop side awaits them in Saturday's semifinal.
Chain can take heart in the fight they put up in the second half. Scores may have been hard to come by, but they kept up the same pugnacious spirit that keyed successful comebacks in so many other games this weekend.
"It's something that we've proven to ourselves time and time again throughout this season is that we do have that tenacity and that ability to bounce back from deficits… We always believe that we are in games. I think yesterday was really important. We went down 4-0 to Condors early, and we ground that game out and won it. Pittsburgh broke us early; ground that game out and won it. Vault were up 13-11 against us [in PreQuarters]: same thing. Obviously that [PoNY] game was a bigger margin, but I think the D had some traction, especially early in the game," said Tulett. "But [the offensive execution] was just kind of not good enough."