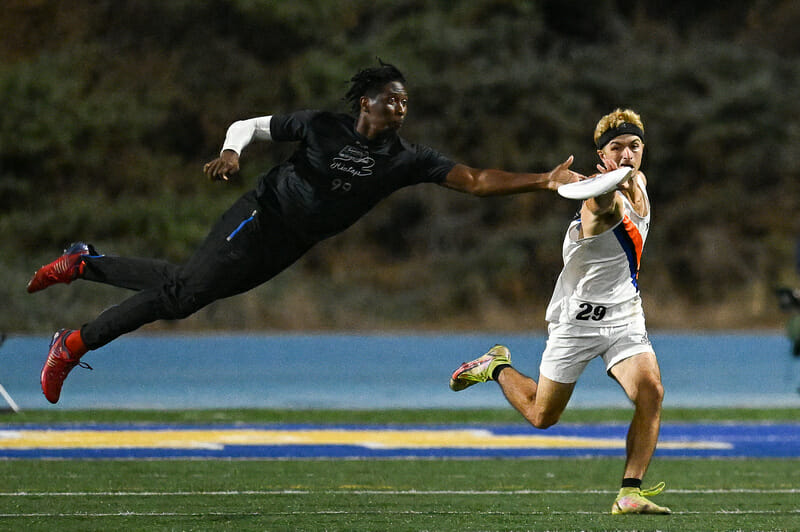 Ultiworld's coverage of the 2022 Club National Championships is presented by Spin Ultimate; all opinions are those of the author(s). Find out how Spin can get you, and your team, looking your best this season.
Have you ever had your heart broken? People say it's formative, but growth is never easy and the price we pay can have an inverse effect if we are not conscious in our assessment and proactive in our response.
Seattle Mixtape have been dominant on their run to the semifinals at this year's Nationals. Apart from a brief surge by Madison NOISE in pool play1, each opponent has been summarily dispatched in the second half. The only other undefeated team left in the division, New York XIST, understood the assignment facing them and brought every weapon they had to bear to try and unwind the Pacific Northwesterners. The result was a close fought 14-12 game that came an inch away from universe point before the world champions were able to book the first spot in Sunday's mixed final, their first since 2018.
Seattle are built on a commitment to "relentless positivity" that borders on the obnoxious for those not on the inside, beginning their attack on opponents with plastic clappers and enthusiastic jawing before they ever take to the pitch. In a statement of intent, and a declaration of war, XIST came out screaming on the sidelines2 and became the first team this season to actually be louder than the Seattle hype squad.
"It is so important for us to be the loudest sideline," said XIST coach Isaiah Bryant. "We have quite a bit of cheers, quite a bit of goofy things that we love to do that gets us going. It puts us in the right mindset and when we do that I think we execute much better."
Execution was in full display for both sides in the opening few points of the match-up. Matt Lemar was crucial in the backfield for XIST, working well with a retinue of players especially the brilliant Mike Drost and Nina Finley. Captain Genny De Jesus was indispensable all game as a tireless cutter for New York; she staked her intentions in the match early, scoring the first two XIST points, finishing a flowing vertical stack move and Oliver Chartock huck, respectively. Mixtape were also at their clinical best — Kelly 'Vegas' Johnson remains one of, if not the, best handlers in the division, while cutters like Lexi Garrity, Paige Kercher, and Khalif El-Salaam built upon her foundation. At 2-2, the sides looked evenly matched.
The next point offered the first signs of vulnerability. XIST undid their hard work setting up deep undercuts from long runs on the open side with miscommunication. Ever resolute, New York ratcheted up the pressure on Seattle's D-line offense, getting a turn but quickly giving it back. If not for a brilliant cross field pass from Denise Blohowiak, they would have gotten it again, but Marc Muñoz was quick to finish the break opportunity with a shot to Alex Nelson.
Mixtape looked ready to power forward into a commanding lead, as they had in every other game they've played in San Diego during the tournament. XIST looked ready to prove they deserved to be in the semifinal. They did so first by scoring an exciting clean hold, where once again( (It happened a lot in the game)) De Jesus was vital as she gets almost every other pass before she finished the point with a shot to Chartock. On defense, Hannah Garfield came up big with a block to shut down Seattle's flow. Josue Alorro wasted no time hucking it to Eliot Bemis for their first break of the game to reclaim the lead.
Seattle responded by going on a three point run, which involved a particularly debated call from Bert Cherry as well as a display of the versatility that Seattle pride themselves on as Johnson and El-Salaam swapped over to the D-line at times and utility tool Kahyee Fong made some appearances to help pressure the XIST attack.
At 6-4, XIST called a timeout to remind themselves of the attitude that got them to where they are. It works, as the New Yorkers respond with some clean offense punctuated with a shot from Chartock to Lemar. The teams would trade out the half to 8-6 with a handful of hiccups for their troubles. Khalif and Abby Cheng earned impressive blocks for their respective teams: the former would lead to an impressive tag team XIST handblock on a huck while the latter was called back as a foul. The half ended when Seattle swung to the sideline and fired down the line for a score — Benjamin Levy read the play perfectly for XIST and stepped in to get the poach block, but Zach Sabin managed to sky him anyway and toe the line for a score.
The build up of calls in the first half threatened to tarnish the game, a potential encouraged by the growing discontent from the enduring crowd that was watching in the stands. However, to focus on that would be to overlook the impressive pressure XIST were bringing to a Seattle side that were becoming a little too comfortable with the caliber of opposition they were facing so far at Nationals.
"They were doing some different things that we haven't seen that was by far the best pressure our O-line has seen," said Johnson. "I think the key was trying to still figure out how to run our systems but with small tweaks. On defense, it was really trying to create tight pressure. It was a team that has also run the most — our D-line had to work very hard on matchups and stay very tight. It was a great mixed team. We hadn't played a lot of teams previously that uses their male identified and female identified so equally. I think it was the first time that we actually had to really, truly lean into defensive pressure every single matchup. And that was unique for us."
The versatility and energy of XIST is a testament to the progress they have made as a club over the past year, building on their Nationals appearance in 2021 as a unit to improve upon their previous bottom pool finish.
"We've done a lot of work on the uncontrollables [in the past year] putting a lot of strategy and prep into every tournament, every game," said Bryant. "Coming into Nationals this year we felt prepared for every opponent, every situation and I felt like it showed in how we really attacked teams. We got them out of their first and second looks and consistently forced teams to go to their third look, and I think that's the difference."
The first point after half demonstrated the defensive focus XIST have been developing all season. Seattle received the disc and flew down the field in typical fashion, until Hannah Garfield put on a force on the sideline and closed three consecutive break windows in Mixtape's face with her activity, forcing a swing around that gave Ryan Drost the chance to sprint across and make a ludicrous layout interception in the endzone. Unfortunately for XIST, Seattle's Brad Houser got the interception back and hit Cam Bailey with a blade for 9-6. The teams traded from there to 10-8.
The game then turned into a teenage disco as they traded braces. First XIST called a timeout to assess their situation and got a little creative with their defensive assignments.
"The motivation was 'Vegas is tearing us up,'" admitted Bryant, when describing their cross-gender assignment switch of Alorro onto Johnson and Cheng on Bailey. It worked, and XIST was able to punch in the score thanks to some double Drost dynamism between twins Ryan and Mike.
"Shout out to Hybrid," said De Jesus, giving credit to the inspiration for their defensive idea.3
Seattle responded with a stacked line, but XIST notched an additional break: it took some spectacular possession saving plays by captains Ryan Drost and Matt Wiener to tie the game at 10-10, forcing a Seattle timeout.
New York tried the gender-swapped matchup again, though Johnson seemed largely unperturbed. "I'm going to run the same way," she said. "It was really fun to still try to run the same cuts that I'm gonna do and still get open the same. It fires me up, I would love [NOISE] to do it. So you can tell them to do it tomorrow. It's a compliment, for sure." Bailey was also ready for the match up and worked tirelessly to throw Cheng off his tail, eventually losing her on a swing deep in the XIST half and hitting Frances Gellert for the score.
You don't get to be world champions easily, and Mixtape leaned into their experience and pulled a new defensive look late in the game by coming out in zone. "We always keep something in our back pocket in case things get tight and we always have one more trick," said Jen Cogburn.
"They gave us something else to think about, we had to think one beat longer, when you do that over the course of a point you're going to increase the chances of a turnover, that's what they wanted to do and they executed it really well," said Bryant.
The zone got a short field turn, and Mixtape punched it in to go up 12-10. Proving the mettle that earned them a spot in the semifinals, XIST were unbowed, fighting back with a big shot from Chartock down the line, then De Jesus finished the play to Mike Drost for 12-11. At this level, success is about rolling with the punches and throwing them back, something New York have done better than anyone else against Seattle this weekend.
"Our D-line was a bunch of dogs this game," said De Jesus. Abby Cheng certainly looked best in show when she got a crucial block and tore off down the pitch. Unfortunately, the subsequent shot to her flying form was slightly misread as she jumped a split second too early and fell a split hair too short of tying the game at 12. Bailey4 clearly didn't care for how close the margins were getting and hit El-Salaam going the other way with a monster flick huck to the back of the endzone for the 13-11 lead.
With their season facing an XIST-ential crisis, the New Yorkers responded with trademark state of mind, side stacking against the Seattle zone, working patiently until Mike Drost uncorked a huck to Chartock who made one of the plays of the game with a huge layout snag for 12-11.
Knowing time was running out, XIST switched things up defensively again and went with a zone of their own. Billy Katz seemed more than equal to it, pulling it apart with expansive throws until a slightly overcooked blade to Gellert gave XIST the chance they were looking for. Unfortunately, the big floodlights of the moment untied them, and they squandered the opportunity. Mixtape reverted to what got them to the dance and utilized quick handler movement with a front of the vertical stack weave to secure the score and 14-12 lead.5
Looking to finish the game, Seattle again trotted out their zone; looking to show they can't be shaken by the same move twice, XIST broke through it quickly and rushed down the sideline to get within one.
In response, Mixtape went back to basics, leaning into their big players and some high releases to flow down the pitch in 2-5. Swinging across the field, Vegas ended the game with a lefty backhand to Lexi Garrity. Cheng was tantalizingly close to getting the block on the Seattle cutter but she fell just shy of the block, an encapsulation of just how close this game was.
"The defensive pressure on their end added up on us," said Vegas after the game. "Our O-line got a little shook for a minute and I think defensively it's really hard to play with a team for an entire game that's running that hard. So credit that to XIST. They were running very hard and our D-line got a little fatigued. We were like, 'wow.' We've had a lot of teams kind of lay down in second halves because we've just been very dominant, and so this was the first time that we had to play from start to finish. That really challenged our offensive discipline and ability to stay patient and it really challenged our defenses athleticism and ability. They're not just going to lay down and we're going to have to keep running with them every single cut, every single point."
It was a statement season for XIST, and while the final message may not be the one they were hoping to send, they can rest assured everyone heard it and they won't be overlooked in the build up to Nationals next year.
"It's not about one particular person getting a block, or that one critical moment, it's about building intensity over the course of a game, and applying pressure over the course of the game," said captain Lusia Maria Neves. "Having our players step up and grind and continue to apply that pressure, to ask that as a leadership, to ask that before the game and to have that executed, that's the number one thing I'm proud of and that's what makes me feel like this program, we're not done. This is the work we've put into it over the course of the season and we're going to keep growing."
Meanwhile, Seattle goes forward to their first national final in four years. "Lexi Garrity said back in 2019 that's our goal, we've got to get back to worlds and win it, redemption tour," said Bailey. "And I was like, yea, no shot, cause these things are hard, it's hard to keep a team together, there's cycles as new players come up, so to get back to finals: it's awesome, it's a cool atmosphere, it's gonna be really fun. I'm excited and it would suck to blow it."
Heartbreak shapes us all — it is a fundamental human experience, and one that we all inevitably endure. XIST must now use theirs to shape their future, while Mixtape are on the precipice of that most sacred of labors: redemption.
---