The season gets underway on April 28th.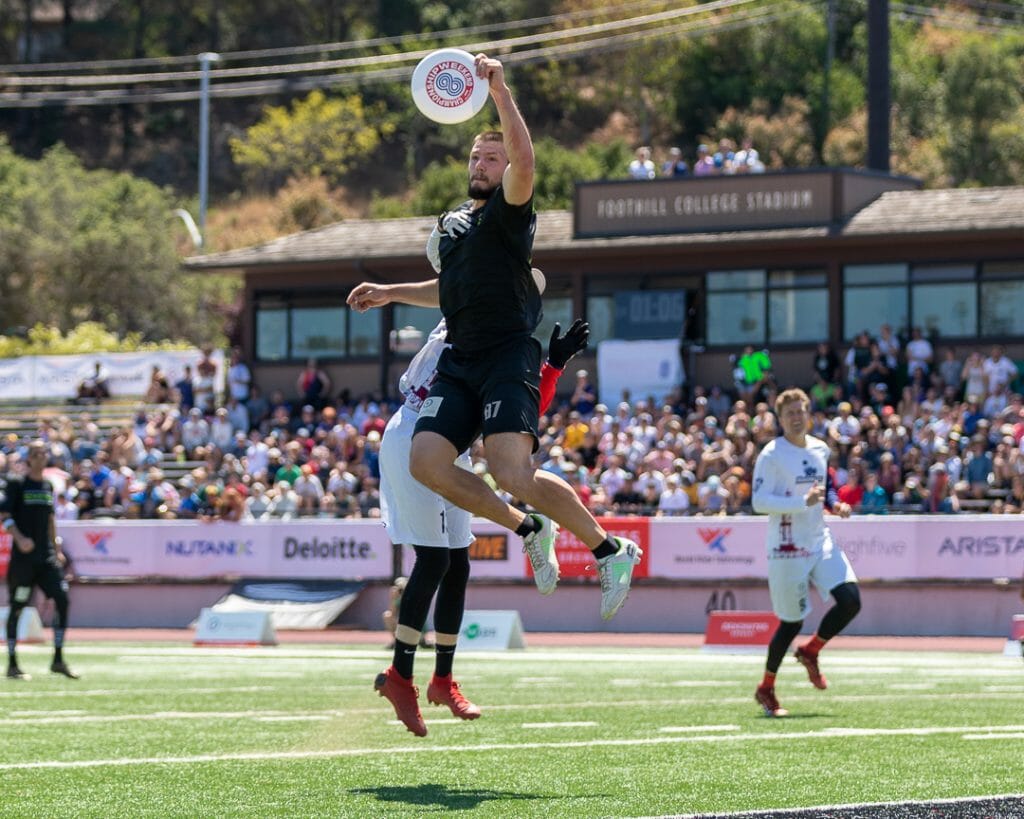 The American Ultimate Disc League announced its 2023 schedule today. Over 13 weeks, each of the league's 24 teams will play a 12-game slate with 12 playoff spots up for grabs.
The 2022 AUDL regular season starts on Friday, April 28th, and runs through Sunday, July 23rd. The playoffs will be held over three weekends, with the divisional playoffs on July 28-29 and August 11-12 and the Championship Weekend in Minnesota's Twin Cities on August 25th and 26th.
The league dropped two teams in the offseason — Ottawa and Tampa Bay — and added a new franchise in the Houston Havoc. The East Division is now down to six teams to match the Central, but the West remains with seven and the South with five. The two and three seeds in each division will play in the first round of the playoffs for the right to face off against the top seed in the division championship game. Each of the four division champions will meet at Championship Weekend.
Opening day features just one game: the Seattle Cascades will travel to Salt Lake to take on the Shred. Opening weekend's marquee game (and the FS2 Game of the Week) is the DC Breeze vs. Carolina Flyers, one of 14 interdivisional matchups during the season, a record number for the league. Some highlights include a New York Empire road trip to Colorado and Salt Lake, San Diego heading to Houston and Austin, and Portland taking on Chicago.
The league also announced its Game of the Week schedule for 2023. All of the games will be aired live on AUDL.tv and on tape delay on Fox Sports 2. Last year, many Game of the Week broadcasts were unavailable live to US-based fans because of contractual obligations with FS2, a frustrating experience for viewers. Here is the full GOTW schedule:

15 of the league's 24 teams are getting featured in a Game of the Week broadcast. The Championship game will be the only game aired live on FS2 this season.
Below is a fully sortable and searchable schedule for the 2023 season:
| Week | Date | Time | Away | Home | Division |
| --- | --- | --- | --- | --- | --- |
| 1 | Friday, April 28, 2023 | 7:00 PM | SEA | SLC | West |
| 1 | Saturday, April 29, 2023 | 2:00 PM | SEA | OAK | West |
| 1 | Saturday, April 29, 2023 | 6:00 PM | DC | CAR | Interdivisional |
| 1 | Saturday, April 29, 2023 | 6:00 PM | MAD | PIT | Central |
| 1 | Saturday, April 29, 2023 | 7:00 PM | PHI | NY | East |
| 1 | Saturday, April 29, 2023 | 7:30 PM | IND | ATL | Interdivisional |
| 1 | Saturday, April 29, 2023 | 7:00 PM | ATX | HOU | South |
| 2 | Friday, May 5, 2023 | 7:00 PM | TOR | NY | East |
| 2 | Friday, May 5, 2023 | 8:00 PM | CAR | ATL | South |
| 2 | Friday, May 5, 2023 | 7:00 PM | COL | SD | West |
| 2 | Friday, May 5, 2023 | TBD | SLC | POR | West |
| 2 | Saturday, May 6, 2023 | 5:00 PM | TOR | BOS | East |
| 2 | Saturday, May 6, 2023 | 7:00 PM | MIN | IND | Central |
| 2 | Saturday, May 6, 2023 | 6:00 PM | COL | LA | West |
| 2 | Saturday, May 6, 2023 | 7:00 PM | DAL | ATX | South |
| 2 | Saturday, May 6, 2023 | TBD | SLC | SEA | West |
| 2 | Sunday, May 7, 2023 | 5:00 PM | PHI | DC | East |
| 3 | Friday, May 12, 2023 | 8:00 PM | ATX | ATL | South |
| 3 | Friday, May 12, 2023 | 7:30 PM | POR | LA | West |
| 3 | Saturday, May 13, 2023 | 1:00 PM | PHI | BOS | East |
| 3 | Saturday, May 13, 2023 | 4:00 PM | MTL | TOR | East |
| 3 | Saturday, May 13, 2023 | 6:00 PM | ATX | CAR | South |
| 3 | Saturday, May 13, 2023 | 7:30 PM | NY | DC | East |
| 3 | Saturday, May 13, 2023 | 6:15 PM | POR | SD | West |
| 3 | Sunday, May 14, 2023 | TBD | SEA | COL | West |
| 3 | Saturday, May 13, 2023 | 6:00 PM | HOU | DAL | South |
| 3 | Saturday, May 13, 2023 | 6:30 PM | IND | CHI | Central |
| 3 | Saturday, May 13, 2023 | TBD | PIT | DET | Central |
| 3 | Saturday, May 13, 2023 | 5:00 PM | SLC | OAK | West |
| 4 | Friday, May 19, 2023 | 7:00 PM | LA | SLC | West |
| 4 | Friday, May 19, 2023 | 7:00 PM | SD | HOU | Interdivisional |
| 4 | Friday, May 19, 2023 | TBD | OAK | POR | West |
| 4 | Saturday, May 20, 2023 | 1:00 PM | BOS | MTL | East |
| 4 | Saturday, May 20, 2023 | 6:00 PM | PIT | MIN | Central |
| 4 | Saturday, May 20, 2023 | 6:00 PM | DC | TOR | East |
| 4 | Saturday, May 20, 2023 | 7:00 PM | MAD | IND | Central |
| 4 | Saturday, May 20, 2023 | 7:00 PM | NY | PHI | East |
| 4 | Saturday, May 20, 2023 | 7:00 PM | SD | ATX | Interdivisional |
| 4 | Saturday, May 20, 2023 | TBD | LA | COL | West |
| 4 | Saturday, May 20, 2023 | TBD | OAK | SEA | West |
| 4 | Sunday, May 21, 2023 | 1:00 PM | ATL | CAR | South |
| 5 | Friday, May 26, 2023 | 7:00 PM | HOU | CAR | South |
| 5 | Saturday, May 27, 2023 | 1:00 PM | TOR | MTL | East |
| 5 | Saturday, May 27, 2023 | 6:00 PM | PHI | PIT | Interdivisional |
| 5 | Saturday, May 27, 2023 | 7:30 PM | HOU | ATL | South |
| 5 | Saturday, May 27, 2023 | 6:00 PM | CHI | MAD | Central |
| 5 | Saturday, May 27, 2023 | TBD | MIN | DET | Central |
| 5 | Sunday, May 28, 2023 | 3:00 PM | ATX | DAL | South |
| 5 | Sunday, May 28, 2023 | 4:00 PM | MIN | CHI | Central |
| 6 | Friday, June 2, 2023 | 7:00 PM | NY | BOS | East |
| 6 | Friday, June 2, 2023 | 7:00 PM | CAR | DC | Interdivisional |
| 6 | Friday, June 2, 2023 | 7:00 PM | HOU | ATX | South |
| 6 | Friday, June 2, 2023 | TBD | SEA | POR | West |
| 6 | Saturday, June 3, 2023 | 3:00 PM | IND | DET | Central |
| 6 | Saturday, June 3, 2023 | 6:00 PM | NY | MTL | East |
| 6 | Saturday, June 3, 2023 | 7:00 PM | CAR | PHI | Interdivisional |
| 6 | Saturday, June 3, 2023 | 7:00 PM | OAK | SLC | West |
| 6 | Saturday, June 3, 2023 | 6:15 PM | LA | SD | West |
| 6 | Saturday, June 3, 2023 | 6:00 PM | CHI | MIN | Central |
| 6 | Saturday, June 3, 2023 | 7:00 PM | DAL | HOU | South |
| 6 | Sunday, June 4, 2023 | 5:00 PM | PIT | MAD | Central |
| 6 | Sunday, June 4, 2023 | TBD | OAK | COL | West |
| 7 | Friday, June 9, 2023 | 7:00 PM | ATL | BOS | Interdivisional |
| 7 | Friday, June 9, 2023 | 7:00 PM | CAR | DAL | South |
| 7 | Friday, June 9, 2023 | TBD | SLC | COL | West |
| 7 | Friday, June 9, 2023 | TBD | LA | POR | West |
| 7 | Saturday, June 10, 2023 | 6:00 PM | MAD | MIN | Central |
| 7 | Saturday, June 10, 2023 | 6:00 PM | PHI | TOR | East |
| 7 | Saturday, June 10, 2023 | 7:00 PM | CHI | IND | Central |
| 7 | Saturday, June 10, 2023 | 7:00 PM | ATL | NY | Interdivisional |
| 7 | Saturday, June 10, 2023 | 5:00 PM | SD | OAK | West |
| 7 | Saturday, June 10, 2023 | 7:00 PM | CAR | ATX | South |
| 7 | Saturday, June 10, 2023 | TBD | LA | SEA | West |
| 7 | Sunday, June 11, 2023 | 1:00 PM | BOS | MTL | East |
| 7 | Sunday, June 11, 2023 | 2:00 PM | DET | PIT | Central |
| 8 | Friday, June 16, 2023 | 7:00 PM | DAL | CAR | South |
| 8 | Friday, June 16, 2023 | 7:00 PM | MTL | DC | East |
| 8 | Friday, June 16, 2023 | 7:00 PM | BOS | NY | East |
| 8 | Friday, June 16, 2023 | 7:00 PM | COL | SLC | West |
| 8 | Saturday, June 17, 2023 | 6:00 PM | PIT | TOR | Interdivisional |
| 8 | Saturday, June 17, 2023 | 6:30 PM | POR | CHI | Interdivisional |
| 8 | Saturday, June 17, 2023 | 7:00 PM | DET | IND | Central |
| 8 | Saturday, June 17, 2023 | 7:00 PM | MTL | PHI | East |
| 8 | Saturday, June 17, 2023 | 7:30 PM | DAL | ATL | South |
| 8 | Saturday, June 17, 2023 | 5:00 PM | COL | OAK | West |
| 8 | Saturday, June 17, 2023 | 6:15 PM | SEA | SD | West |
| 8 | Saturday, June 17, 2023 | 6:00 PM | MIN | MAD | Central |
| 8 | Saturday, June 17, 2023 | 8:00 PM | ATX | HOU | South |
| 8 | Sunday, June 18, 2023 | 1:00 PM | SEA | LA | West |
| 9 | Friday, June 23, 2023 | 5:00 PM | DC | MTL | East |
| 9 | Friday, June 23, 2023 | 7:00 PM | DET | CHI | Central |
| 9 | Friday, June 23, 2023 | 7:00 PM | IND | MAD | Central |
| 9 | Friday, June 23, 2023 | 8:00 PM | ATL | HOU | South |
| 9 | Saturday, June 24, 2023 | 5:00 PM | DC | BOS | East |
| 9 | Saturday, June 24, 2023 | 3:00 PM | CHI | DET | Central |
| 9 | Saturday, June 24, 2023 | 6:00 PM | SD | LA | West |
| 9 | Saturday, June 24, 2023 | 6:00 PM | ATL | DAL | South |
| 9 | Saturday, June 24, 2023 | TBD | MIN | COL | Interdivisional |
| 9 | Sunday, June 25, 2023 | 2:00 PM | MTL | TOR | East |
| 10 | Friday, June 30, 2023 | 7:00 PM | DC | NY | East |
| 10 | Friday, June 30, 2023 | 7:00 PM | DET | PIT | Central |
| 10 | Friday, June 30, 2023 | 7:30 PM | SLC | LA | West |
| 10 | Friday, June 30, 2023 | TBD | COL | POR | West |
| 10 | Saturday, July 1, 2023 | 3:00 PM | BOS | TOR | East |
| 10 | Saturday, July 1, 2023 | 7:00 PM | MAD | IND | Central |
| 10 | Saturday, July 1, 2023 | 6:15 PM | SLC | SD | West |
| 10 | Saturday, July 1, 2023 | 7:00 PM | DAL | ATX | South |
| 10 | Saturday, July 1, 2023 | TBD | COL | SEA | West |
| 10 | Sunday, July 2, 2023 | 1:00 PM | PHI | MTL | East |
| 11 | Friday, July 7, 2023 | 7:00 PM | BOS | PHI | East |
| 11 | Friday, July 7, 2023 | 7:00 PM | CHI | PIT | Central |
| 11 | Friday, July 7, 2023 | 7:00 PM | POR | SLC | West |
| 11 | Friday, July 7, 2023 | 7:00 PM | HOU | ATX | South |
| 11 | Friday, July 7, 2023 | 7:00 PM | MIN | MAD | Central |
| 11 | Saturday, July 8, 2023 | 3:00 PM | MAD | DET | Central |
| 11 | Saturday, July 8, 2023 | 6:30 PM | PIT | CHI | Central |
| 11 | Saturday, July 8, 2023 | 7:00 PM | BOS | DC | East |
| 11 | Saturday, July 8, 2023 | 5:00 PM | POR | OAK | West |
| 11 | Saturday, July 8, 2023 | 6:00 PM | ATX | DAL | South |
| 11 | Sunday, July 9, 2023 | 5:00 PM | IND | MIN | Central |
| 12 | Friday, July 14, 2023 | TBD | NY | COL | Interdivisional |
| 12 | Friday, July 14, 2023 | TBD | SD | POR | West |
| 12 | Saturday, July 15, 2023 | 3:00 PM | TOR | DET | Central |
| 12 | Saturday, July 15, 2023 | 6:00 PM | ATL | CAR | South |
| 12 | Saturday, July 15, 2023 | 6:00 PM | CHI | MIN | Central |
| 12 | Saturday, July 15, 2023 | 7:00 PM | PIT | IND | Central |
| 12 | Saturday, July 15, 2023 | 7:00 PM | DC | PHI | East |
| 12 | Saturday, July 15, 2023 | 5:00 PM | LA | OAK | West |
| 12 | Saturday, July 15, 2023 | 7:00 PM | NY | SLC | Interdivisional |
| 12 | Saturday, July 15, 2023 | 6:00 PM | HOU | DAL | South |
| 12 | Saturday, July 15, 2023 | TBD | SD | SEA | West |
| 13 | Friday, July 21, 2023 | 7:00 PM | MTL | BOS | East |
| 13 | Friday, July 21, 2023 | 7:00 PM | TOR | DC | East |
| 13 | Friday, July 21, 2023 | 7:30 PM | OAK | LA | West |
| 13 | Friday, July 21, 2023 | 7:00 PM | MAD | CHI | Central |
| 13 | Saturday, July 22, 2023 | 6:00 PM | IND | PIT | Central |
| 13 | Saturday, July 22, 2023 | 7:00 PM | MTL | NY | East |
| 13 | Saturday, July 22, 2023 | 7:00 PM | TOR | PHI | East |
| 13 | Saturday, July 22, 2023 | 7:30 PM | CAR | ATL | South |
| 13 | Saturday, July 22, 2023 | 6:15 PM | OAK | SD | West |
| 13 | Saturday, July 22, 2023 | 6:00 PM | DET | MAD | Central |
| 13 | Saturday, July 22, 2023 | 7:00 PM | DAL | HOU | South |
| 13 | Saturday, July 22, 2023 | TBD | POR | SEA | West |
| 13 | Sunday, July 23, 2023 | 5:00 PM | DET | MIN | Central |