We're recapping weeks 7 and 8 in the WUL and weeks 4 and 5 in the PUL!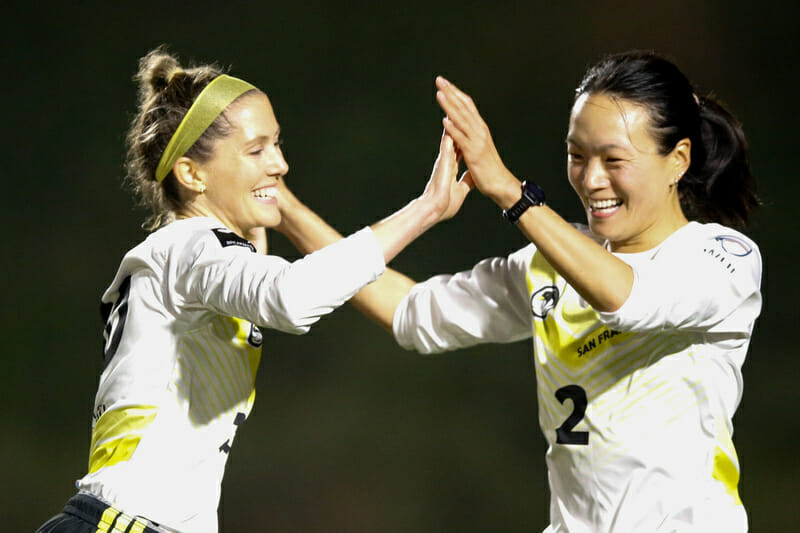 Welcome to the WUL/PUL Update, Ultiworld's bi-weekly women's semi-pro roundup from Jenna Weiner! We've got action from Weeks Seven and Eight in the Western Ultimate League to recap, as well as Weeks Four and Five in the Premier Ultimate League.
WUL Week Seven
Utah's Wild Weekend; Astra Eliminated
At the second and final inter-conference mini-tournament of the WUL season, the Wild Wild Weekend, hosts Utah Wild eked out a 2-0 record with one point wins over both the San Francisco Falcons (17-16) and the Los Angeles Astra (19-18), the latter coming in double overtime. Astra also fell to Colorado Alpenglow in the opening game of the weekend 19-12, which eliminated them from Championship Weekend contention, while the Falcons' own one point win over Colorado 15-14 set up a home win-or-go-home matchup in week eight against the Arizona Sidewinders.
Simply saying Utah won by just a single point against both SF and LA somehow undersells the drama in both games. Against the Falcons, the Wild took advantage of a pair of two point swings at the end of the first and third quarters that came as a result of clock mismanagement by SF in the former and a widely discussed onside roller pull in the latter. In an eventual one-point game, those two key moments made the difference as Utah held off San Francisco late for the win.
As for the incredible double overtime game, Astra went on a five-goal run late to tie it up at 16-16 before Utah scored their first goal in over a quarter to claim a 17-16 lead with just 20 seconds left. It seemed to be all in the Wild's favor after LA turned it with under ten seconds left, only for Jasmine Childress to come up with a block with just moments left in regulation, allowing Astra to tie up the game. From there the teams battled in single and double overtime before Kendra Miller tracked down one final huck for the score and win.
While the other two games on the weekend didn't have quite the same level of drama, they still provided plenty of entertainment. In Colorado's game against LA, Abby Thorpe scored or assisted on over half of Alpenglow's 19 goals with five goals and five assists along with two blocks as the Mountain West did a day one double over their California counterparts. On Sunday, the script was flipped, as San Francisco edged out Colorado in a game that had a mere three breaks. The final break was the decider, the Falcons breaking a 14-14 tie with a mere two seconds remaining on the clock that Alpenglow couldn't then take advantage of on the final possession of the game.
WUL Week Eight
San Francisco Secures Spot in Seattle
In the only game of the weekend in the WUL, the San Francisco Falcons secured their place at Championship Weekend as the second qualifier in the Southwest Conference with a 16-8 home win over the Arizona Sidewinders. San Francisco was able to pick up back-to-back breaks to close the first quarter with a 4-2 lead, and their margin only grew from there. Arizona's offense sputtered throughout as the Sidewinders failed to register a single break en route to the lowest scoring outing in the 2023 WUL season.
The first point of the second quarter summed up the story of the game: starting on offense, the Falcons gave up two break chances to the Sidewinders on completely unforced errors, only to eventually hold to extend their lead to three. While the initial turnover was a simple drop on a reset throw, the second was the result of a not-in call from the observers on an apparent Sam Applegate goal that Applegate celebrated by throwing the disc into the air.1 Despite those gilt-edged opportunities, Arizona's offense couldn't convert and San Francisco followed up the eventual hold with another break, making it five straight goals as they built an unassailable lead.
With both teams wrapping up their regular season play, players got one last chance to add to their statistical tallies. In her first action since week two, Malina Wiebe lept to the top of the Falcons' goals leaderboard with five scores against the Sidewinders, and with 15 total goals in just three games, Wiebe finished the regular season with an incredible average of five goals per game. Eliza Pugh, San Francisco's leading assist thrower on the season with 18, chipped in three against Arizona, and Julia Mankoff pushed her blocks total to a team-leading 15 with three more in the season finale.
For the Sidewinders, their offensive struggles made for a disappointing showing, though Chip Chang added to her league-leading assists total of 23 with a pair against the Falcons. Megan Maxfield finished as Arizona's goal-scoring leader with 16, though Kez Gessel nearly caught up with a pair of goals against San Francisco to finish at 15, and Kody Lippincott led the Sidewinders defense with 14 blocks throughout the season.
Looking Ahead in the WUL
In week nine, Utah hits the road for a PNW double header against Oregon and Seattle, while LA hosts San Diego in a game that has no effect on the Southwest Conference standings with Astra already eliminated from Championship Weekend contention and Super Bloom securing the conference title back in week six. The final weekend of the WUL regular season then sees all the Northwest teams competing in Colorado at the Rocky Mountain Rumble that will decide who will represent the conference at Championship Weekend.
PUL Week 4
Minnesota Strikes in Debuts; Fantastic Philly
Week four in the PUL saw the last of the league's teams finally get into action, with Minnesota Strike winning their opening two games on the road against Atlanta Soul and Nashville Nightshade, 13-11 and 21-13, respectively. Meanwhile, Philadelphia Surge followed up their week two home win over New York with a comprehensive road win against Portland Rising 17-7.
With Robyn Fennig and Sarah Meckstroth both joining Minnesota during the offseason, Strike's season debut was eagerly anticipated, and while it was closer than expected against Atlanta, Minnesota was in control of the game throughout. Although Fennig didn't travel, Meckstroth had an outstanding game with four assists, five blocks, and a goal, and helped Strike establish a 6-3 halftime lead. While Soul were able to bring the score back within two at points, led by a returning Erynn Schroeder, the Minnesotans kept their cool and held off Atlanta for a season-opening win.
The following day on the road at Nashville, Strike used a decisive run in the second and third quarters to open up an unassailable margin against Nightshade. In Nashville's week three win against Columbus, Jesse Shofner and Rachel Kramer proved a near untouchable combo, but sans Shofner against Strike it was tougher sledding for Nightshade. With back-to-back wins in their first two games, Minnesota immediately established a lead in the Midwest division, with none of their divisional rivals able to register a win through week four.
In the other game of the weekend, Philadelphia rolled Portland in Maine, with a 9-3 halftime margin already making life difficult for a Rising comeback before Surge extended their lead in the third to 13-5, effectively ending the game only three-quarters of the way through. After beating New York at home in their franchise opener, Philadelphia has now opened up their season with back-to-back divisional wins, while Portland falls to 1-1 through four weeks after their initial road win over Austin.
PUL Week Five
The PUL's first four game weekend saw a trio of blowout wins and the season's first overtime game as Nashville Nightshade picked up their second win of the season 17-15 over Austin Torch. In Midwest division action, Minnesota Strike made it three for three with their 10-4 win over Indy Red, while New York Gridlock won their first game of the season 22-13 over Portland Rising in a feature game at the Amherst Invite. The final game of the weekend between Philadelphia Surge and Raleigh Radiance didn't even reach the second half as it was called at halftime due to weather, the halftime score of 9-4 being recorded as a win in Surge's favor.
As might be expected from an overtime game, Nashville and Austin played close throughout, the teams even at half 7-7 and 13-13 in the closing stages. One long point later and Nightshade had a 14-13 lead with just eleven seconds left, but Torch responded with a quick strike buzzer beater play to send the game into overtime. Unfortunately for Austin, from there it was all Nashville, Jesse Shofner adding a goal to her five assist tally, and Rachel Kramer adding to her six goal total on the night from Tori Taylor, who threw each of Nightshade's last four assists. The win for Nashville sets up a delectable home showdown against Raleigh on May 20 with both teams sitting at 2-1 through week five.
In the other two divisional matchups, it was mostly one-way traffic, Minnesota holding a 3-0 halftime lead over Indy en route to the win in extremely windy conditions, while New York jumped out to a 7-2 first quarter lead against Portland that Rising could never overcome. While Strike added to their lead at the top of the Midwest division with their comprehensive win, Gridlock still have work to do in the brutal East division, as their opening loss to Philly put them in a hole early. New York hosts DC under the Friday night lights on May 19 in a must-win game for Gridlock.
Looking Ahead in the PUL
New York hits the road once again in week six with a Midwest double header against Minnesota and Milwaukee, while Portland plays a third straight divisional game as they host the undefeated DC Shadow. In the south division, Atlanta plays their second inter-divisional game at Indy in week six before hosting Raleigh in week seven. Milwaukee then are the road warriors in week seven with two games in one day at Indy and at Columbus, and DC hosts what may be the game of the season as they face Philadelphia in a potential matchup of undefeated teams.
---
Very reminiscent of Lisa Pitcaithley's not-in kick spike in the 2018 club semifinals for those who remember that stunning sequence ↩