We're recapping weeks 9 and 10 in the WUL and weeks 6 and 7 in the PUL!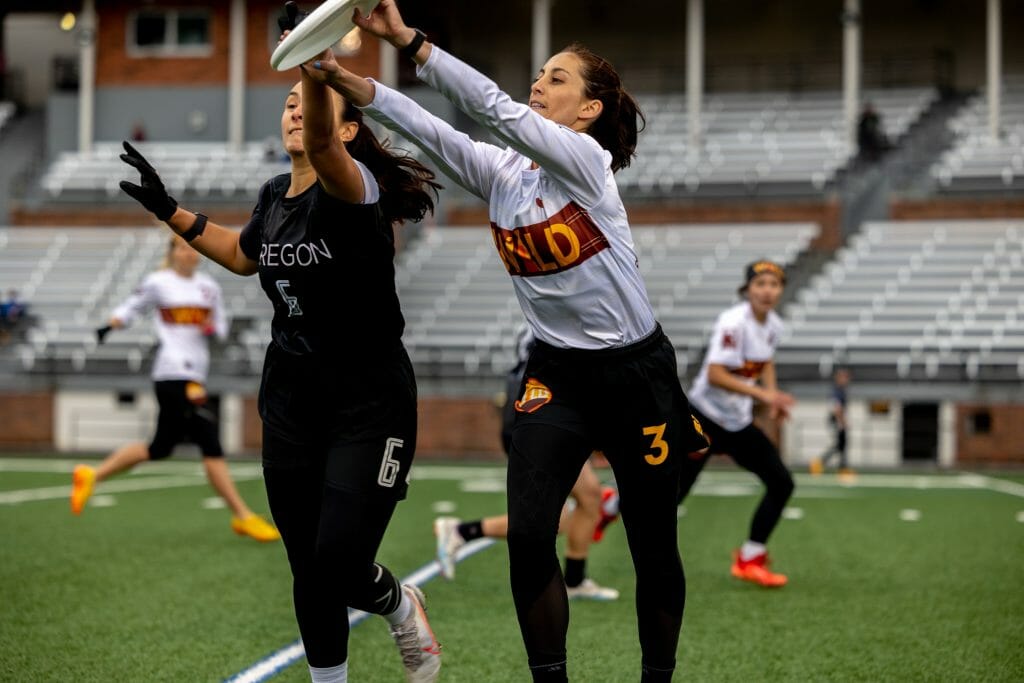 Welcome to the WUL/PUL Update, Ultiworld's bi-weekly women's semi-pro roundup from Jenna Weiner! We've got action from Weeks Nine and Ten in the Western Ultimate League to recap, as well as Weeks Six and Seven in the Premier Ultimate League. Plus, updates to both league's power rankings.
WUL Week Nine
Wild Wilt On The Road; Astra End On A Win
On their Pacific Northwest road trip away to Oregon Onyx and Seattle Tempest, Utah Wild came up just short in both games against their West Coast hosts. Against Oregon, Utah led for much of the second half only to squander their lead at the last moment, and in overtime it was all Onyx en route to a 15-12 final score. A few hours north in Seattle the next day, and Tempest held as much of a seven goal lead until a furious comeback attempt from Wild nearly tied the game up before it finished 14-12 in Seattle's favor. In the only other game of the weekend, Los Angeles Astra beat their SoCal rivals San Diego Super Bloom in overtime 12-11, giving some consolation to Astra who had been eliminated from Championship Weekend contention back in week seven.
The moment of the weekend came in the closing stages of regulation in Oregon's win over Utah, with three turnovers in less than a minute leading to a leaping game-tying catch by Onyx's Trout Weybright. It was an incredible sequence that saw Utah give up a first throw upfield block with under ten seconds left when a single pass backwards could have won them the game then and there. Instead, it was Weybright who rose up to send the game into overtime, and with Wild seemingly emotionally drained, Onyx scored three straight goals to open the extra period and it was curtains from there for Utah.
On Saturday night in Seattle, Utah's fortunes didn't improve until late as Tempest held a 13-6 lead with just three minutes left to play in the third quarter. From there, though, whether due to a surge of intensity from Wild or a lapse of concentration from Seattle, everything seemed to go Utah's way. Wild put together a scintillating 6-0 run to draw the game within one, 13-12, but another late turnover doomed them, and Tempest closed it out with a gorgeous huck to Drea Baroma to secure their place in Championship Weekend.
Despite the game having no implications for the postseason, Astra and Super Bloom played out a tight, back-and-forth affair in Los Angeles. Both teams had most of their star players available, but both found the going tough in windy conditions. In the end, Astra did just enough to get one over on Super Bloom, though it'll be San Diego, not LA, in contention at Championship Weekend at the start of June.
WUL Week Ten
Utah Does Enough; Onyx and Alpenglow Miss Out
At the Northwest Conference-deciding mini-tournament in Colorado, the "Rocky Mountain Rumble," Utah Wild secured a place at Championship Weekend, while Seattle Tempest confirmed their conference supremacy. With a pair of games each decided by one and four points there was plenty of parity at altitude, and all four teams finished the weekend at 1-1 — results that ensured Wild would make their first Championship Weekend appearance.
After their disappointing letdown in week nine against Oregon, Utah came out hot knowing that a win would knock Onyx out of Championship Weekend contention while bolstering their own chances. It was 5-1 in Wild's favor after the first quarter, and 9-3 at halftime, and they seemed set to cruise to the win from there. Instead, Oregon settled into playing a mile high, and cut the gap all the way to one before Utah closed out the game 13-12 and moved to four wins on the season. From there, a Seattle win over Colorado and would be enough to put Wild through to the postseason.
Utah's place at Championship Weekend wasn't to be immediately procured, however, as Colorado impressed to start their final homestand and beat Seattle 15-11. The game was in balance through the first half, Tempest holding the initial advantage before Alpenglow brought the score back to even at 7-7. By the time the fourth quarter arrived, though, it was all Colorado, as they reeled off six straight goals to blow the game wide open. Alpenglow's win meant Utah's potential celebrations had to be put on hold, with two final deciding games to come on Sunday.
The first decider ended up actually deciding very little, as Seattle came from behind to beat Utah 14-13, leaving the final spot at Championship Weekend still up for grabs while Tempest claimed the Northwest Conference title. While the opening quarter finished with honors even at four apiece, Wild took control from there and built up multiple three goal leads, including 13-10 with under eight minutes to play. Seattle stormed back, though, battling through with four straight goals, and despite numerous final chances, Utah's game-tying goal never arrived.
In the final game of the weekend, Colorado took on Oregon, knowing they needed a blowout win to be able to overcome a seven goal tiebreak deficit to beat out Utah for the final spot at Championship Weekend. What transpired instead was a close back-and-forth affair in the first half, the teams tying at seven at the break, before Onyx slowly pulled away in the second half to deny Alpenglow a franchise debut postseason appearance. The win over Colorado was small consolation for Oregon, who missed out on attending back-to-back Championship Weekends.
Looking Ahead in the WUL
Somehow, the WUL regular season is over just like that. All that's left is Championship Weekend in Seattle on June 3-4, where Seattle Tempest will take on the San Francisco Falcons, and San Diego Super Bloom will face the Utah Wild, with the winners meeting in the final to crown the champion of the second WUL season.
WUL Power Rankings
The closing weeks of the WUL regular season confirmed which four teams will attend Championship Weekend, and all of San Diego, Seattle, Utah, and San Francisco find themselves in the top half of the power rankings.
Oregon leads the group of teams whose seasons are now over, courtesy of their season ending win over Colorado that denied Alpenglow any chance of extending their first ever season.
PUL Week Six
Midwest's Bests; Shadow Stay Bright
The 2023 PUL regular season passed its halfway point with a quartet of games, three of which included Midwest division representatives as Indy Red beat Atlanta Soul 18-13, and New York Gridlock went 1-1 against Minnesota Strike and the Milwaukee Monarchs by margins of 18-17 and 18-7, respectively. In the other matchup, DC Shadow remained undefeated by beating Portland Rising 15-11 on the road, setting up a showdown of unbeaten teams in week seven when Philadelphia Surge travel to face Shadow in DC.
Minnesota's game against New York was hotly anticipated as a bellwether of the strength of the East division, and Strike's win in overtime not only validated the preseason hype around them, but also puts them in position to outright win the Midwest after week seven. Playing at home, Minnesota started strong and by the end of the first quarter had already established a two goal lead that they maintained until the fourth quarter. A late push from Gridlock, though, gave the visitors their first lead of the game at 17-16, and after tying the game up to send it into overtime, Strike were able to do just enough to secure a crucial win.
After their disappointing loss on Saturday, New York took out their frustration on Milwaukee on Sunday, going up 11-2 at half in dominant style before rolling to the win. In the other Sunday game, Indy brought the Midwest's record on the weekend to 2-1, as they took a 9-7 lead at half over the visiting Soul before closing out the win with confidence. Unfortunately for Red, despite their win over Atlanta, Minnesota's victory over New York the day before eliminated them from Midwest Division title contention, leaving only the wild card slot possibly available to them to make a second Championship Weekend showing.
The only in-division game of the weekend saw Shadow continue their unbeaten start to the season on the road, and DC's 4-0 first quarter lead made the difference in the end. Once again, Shadow's defense was suffocating, though Portland did well to not let DC run up the score.
PUL Week Seven
Shadow Wins Showdown; Minnesota Clinches Championship Weekend
Week seven in the PUL was packed with divisional matchups, as the Milwaukee Monarchs managed to finish 1-1 in their one-day doubleheader against Indy Red and Columbus Pride, while Raleigh Radiance and DC Shadow strengthened their holds on the South and East divisions with wins over Atlanta Soul and Philadelphia Surge.
Playing two games in two states in one day was always going to be a challenge for Milwaukee, and it did not start well as they were blown out in Indianapolis by Red 27-10. The result was never really in question, and Indy continued their rebound with a second win in as many weeks. However, at Columbus, the Monarchs' fortunes were much improved, and Cassie Brown and Austin Prucha led the way for the visitors as they led for much of the game. Pride did score the opening two points of the final quarter to take a 13-12 lead, but Milwaukee responded with a 4-2 closing burst to secure their first win of the season. The pair of losses by Milwaukee and Columbus ensured Minnesota will represent the Midwest division at Championship Weekend, though who they will face there is still to be decided.
The South Division matchup between Raleigh and Atlanta started perhaps tighter than expected, with Radiance holding a slim 12-10 advantage at the halftime break. It didn't stay that way for long, though, as it was all Raleigh in the second half. They pounced on Soul's mistakes to rack up break after break, and the game finished with a ten goal margin of 26-16 in Radiance's favor. Week eight will still prove critical for Raleigh, as they face off against Nashville in what could be a divisional title decider.
Two undefeated teams walked into Carlini Field in DC, and after a rainy four quarters, it was the hometown Shadow that walked out winners 15-10 over the visiting Surge. As might have been expected, neither team was able to generate much separation in the first half, though DC did hold a 6-4 lead at halftime. Come the second half, however, and Shadow picked up breaks that extended their margin to five at 11-6 after the third quarter, and they held off Surge from there. While DC hasn't yet secured the East Division title, the win over Philadelphia puts them into the driver's seat for the automatic bid to Championship Weekend, and Surge may now have to make their way in via the wild card spot.
Looking Ahead in the PUL
Week eight in the PUL brings a slate of five in-division games, including a must-win game for New York at home versus DC in a Friday night showcase. The South division title may well be decided after the upcoming weekend of games as well, with Raleigh playing away to Nashville and Austin hosting Atlanta in a matchup of winless teams. Columbus takes on Minnesota in the final divisional game of the weekend, before a pair of out-of-division games are all that grace the week nine schedule with Milwaukee playing at Portland and Indy playing away to Nashville.
PUL Power Rankings
If there was any question as to who the best team was in the PUL, it was answered with DC's home win against Philadelphia, though Surge don't drop on account of their opening three wins.
New York's overtime loss to Minnesota drops them behind Strike and Radiance, and Gridlock will have to hope for a late season bounceback to have a real chance at Championship Weekend.
The backend of the rankings sees some slight shuffling as Indy Red has won back-to-back games after a pair of losses to DC and Minnesota, and Milwaukee moves out of the basement of the standings courtesy of their close win over Columbus in week seven.