The favorite wrecked, but elsewhere, drama brewed.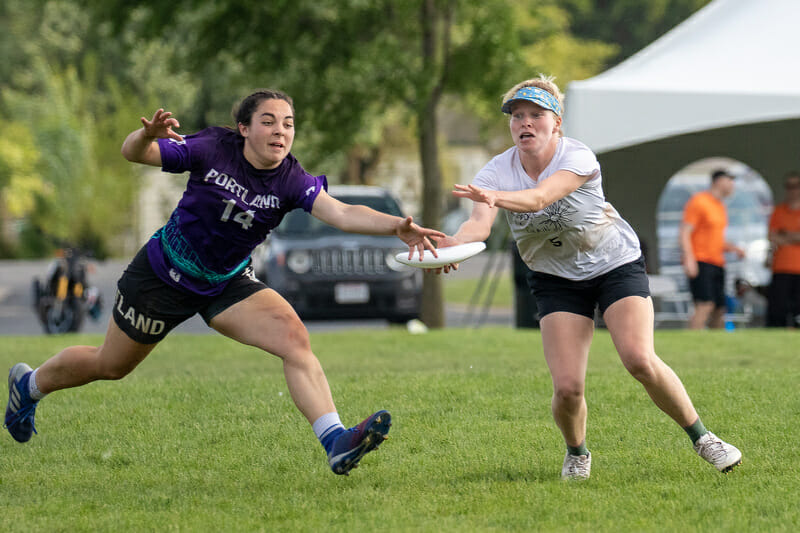 Ultiworld's coverage of the 2023 college ultimate season are presented by Spin Ultimate; all opinions are those of the author(s). Find out how Spin can get you, and your team, looking your best this season.
Sixteen of the best D-III teams in the nation have gathered in Columbus, and after one day of play and 24 games only 12 remain in title contention. Three of the four pools included upsets, we've got a lot to break down. Below we present the main storyline from each pool, as well as everything else you need to know going into day two. Make sure you're following along on the tournament event page so you don't miss any of the action.

Pool A
The Apex Pranksters Stay on Top
Middlebury reminded us why they're the no.1 seed and the heavy favorite to win the championship. Well on their way to achieving their goal of "as many games as possible" this weekend, perhaps they are falling short of maximizing the number of points that they play. Only allowing 16 points to be scored on them all day and adding three more games to their undefeated streak, the Pranksters were simply unstoppable.
While all eyes and expectations are on previous All-Americans, Claire Babbott-Bryan and Keziah Wilde, other players were equally dominant on the field today. Lily Laesch and Sarah Rifkin directed traffic on both offensive and defensive points, and Natalie Dodson made impressive blocks that led to successful break scores.
Middlebury will face the winner of the prequarter between Whitman vs. Colorado College. Signs are that their dominance will remain unchallenged on Sunday.
Haverford/Bryn Mawr held seed, beating both of the lower seeded opponents by blowout margins. That advanced them to prequarters, where they will face St. Olaf, and hope to reprise last year's role as a winner in that round.
Catholic upset — no.13 over no.12 is about the least upset you can get — Michigan Tech 13-10 to advance to prequarters. Nun Betta started both halves strong to hold of the Michiganders. Their small rotation has a lot demanded of them, but Catalina DiMassi's six goals and seven assists are one of the division's best statlines.
In a stunningly dominant showing, Emma Elliott of Michigan Tech scored 50% of the Superior Ma's total points.
Pool B
Union Make it Out with Eleven Players
Union found out they would be traveling to Nationals about six days before the tournament began. Unfortunately, after earning the bid to the tournament, the Berry Valkyries were unable to attend due to injuries. The bid was then transferred to the Union Jillz, who at the last minute had to scramble to gather a team and ship off to Columbus. They managed to get 11 players to roster, just one more than the minimum, and booked their tickets.
With no expectations and nothing to lose coming into the weekend, and not a lot of subs to give players a recharge, Union prepared for day one. Not only did they match up well with teams, but they stole a game from the no.11 seed, which was enough to escape the pool and qualify for bracket play. The win came at the expense of Southwest representative Occidental, a game that ended 15-9.
Union will face Williams tomorrow morning, the no.6 seed who went 2-1 on the day, losing only to Carleton Eclipse. Williams is also dealing with the absence of two key players, Lauren Lynch and Coco Rhum. Union has a real chance to keep the dream alive and continue the Cinderella story they're writing for themselves.
Wellesley bounced through the pool with relative ease, not allowing any opponent to reach double digits. Tess "Roo" Dolan got the first callahan of the tournament against Occidental.
Whitman's Gemma Munck caught 10 goals total, the second highest individual stat of the day, and some of them were tough. Munck also threw nine assists.
Pool C
Eclipse Makes it Look Easy
No surprises here. Carleton demonstrated that they're the real deal. This publication has said more than once leading into this tournament that the Eclipse has a real chance of matching favorites Middlebury, and their waltz through pool play gave no indication that those predictions are wrong.
Carleton had no trouble in the first game of the day. The rain was no obstacle as the Eclipse outplayed the Zenith in a 15-7 win on coverage. They cruised past Wesleyan 15-4 in their second game, and kept the break train rolling against no.6 seed Williams with a 15-5 win.
The pool play star for this Eclipse team is Alex Rowell, who contributed 17 total points, 13 assists and 4 goals on their own. Other great contributors to their success were Maya Kalmus (11 assists) and Frankie Saraniti (nine goals), and of course, Harper Brooks-Kahn remains one of the division's top handlers. Carleton will face the winner of the prequarter between Mount Holyoke vs. Catholic tomorrow morning.
Williams are missing some key players due to injury, but were able to rely on their depth to hold seed against the Metro East representative and the South Central representative. Lucy Grossbard, Skylar Yarter, and Annika Harrington all stepped up this weekend to fill the gaps.
Colorado College Zenith played Carleton to their closest game of the pool. They played Williams to within four points. And found their route into the prequarters though the Wesleyan Vicious Cycles. Soumya Keefe and Mary Andrews are strong engines, but the wind narrowed their offense's path to success through that duo a bit too much.
Pool D
Point Differential Decides in the Pool of Death
Point differential is what determined the seeding going into Sunday for Portland UPRoar, Mount Holyoke and St. Olaf. To start off the day, Portland took St. Olaf 15-5 with Julianna Galian running the field. Galian more than padded stats, either throwing or receiving the majority of the points that UPRoar scored. Leina Goto kept St. Olaf soundly in each point, relying on Erica Collin and Fiona Kelley to scoop up goals.
Following their win against Knox, Mount Holyoke faced St. Olaf for what would be their first game to universe point of the day. The game was back and forth with long marathon points the entire time. It wasn't until after half that either team was able to pull away. St. Olaf got two breaks after half, then got two more after trading holds. Mount Holyoke tried to mount a comeback, but with so many long points there just wasn't enough time for the Daisy Chain. St. Olaf just found a way to adjust to the wind before Mount Holyoke. Leina Goto, Unni Isaksen really stepped up to make plays, and value the disc.
Portland and Mount Holyoke met on the livestream field for their final pool play game of the day. Mount Holyoke scored the first break of the game, but Portland quickly came back to score five back to back breaks to take half. We don't know what was said in the Mount Holyoke huddle to switch their momentum, but one 10 minute point later, Mount Holyoke secured a much-needed hold to begin their break streak to bring the score to universe as soft cap went on. Ultimately, the wind helped Mount Holyoke secure their victory, a fast-paced high-stall huck from Charlotte Moynihan finding Gigi Downey, who dished it in for the game.