Salt Lake's Surprise, History in Texas, and a PNW sweep headline the Week 7 action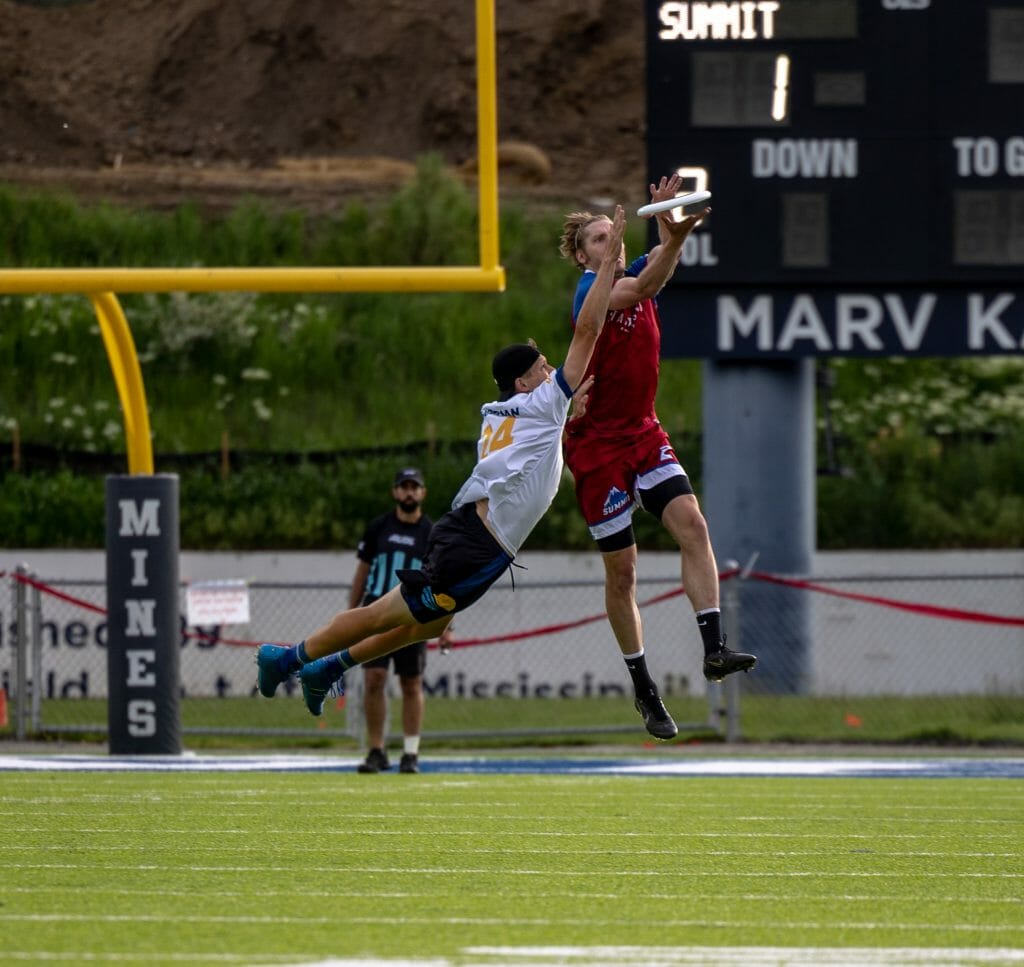 We're midway through the 2023 AUDL season, and two undefeated teams remain in the New York Empire and Salt Lake Shred. One is guaranteed to take a loss when the two face off in week 12, but before that we have to detail how Salt Lake finally summitted the mountain this past weekend.
Scores and Standings through Week 7


Shredding the Standings
It wasn't the prettiest game in AUDL history, but with a good amount of grit the Salt Lake Shred upended the hierarchy in the west, beating Colorado on the road to remain undefeated and take control of the West standings. Last season, the Summit won all three of their matchups against the Shred. This year, both teams entered the matchup undefeated and looked like the clear class of the division, destined to meet again in the playoffs. Though an underdog on the road, Salt Lake was perfect where it mattered most, converting 100% of their D-line and Red Zone opportunities to score the shocking upset.
The game was an offensive showcase with young stars Jordan Kerr (3 assists, 3 goals, 245 receiving yards) and Alex Atkins (4 assists, 2 goals, 540 total yards) trading blows. Salt Lake cracked the game open early in the second quarter when a series of overthrown miscues from the Colorado offense gave Salt Lake three break chances. By converting them all, the Shred turned a tight 4-4 contest into an 8-4 lead they only needed to protect.
Salt Lake limited Jonathan Nethercutt, who split his reps between the O- and D-lines, to just one assist and goal each along with four turnovers. Nethercutt also had just 30 completions; usually he leads the game with closer to 50, and he played more points against Salt Lake than any other opponent this year. Opposite Nethercutt, typical D-line centerpiece Cody Spicer split his time equally between O- and D-lines. The typically sure-handed thrower had only played two O-line points this season before the Shred game, and tossed two turnovers of his own against Salt Lake (he only had seven in his AUDL career before this game and never had more than one per game). Whether this personnel management is part of a larger strategy to build more versatile, well-rounded players or a ploy to hide their playoff game plan against the Shred from the film, we'll have to find out in a few weeks. Given the trajectory of both of their seasons, we are nearly assured a playoff rematch.
If you can't wait quite that long to see these two back in action, you won't have to. Colorado travels to Salt Lake this Friday hoping to return the favor and notch a road victory. The Shred add Grant Lindsley back to their gameday roster, providing even more offensive talent and flash for the home fans.
Mailbag
Have a question about the AUDL? Send it in to [email protected] with AUDL Mailbag in the subject line. You can also message me on Twitter at @StallSeven.
Q: Is [Jeff] Babbitt the frontrunner for MVP? If not, what does he need to do to get there? – Jom on Discord
A: He's on the Empire (who have rostered the last three MVP winners) and is playing like the MVP, so he has a good shot. Statistically, he is tied for the league lead in goals, 6th in blocks, and 5th in plus/minus. His statistics through this point in the season aren't quite as high as Ben Jagt 2021 (31 assists, 29 goals, 10 blocks, +57 through seven games) or Ryan Osgar 2022 (37 assists, 17 goals, +49 through seven games), but the new pulling rules have led to slightly lower scores and New York has played a few games in simply terrible weather that also has dampened their statistical output. Like Jagt and Osgar, Babbitt has looked like the most challenging cover in the league; he certainly has passed the eye test, but he isn't guaranteed to win.
Most notably, he is a significantly less accomplished thrower than previous winners. Jagt, Osgar, Rowan McDonnell in 2018, Jonathan Nethercutt in 2017, and Dylan Tunnell in 2016 were all high on the assist leaderboard, while Babbitt has never thrown double-digit assists in an AUDL season.
Of the throwers in the league, Pawel Janas is again having a stellar statistical season, leading the league in assists and throwing over 100 more completions than the next highest thrower. If the Aviators make the playoffs, Janas needs to be considered. Jordan Kerr is in the top ten for goals, assists, and plus/minus and will almost certainly be on the MVP shortlist.
There's still half a season left to play, so new names can pop up as the league pushes into the homestretch. Who do you think should win MVP? Feel free to leave a comment below or tweet at us (@StallSeven).
News and Notes
Indianapolis cruised to a nine point home victory over Chicago., with three assists and two goals from Cam Brock to lead the way. Chicago currently sits outside of playoff position and Indy and Minnesota continue to rack up wins.
Carolina pulled off the first double header sweep through Texas since the Cannons in 2017. Their road victory over Austin will go a long way to determining divisional seeding.
Atlanta split a doubleheader weekend, knocking off Boston before hanging close with New York in a loss.
Boston then rebounded to beat Montreal on the road. The Royal have yet to record a win this season.
Los Angeles pulled off a PNW sweep, rolling over a hapless Portland team before squeaking out a win over the Cascades. With Oakland winning in San Diego, the race for the last West playoff spot is tight.
Pittsburgh continued to beat Detroit, whose loss streak is now at 66.
Philadelphia continued their modest winning streak with a victory over Toronto.
Power Rankings
With their stunner over Colorado, Salt Lake reaches #2 in the Power Rankings, their highest spot ever.
Chicago's big loss drops them just ahead of two division rivals that sandwich the Union closely in the standings.