The EUC mixed division has a strong top four with the semis looking likely to be crackers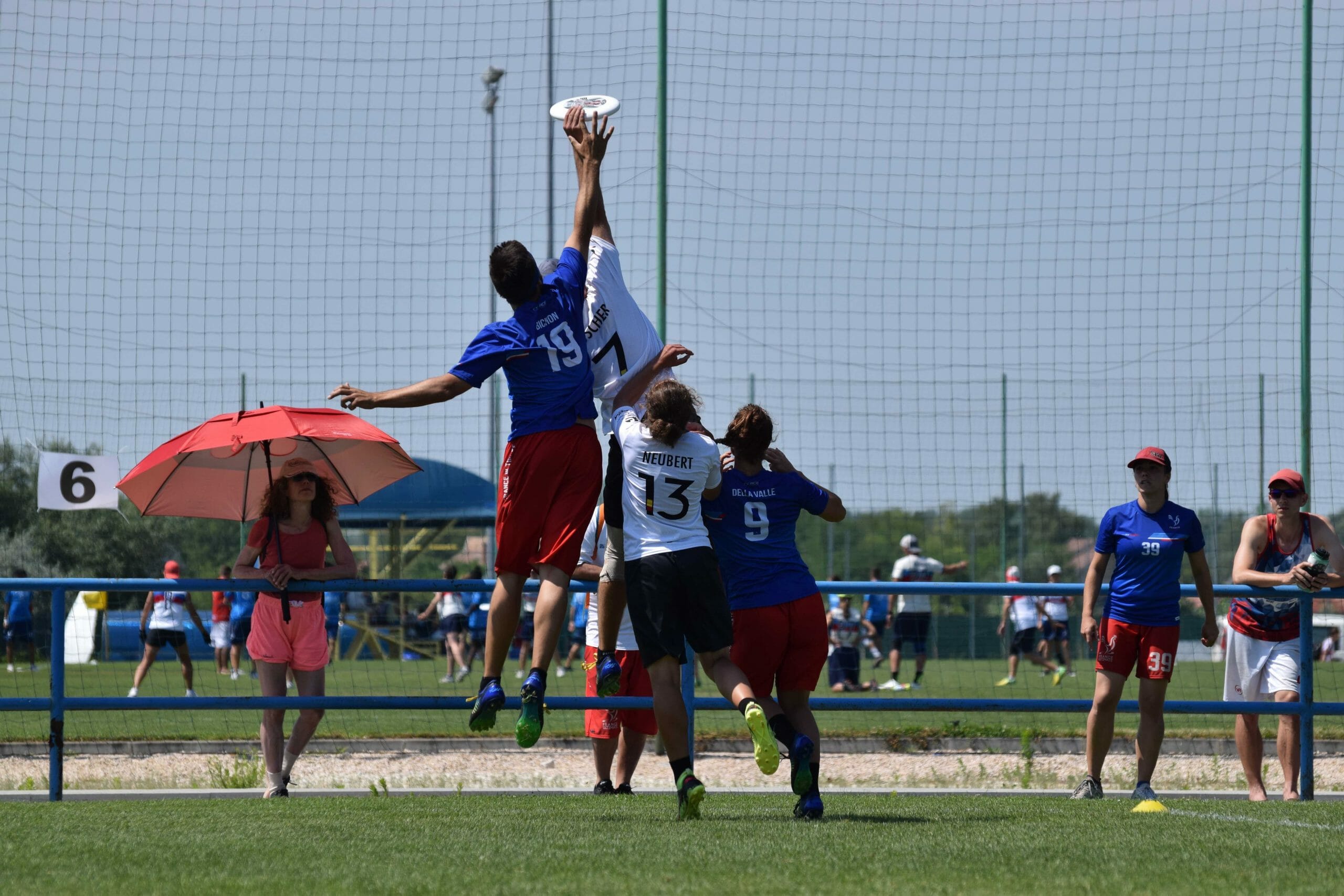 The European Ultimate Championships comes around every four years, and is a chance for European nations to stake their claim as the best on the continent. This edition is being held in Limerick, Ireland, and as such promises to have weather conditions acting as an equalizer all week.
Tournament Profile
Date: July 15 – 22
Location: Limerick, Ireland
Schedule: Live schedule here
Weather: Wet with dry spells, temperatures in high teens C/high 60s F and medium winds
How to watch: Ulti.TV YouTube channel
This division seems to have a pretty clear top four. The order among that group, though, is anyone's guess. There's some other strong teams as well so things will hardly be dull before the semis, but it's difficult to see teams outside the established top group making the final.
The reigning champions are Great Britain. GB have won all five of the mixed tournaments since EUC has featured the division, defeating a different nation in the final each time. It would be logical, then, to expect them to be the favorites. The build up has been quite uneven, though, with some excellent results and some tough losses. An invitational tournament in Germany saw them lose every game but they were missing several key players and travelled with far fewer male matching players than they'll have in Limerick. At Windmill they lost to France early on, but beat Grut and Germany in the Swiss draw before losing to Germany in the semis. The talent is absolutely undeniable: Ellie Taylor, Carla Link and Fiona Kwan all went to the World Games and both Helen and Becky Thompson were on the training squad. They are joined by Clapham stalwarts Josh Briggs and Connor McHale1 as well as players from the other top two British open teams, Alba and Chevron, and players from EUCF runners-up Reading mixed. Their side of the draw is significantly the harder side though, and a tricky pool includes a talented Latvia team and the Italian side they played in the bronze medal match at Windmill.
The team that seemed to be in the best position after the first day at Windmill, after the win mentioned above, was France. The French won all of their games at the Frankfurt Invite, defeating GB and Germany and beating Ireland twice. However, after such a strong first day at Windmill, the wheels came off slightly. They lost to Germany in the Swiss draw and then lost their quarterfinal to Italy in quite a surprise, knocking them into the lower bracket. The four female matching World Games players on the team – Pauline Berte, Coralie Fouquet and sisters Eva and Lison Bornot – are joined by some teammates in Alabama in handler Gaël Ancelin and downfield threat Sacha Poitte-Sokolsky. This team has very strong overall speed and will be difficult to match up against on offense, with Ancelin and the vastly experienced Nasser Mbae Vogel running the show. The defense is stout with good height as well, and there don't appear to be many weaknesses across the roster. The end to the build up is a slight concern, but the work put in across the season would suggest this is the team to beat. Unlike GB and the other two teams we're about to discuss, France is on the friendlier side of the draw. They will have to play good teams in the power pools but will miss all of the other three contenders at this stage, not to mention Italy and Latvia. Could that mean they aren't fully tested until what's sure to be a very challenging quarter, or will it mean they can keep something in reserve for the business end of the event? Time will tell.
The Germans had wins over France and GB at Windmill and feature perhaps the most talented player on the continent, Levke Walczak. After a season with Revolution and Brute Squad, Walczak returns to Europe to try and bring some of those winning ways to Limerick. The rest of the team is also very good, with World Games players Nici Prien, Lena Trautmann and Torben Hörnschemeyer on the roster alongside a host of experienced players from the best German club teams2. The German offense seems to lean towards more dominator sets including Walczak and Prien, but they have the capability to play any way they need to. Defensively they are very strong and have generated turns against every team they have played this season, with Tim Stuhlert of Heidees standing out in particular at Windmill. With an experienced coaching staff led by Heiko Walldorf, Philipp Hartmann and Katrin Reusch alongside such a talented squad, Germany look in good shape to improve on a disappointingly heavy loss to GB in the semis in 2019. Their pool is probably the toughest, though, because it's the only one that features another of the contenders.
Ireland will play Germany in the first game of their home tournament. Being in the same pool as the Germans is a tough start, but both will also have to cross into the same power pool as GB, Italy and Latvia so the competition won't get easier. The Irish have now won European golds in women's3 and open4 but have 'only' won a silver in mixed, falling to GB in the 2015 EUC final. Some of that team has returned for another crack at this division to try and complete the set: Conor Hogan, Sarah Melvin, captain Gráinne McCarthy and Canadian World Games player Robbie Brennan were all on that squad. They are joined by many of the top players in Ireland. Handler Áine Gilheany has been one of the best throwers and most complete offensive threats in women's club ultimate for several years, while Ferdia Rogers, Tadhg Deevy and Shane Corcoran were key parts of the offense for Ranelagh last season. Important cutter Sam Murphy is also on the team but is a question mark after breaking his collarbone at the European Beach Ultimate Club Championships last month. The squad has a lot of in-built cohesion and is overall quite tall, something that could give an added advantage alongside their experience of playing in the conditions in Limerick.
The top four are all incredibly well-rounded and, with the power pools being as they are, it would not be a surprise at all if we get a champion that also has a defeat on the record. France looks to be the team with the best chance of going unbeaten as the avoid that pool. They will match up with the top three teams from a very balanced pool C, which features Austria, Switzerland, Lithuania and Poland. Austria finished eighth at Windmill, Poland finished tenth, the Swiss beat Austria at Talampaya and Lithuania finished 14th at Windmill and dropped a close loss to Poland. While none of these teams are likely to be competing for the title, they all feature talented players – Barbora Kundelytė, Martina Kmecová and Polish World Games veterans Ewa Banbula‐Dyda, Grażyna Chlebicka, Kamil Osiecki and Filip Stepniak will all be players to watch – and will not make life easy on the French or whoever they end up playing in quarters or pre-quarters.
The final two teams to discuss are Latvia and Italy. The Latvians feature a top level that can compete with any of the teams here. Reigning European Player of the Year Arvīds Žanis Orlovskis leads the way alongside Mooncatchers teammate Toms Ābeltiņš and former European Player of the Year Lāsma Kublicka. Several other Salaspils players are on the squad, but they might lack the depth of other teams. They have only played Lithuania so far but have won every one of those matchups so are coming in with good form despite their relative lack of competitive experience. The format will probably help them as much as anyone else. The Italians, on the other hand, feature many players who have plenty of competitive experience this year as it's a young team with several U24 players. David Barzasi and Elisa Cappucci were both outstanding in Nottingham and will be looking to continue that form in Limerick. Their pool, with GB and Latvia, is tough, and the power pool will be even tougher with Ireland and Germany. They will likely be an incredibly tough draw for a higher-placed team in the other power pool in pre-quarters and have a great shot at making the final eight. We saw at Windmill that if things click for them they can take on the top four, as well.
As former Ireland and current Ranelagh coach Ian French said recently in his excellent newsletter Bettereveryday Coaching, with lots of rematches and weather conditions acting as a complicating factor, 'the team that adapts the best is the one that will win'. Germany have shown an ability to make adjustments so far this season, while the French and British teams both faltered as Windmill went on. Ireland have home advantage and a coaching staff with good recent experience, but with Murphy's injury there's question marks about a key part of their offense. All four teams have great arguments for why they should win, but no team looks perfect. It's going to be a thrilling ride in Ireland for the next week.
---