New York Sweeps Mountain Region, Atlanta Clinches South Division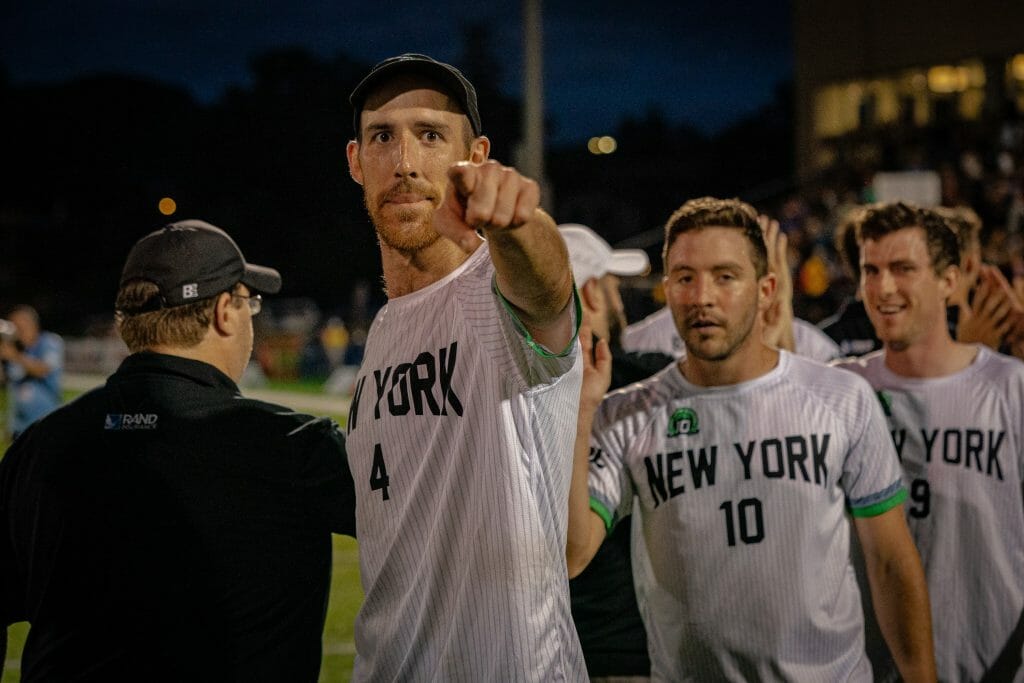 It's cliché, but week 12 put the wild in wild west. The New York Empire swept their highly-anticipated west coast road trip series over the Colorado Summit and Salt Lake Shred, while Portland Nitro secured their first win of the season over a San Diego Growlers team who haven't missed the postseason since 2017. In one of two overtime wins on the week, the Oakland Spiders rallied from a deficit to top the Los Angeles Aviators and secure the inside track on the final playoff spot in the west. But perhaps no moment generated as much buzz as Ben Jagt's triple spike against the Shred.
Scores and Standings through Week 12


A Soliloquy About The Spike
We're going to talk about Ben Jagt's triple spike, bur first let's get the actual news out of the way. The headline hasn't changed since April – the Empire are still unequivocally the best team in the league. They passed their toughest test yet this season, winning back-to-back road games against two premier teams: Colorado and Salt Lake. Despite this fantastic and unprecedented accomplishment, the wins are not garnering too much attention. They're being swallowed up by the massive pile of opinions swirling around Twitter, Reddit, private group chats, and even the Ultiworld Discord regarding Ben Jagt's ejection (and the subsequent integrity rule from Salt Lake allowing him to stay in the game) and the merits of spiking a piece of plastic with some amount of force into the ground after scoring a point in an ultimate frisbee game.
Midway through the second quarter of the highly anticipated matchup between the undefeated New York Empire and undefeated Salt Lake Shred, Ben Jagt made an impressive catch on a lofty moonball between two defenders. As one does, he spiked the disc. And, as some people do, he picked it up and spiked it again, and again.
⚠️Ben Jagt⚠️ https://t.co/VuUrDUOBo9 pic.twitter.com/shlbe62uN2

— AUDL (@theAUDL) July 16, 2023
You might notice in that video that none of the Salt Lake players seem to care. While the Championship Weekend-size crowd rains down boos upon the unwilling villain of the Evil Empire, the Shred players retreat to their sideline and presumably rethink their plan to stop one of the most dangerous weapons in the game. If it were up to the referees, they wouldn't need to. The officiating crew ejected Jagt for the technical foul.
The coaching staffs of both teams gathered with the referee crew while Empire teammates fed Jagt more energy, encouraging him as he made a slow walk to the team's sideline. Soon after, Salt Lake's coach Bryce Merrill invoked the integrity rule to overturn the ejection and allow Jagt to stay in the game. And a few moments after that, Merrill gave one of the best halftime interviews in ultimate broadcasting's young history, relishing the challenge of taking on a full-strength New York squad, rather than one without its two-time MVP.
You're going to want to hear Coach Merrill's explanation 🔥 https://t.co/6o32Ct46Bk pic.twitter.com/5YgDX1bkHr

— AUDL (@theAUDL) July 16, 2023
It didn't take much longer for the armchair handlers of the interwebs to speak up as moral arbiters of the spike. If you've somehow managed to stay out of the discourse, there is a large anti-spiking crowd in the ultimate websphere. There is also a large group of people who just want ultimate to be a typical sport where one can celebrate doing something good the same way a football player spikes a football after scoring a touchdown or a basketball player might make an "ice in their veins" motion after hitting a big shot. There's plenty of in-between, and in the moment they were discussing whether Jagt should have been ejected (as the referees decided and voice of the AUDL Evan Lepler supported on the broadcast) or not (as many players supported). Reading between the lines, these commenters and opinion-givers asked some pretty important questions about the sport and where the AUDL fits into it.
Is the AUDL a stage for the best1 men's division athletes in the sport to showcase their skills and personalities? As a driver of entertainment, letting the Empire play the villain role (as long as it isn't hurting an opponent, which this clearly is not) seems to be a net positive for the league. It creates an easy-to-follow storyline and brings attention to star players who are all but guaranteed to be playing in the biggest games of the season. Letting their personalities and intensity shine could absolutely drive fan engagement and have kids dreaming of being on that stage themselves one day.
Now, I'm sure many but not all of you read that and cringed a little. You might be excited about the AUDL's efforts to grow youth ultimate, but you are also conscious of ultimate's counter-culture, self-officiated, everyone-be-nice-to-each-other vibe. While that's the ultimate I fell in love with too, it's not all of the ultimate that's here today. It's not the ultimate that is going to reach anyone who isn't already at least tangentially connected to the ultimate community.
With either aim (to showcase star players and to get new and young eyes on the sport), Jagt shouldn't have been ejected. One the marketing side, keeping a wildly successful player and nominal face of the league on the field is a win. On the youth side, nothing he did was dangerous. It shouldn't matter what his opponents think, but in this case they were unbothered enough to overturn the decision to remove Jagt from the game. That should say enough. Teaching kids to care so much that they want to celebrate when they do something amazing in a game is okay. Dare I say it should be encouraged. Playing ultimate is fun and celebrating is fun and it's okay to let the professional players have fun too.
Despite all of the hullabaloo, I'm actually encouraged by this moment. Sure, it's another piece of inconsistent refereeing, and sure it's another moment that makes the AUDL look a bit more aggro than I would want it to be, but it's a moment that made people care. It's a moment that brought attention and engagement to a corner of the sport that can largely get ignored among the existing community. Jagt's spike and ejection is the kind of sports/culture hybrid topic that highly-paid ESPN talking heads discuss every day. If a player of Jagt's stature in a more developed (read: rich) league were ejected for a celebration this tame, ESPN would devote hours to it. Ultimate isn't quite ESPN every-morning yet, but having so many people care about the sport and so many people discussing it even days later can only be a positive development. So I wouldn't say every player should go out and try some antics like Jagt's, but I am suggesting the next Empire game might be pretty interesting…as could a potential Championship Weekend rematch between these two very teams.
Mailbag
We're skipping our mailbag question this week. Have a question about the AUDL? Send it in to [email protected] with AUDL Mailbag in the subject line. You can also message me on Twitter at @StallSeven
News and Notes
Atlanta downed Carolina to take all of the excitement out of Week 13's rematch. The Hustle clinched the division title and will host the winner of Austin-Carolina in the South Division championship game.
DC took down Philadelphia in overtime, taking down their long-shot effort and effectively eliminating the Phoenix from the playoffs.
Likewise, Oakland needed overtime to take down LA on the road. Their win over the Aviators all but clinched a playoff spot. Oakland just needs to beat one of LA or San Diego next week to make the playoffs. Winning both games will guarantee the Spiders a home playoff game.
Portland got its first win of the season, taking down a light San Diego squad on their PNW swing.
Power Rankings
---
Theoretically, at least ↩