Ready for top level youth level play?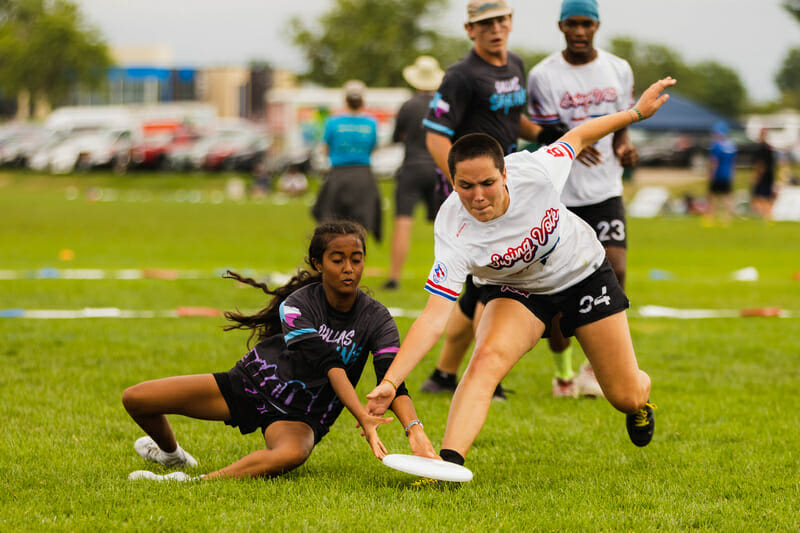 The Youth Club Championships bring together all-star conglomerates from many of the top ultimate communities in the country. The stars of tomorrow get a chance to show what they can do against the best of the best, arguably the highest domestic level of youth play.
Ultiworld will be streaming 14 games for our subscribers!
Tournament Profile
Location: Aurora, Colorado
Dates: Saturday, August 5, 2023 – Monday, August 7, 2023
Weather: Highs in the 80s and lows in the high 50s overnight. Partly cloudy with slight chance of rain throughout, with thunderstorms slated for Saturday evening. Winds from 9 to 13 mph.
Livestreaming Schedule
Ultiworld will be streaming 1-3 games per round during the event, available for Ultiworld Standard and All-Access subscribers as well as those who purchase the US Open Event Pack. Ultiworld will be streaming 14 YCC games including each of the finals, in addition to a huge slate of the adult club divisions.
The two primary showcase streams will be available to all Standard subscribers and above; Bonus Games will only be available to All-Access subscribers or Event Pack purchasers.
Here is the full streaming schedule:


All times Mountain.
Sunday, August 6th
10:45 AM: Boys U20 Prequarterfinal
1:15 PM: Washington DC Swing Vote v. Utah Swarm (U20X) | Dallas Nightfall v. Philly Forge (U20X)
3:45 PM: Boys U20 Quarterfinal | Mixed U20 Quarterfinal
Monday, August 7th
8:30 AM: Boys U20 Semifinal | Boys U20 Semifinal | Girls U20 5th Place Semifinal
10:45 AM: Girls U20 Semifinal | Mixed U20 Semifinal
12:00 PM: Boys U20 Final
1:00 PM: Girls U20 Third Place Game
2:00 PM: Girls U20 Final | Mixed U20 Final
Mixed Division
Returning champions Seattle Seven Hills look like a worthy contender once again. They have a solid group of returners from last year's winners, including Cedar Hines and Alexa Jeantette-Coca. Expect a deep team with athleticism and a confident style of play from such an accomplished group. They waltzed through pool play last year and are hoping to repeat their hot start.
No.3 seed Washington DC Swing Vote has a history of strong YCC performances and hope to add to that this season. U20 French National teamer Margot Nissen, Abby Freund, and High School National Invite star Tamir Hill-Marshall all bring a proven high level. They'll aim to rebound from last year's disappointing 4-3 performance, including a quarterfinal exit.
The team that knocked Swing Vote out was no.4 Dallas Skyline: sleep on them at your own peril. Randy Welkener, Myles Armstrong, and Eva Hayes are part of a steady eight returners from a squad that finished second in their pool and reached semifinals. Wearing their pride on their sleeve, they can represent a region that feels overlooked in youth ultimate well.
The other top seeds also carry their own big names and accomplishments. The Melner triplets join no.2 Oregon Landslide this year, while Theo Schaid Hefley returns and will likely play a key role. David Friedman returns for no.5 Philadelphia Forge, which should bring another strong iteration. And there's simply been too much good youth ultimate coming from Utah to overlook Kysen Lyons and Utah Swarm.
Girls' Division
The Big Bad of the division will undoubtedly be Oregon Downpour. After conceding just 16 goals during their 2022 title run and much of their core leading South Eugene to another HSNI win, it is hard to bet against them. There are too many playmakers to contain, but Ollie Bunson and Mara Hindery-Glasinovic carved up HSNI. Few teams will be able to match their chemistry and pace.
Last year's runner-up, no.2 Utah Swarm, again look like a dangerous challenger. They don't have a big roster, but many of their players seem to have bottomless energy reserves. Stella Anhder, Melissa Swalberg, and Madi Seedall all will figure prominently, but Lily Terpstra will be a real matchup problem, too. Nothing will be easy against them.
But Utah might not even be the top challenger. No.5 Seattle Seven Hills comes up with a stacked roster. U24 national teamer Chloe Hakimi is joined by a number of high school teammates, including Chagall and Zsa Zsa Gelfand. Their roster is incredibly deep and they will likely be the best throwing team in the division. Perhaps they can recover their Big Bad title.
The field is filled with other notables. Annie Pozzy and Maine Red Tide will be a tough out. A PUL season with Raleigh Radiance will have Tatum Cubrilovic and Bella Russell ready to lead Triangle Warhawks. Philadelphia Phang is one of the few teams bringing a player over from the US Open club division with Grace Maroon. Valley Ultimate might be underseeded and could surprise with Eve Macek's deep defensive capabilities. Get ready for fireworks.
Boys' Division
Like in the Girls' division, the reigning champion in the Boys' division is also driven by a core that was very successful at High School National Invite. No.1 Utah Swarm is led by Lone Peak's Mitchell Burt, Sam Pew, and Braeden Bybee, but they add Nathan de Morgan and Isaac Wilcox from Green Canyon. That gives them an experienced and honed roster that will be tough to dethrone.
Their top challenger in 2022 was Oakland SmOAK and they have a strong case to be in the same spot this season. Raekwon Adkins and Dylan Nice were the fire for SmOAK and are both back at the forefront of a group that should feel more confident and comfortable than last season. This time, though, they'll be playing from a favorite position for the first time.
One of the most well known players in the field is Tobias Brooks from Triangle Triforce, who has been playing well in the AUDL and club scene. Along with Seth Fried and a system driven team, Triforce is hoping to bring the team back to the glory days when they were one of the division's most feared outfits.
Things often aren't straightforward in this division. Boston BUDA and Tyler Feeney could make a run from the no.3 seed. Theo Stein and Atlanta ATLiens will hope to bounce back after a 2022 quarters exit. Syon Rao and Filip Icev looked fantastic for Eastside Prep at HSNI and will be key parts of Seattle Seven Hills. Expect some upsets down the line.
Stay tuned to Ultiworld and UltiPhotos for ongoing coverage of the 2023 US Open!