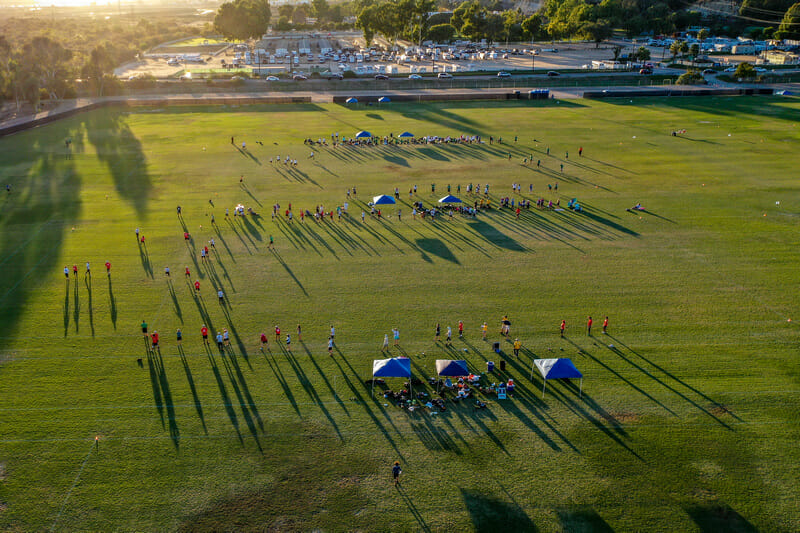 Ultiworld will be streaming 16 games from the National Championships, starting on Thursday 10/21 at 9 AM Pacific / 12 PM Eastern! You can tune in live on Ultiworld.com/live, the Ultiworld YouTube channel, or the USA Ultimate YouTube channel.
We are excited to announce the commentators that will be bringing you the action from San Diego.
This weekend's color commentators will be Samantha Broaddus, Tyler Kinley, and Becky LeDonne.
Samantha Broaddus is a multi-time national champion with DC Scandal ('13, '14) and currently the head coach of DC Grit. She has extensive international experience as well, winning bronze at the 2014 World Club Championships and gold with the 2015 USA Mixed Beach team in Dubai. She will be coaching the women's team at next year's WCBU. She was also a coach of Major League Ultimate's DC Current in 2015.
Tyler Kinley — who has commentary experience with the American Ultimate Disc League, NexGen, and USA Ultimate — has an extensive playing and coaching background across the world. He is a two-time silver medalist at the National Championships, a two-team WUCC silver medalist, a three-time WCBU gold medalist, and a two-time USAU Coach of the Year award recipient. He has coached at the college and club levels most recently with High Five and Michigan MagnUM.
Becky LeDonne is the head coach of the PUL's Milwaukee Monarchs and a long-time coach for the University of Wisconsin Hodags. She is a Club Nationals silver medalist and a three-time gold medalist on the international stage competing with the USA Masters Women's team and has competed at an elite level for over two decades. She has been a referee in the AUDL since 2013 and currently serves as USAU's Central Beach Director.
On play-by-play duties this weekend will be Keith Raynor, Ian Toner, and Luca Serio.
Keith Raynor is one of the iconic voices of ultimate, having commentated countless events with Ultiworld since 2013. A long-time college coach, Raynor has a keen eye for the game and has been steeped in ultimate since attending Paideia in Atlanta. He has served as a Senior Editor at Ultiworld for five years and can be heard every week on Ultiworld's weekly podcast Deep Look.
Ian Toner is an experienced ultimate player, reporter, and broadcaster. He's played the game on four continents, winning a world championship (Team USA U23 2013), a USAU club championship (Johnny Bravo 2014), and a beach national championship (And The Warhawks 2016). In addition to supporting Ultiworld broadcasts and analysis, Ian's been a part of ESPN, Fox Sports, Stadium, AUDL.TV, NexGen, and Ditch ultimate broadcasts.
Luca Serio hails from Portland, Maine. He played ultimate at Casco Bay High School and for Maine Rising Tide before going to Syracuse University, where he studied broadcast journalism and Chinese language. He captained for three years for Syracuse Doom. Luca has worked for Ultiworld since 2019. He watches nearly every game Ultiworld films and has served as a broadcaster at multiple national events.