The former Callahan winner returns to defend the title with the 2016 AUDL champs.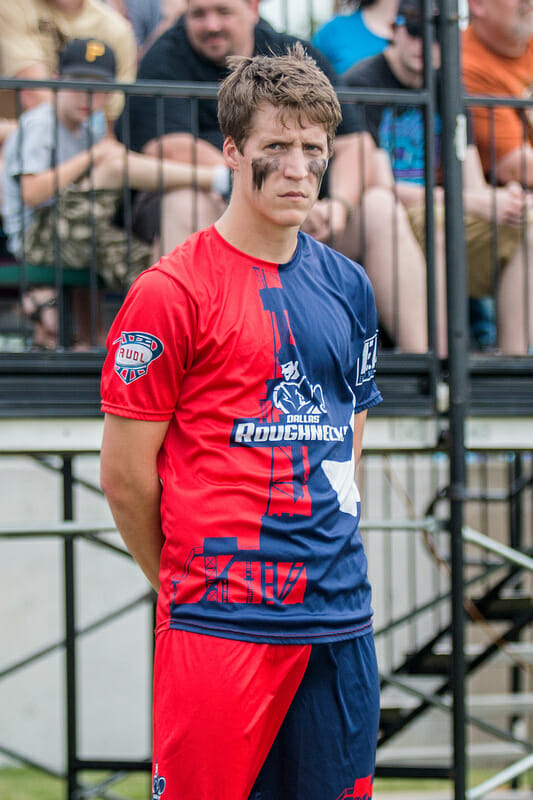 Dylan Freechild has decided to rejoin the Dallas Roughnecks for the 2017 season, owner Jim Gerencser told Ultiworld yesterday. The official announcement was posted on the team's Facebook page this morning.
"I'm re-signing mostly because I saw an opportunity to improve as a player," Freechild told Ultiworld. "There is some stuff going on [for me] in Portland. I stepped down as captain of Rhino and there are a lot of moving pieces and I might be moving in the coming years. Dallas seemed like the best place for me to further my playing career, at the moment."
The former Oregon Ego star and Callahan winner racked up 9 goals and 22 assists during the 2016 season, his first in the AUDL.
Freechild also cited motivation to try to replicate the Roughnecks' success from last year. "I've never been a part of a team that has the opportunity to defend a title and that intrigued me."
Much — though not all — of the talent that brought the trophy to Dallas last season has already signed on for the title defense. Freechild joins star returners Jimmy Mickle and Kurt Gibson, along with eight other members of the 2016 roster who have already been announced by the team. The Roughnecks have also made a splash bringing in Jay Froude, formerly of the Madison Radicals, and Joel Clutton, who played last season with the Austin Sol.
Despite the slew of returning and new talent, Freechild expects this season to have a slightly different feel than last year. "The team will be younger. The team will be working harder, I think, to defend a title and because of some big departures. I think the team will be more cohesive. Our depth is almost unrivaled and I think the league will begin to see that even more."