Italy brings their first mixed team to the WUGC since 2008!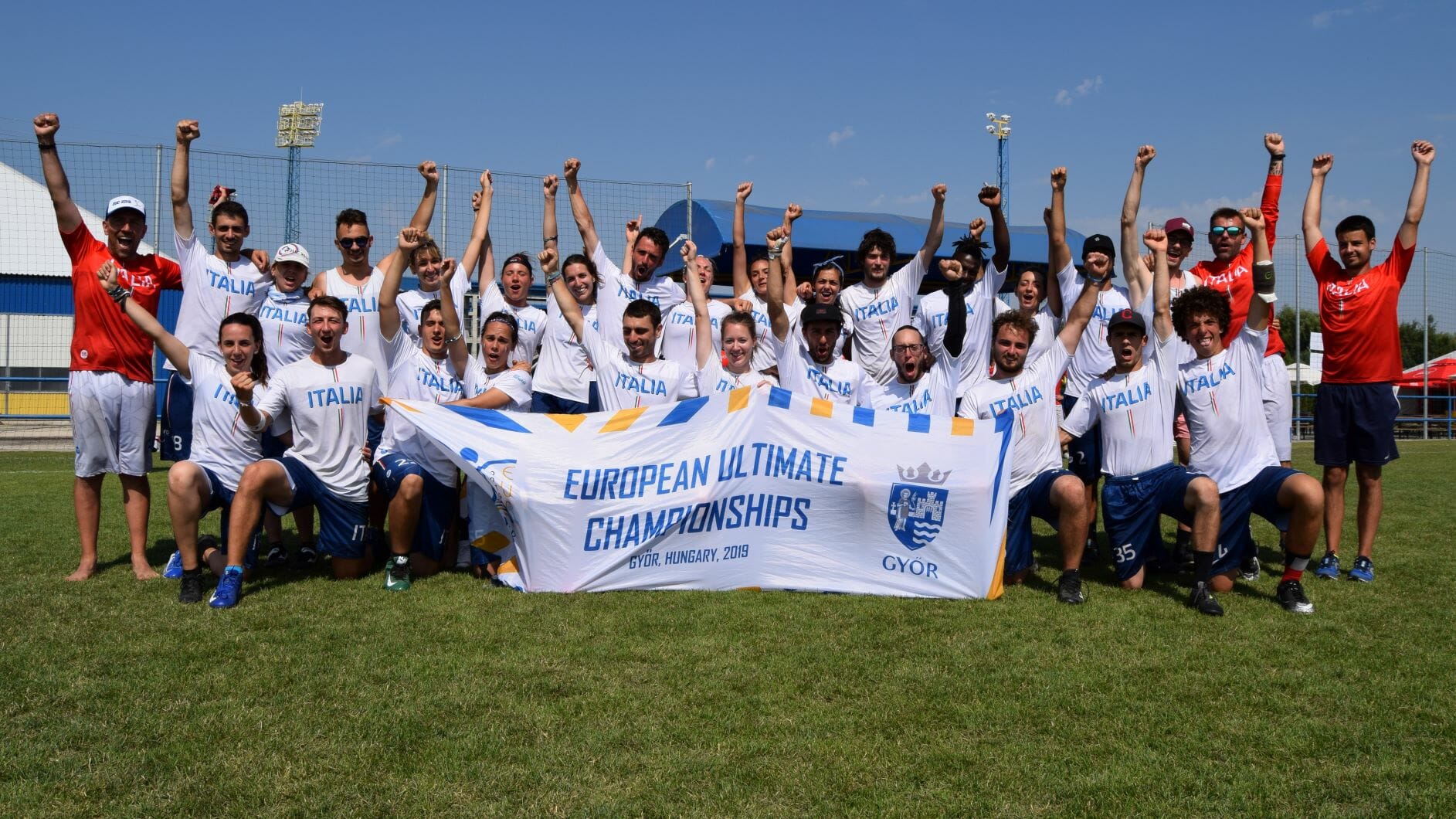 Italy has released their mixed tryout squad for WUGC 2020. Final cuts will be made in the spring. This page will be updated when the final roster is selected.
We are compiling all of the WUGC 2020 rosters here.
WUGC 2016 Placement: Did not attend
EUC 2019 Placement: 10th
| Name | Club |
| --- | --- |
| Alessandro Galli | Croccali |
| Aline Bernier | Discover Verona |
| Andrea Beghelli | CUSB Red Bulls |
| Andrea Braghin | Donkey Divers |
| Andrea Merlino | Cani e Porci |
| Andrea Pagano | Le Mucche |
| Annalisa Sartori | Discover Verona |
| Carlotta Melotti | Fireflies |
| Chiara Calzà | Ufo Trento |
| Chiara Cappucci | CUSB BBC |
| Claudia Facchini | Frasba da Lac |
| Davide Legacci | Heidees |
| Enea De Cristofaro | Le Mucche |
| Federica Cipriani | CUSB Shout |
| Federico Caraceni | CUSB Red Bulls |
| Francesca Arnelli | Le Mucche |
| Francesco Martini | Barbrastreji |
| Gaia Sdruscia | CUSB Shout |
| Giovanni Fumagalli | Barbrastreji |
| Giovanni Rossini | Donkey Divers |
| Giulia Giannetta | Le Mucche |
| Giulia Nones | CUSB Shout |
| Jacopo Borgogelli | Croccali |
| Laura Fantinato | Frasba da Lac |
| Leandro Calabrese | Donkey Divers |
| Letizia Gatti | Frasba da Lac |
| Linda Ruffilli | Tequila Boom Boom |
| Lisa Rigoni | Donkey Divers |
| Lorena Colombi | Le Mucche |
| Luca Contini | Cotarica Grandes |
| Luca Coppi | CUSB Red Bulls |
| Manny Olyanju | Voladora |
| Marco Dellavedova | CUSB Red Bulls |
| Marco Schiavon | Barbrastreji |
| Maria Battistini | Tequila Boom Boom |
| Martino Tonelli | Frasba da Lac |
| Massimo Calzà | Ufo Trento |
| Michele Farina | CUSB Red Bulls |
| Nicolò Felici | CUSB Red Bulls |
| Noemi Nicetto | CUSB Shout |
| Pietro Vannucci | Cotarica Grandes |
| Ravanini Monica | Tane Malefiche |
| Riccardo Monti | CUSB Red Bulls |
| Sara Bonous | Frasba da Lac |
| Sara Casali | Kiss My Disc |
| Simone Mussio | CUS Brescia |
| Susanna Fuentes | Le Mucche |
| Veronica Bonazzi | Le Mucche |