How will Latvia's U24, EUCF and indoor success translate to WUGC?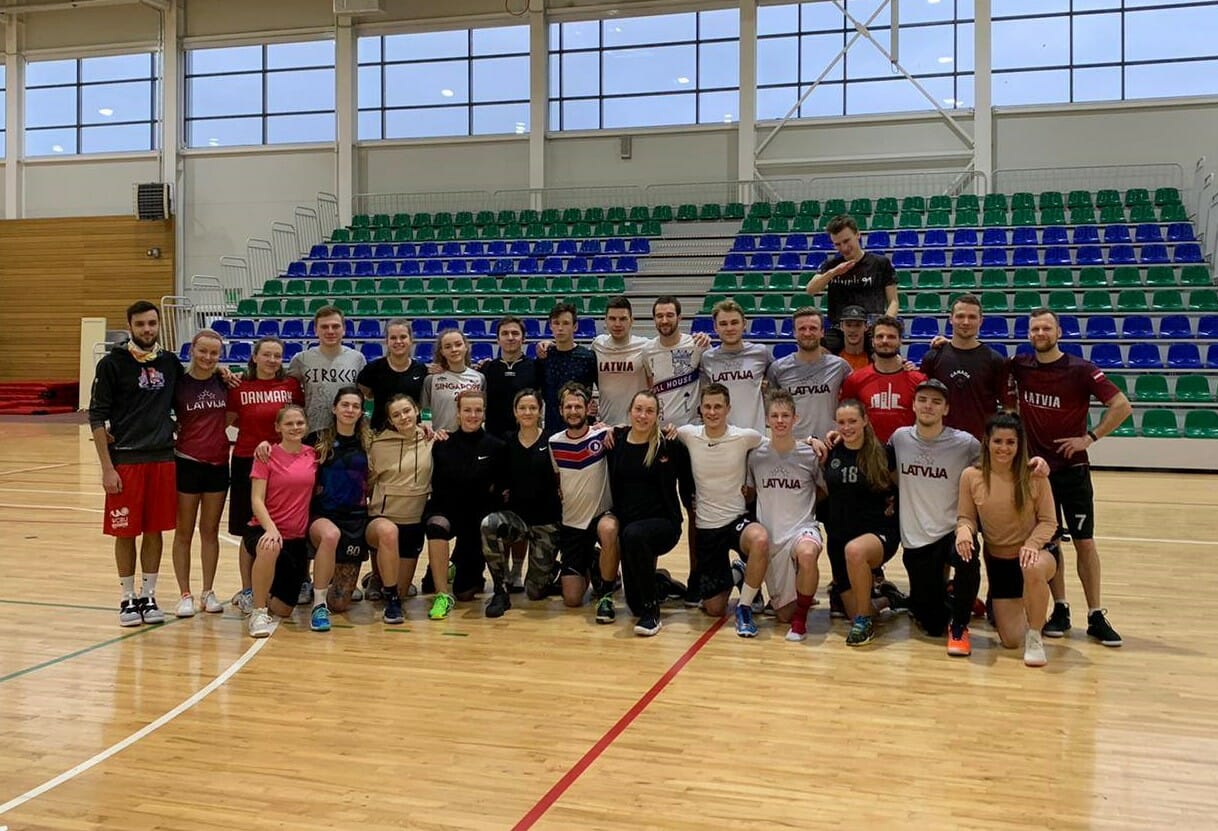 Latvia have revealed their tryout list for their mixed team at WUGC 2020. Latvia are only sending a mixed team to WUGC, so all of their talent will concentrate on one national team. Latvia are aiming for a final roster of around 22 players with 11 per gender. This page will be updated when final cuts are made later this season.
We are compiling all of the WUGC 2020 rosters here.
WUGC 2016 Placement: Did not attend
EUC 2019 Placement: Did not attend
WU24 2019 Placement:1 4th
Women Tryouts:
| Name | Club |
| --- | --- |
| Ekaterina Selezneva | Sirocco Ultimate |
| Elza Gusāre | Salaspils FK |
| Estere Moorlata | Salaspils FK |
| Ieva Grabe | Salaspils FK |
| Ilze Medne | KCN Rīga |
| Jūlija Arefjeva | Sirocco Ultimate |
| Katrīna Ance Gasiņa | Salaspils FK |
| Kristiāna Kazakupča | Salaspils FK |
| Lāsma Kublicka | Salaspils FK |
| Līga Zāģere | Sirocco Ultimate |
| Linda Gulbe | Ogre Frisbee club |
| Monta Poduma | Salaspls FK |
| Rūta Butāne | Ogre Frisbee club |
| Sabīne Muceniece | Valmiera |
| Samanta Zukule | KCN Rīga |
| Santa Možeika | Salaspils FK |
| Santa Siņica | Salaspils FK |
| Undīne Vektere | Valmiera |
Men Tryouts:
| Name | Club |
| --- | --- |
| Aleksandrs Šidlovskis | Sirocco Ultimate |
| Alvis Viļumsons | Ogre Frisbee club |
| Andrejs Jēgers | Valmiera |
| Andris Otisons | Amsterdam Ultimate Club |
| Arvīds Žanis Orlovskis | Salaspils WT |
| Bruno Jurginsons | Salaspils WT |
| Didzis Malderis | Salaspils WT |
| Edgars Dimpers | Brighton Ultimate |
| Emīls Elksnītis | Salaspils WT |
| Ēriks Podgurskis | Ventspils frisbee club |
| Girts Betmanis | Salaspils WT |
| Igors Minovs | Salaspils WT |
| Jānis Bernāns | Salaspils WT |
| Kirils Timofejevs | Sirocco Ultimate |
| Kristaps Veckāgans | Ventspils frisbee club |
| Mārtiņš Gusārs | Salaspils WT |
| Mārtiņš Kasparāns | Salaspils WT |
| Reinis Otisons | Salaspils WT |
| Renārs Niedra | Hardcore Ultimate |
| Roberts Apinis | Salaspils WT |
| Toms Ābeltiņš | Salaspils WT |
Tryout Coaches: Toms Ābeltiņš and Jānis Bernāns
WUGC Coach: David Dillon
---
Many of the top players from the Latvia U24 Mixed team in 2019 are trying out for this squad ↩