Two new coaches join the US national team set up.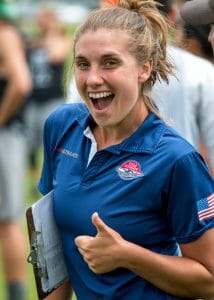 USA Ultimate today announced the slate of assistant coaches and selection assistants for the three national teams that will represent the country at the 2021 WFDF World U24 Ultimate Championships.
For the men's team, Darryl Stanley returns for his second stint as head coach Bob Krier's assistant while Hector Valdivia is back with the U24 team for the first time since serving as head coach in 2013. Former D-I college Coach of the Year David Allison will serve as the team's selection assistant.
In mixed, head coach Patrick Sherlock will be joined by Lauren Boyle, back for her third cycle with the mixed team, and Hannah Baranes, a first-time national team coach who has recently coached the Amherst Regional High School girls' varsity, Harvard women's, and UMass Amherst mixed squads. Isaiah Bryant, a long-time coach and team leader in New York, is the selection assistant for the mixed team.
Women's head coach Nancy Sun will be flanked once again by Alex Snyder, who has previously been both an assistant and head coach for this team. Carleton head coach Courtney Kiesow will make her national team coaching bow as the other women's assistant with Anraya Palmer set to operate as the selection assistant.
The dates and location of the 2021 World U24 Ultimate Championships have not yet been announced.