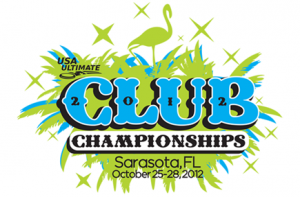 Here's what happened in quarterfinals this morning at the 2012 Club Championships:
After losing badly to Revolver in a seeding game on Friday, Austin's Doublewide faced a very windy elimination game in the first round on Saturday against Toronto's GOAT. Determined not to repeat yesterday's flat performance, Doublewide came out quick with an upwind break and the accompanying downwinder for a 2-0 lead. But a determined GOAT team rallied back, working methodically up the field to earn their first break. They got the downwind break as well to go up 5-4. After Sweden's Sebastian Sporrong made a nice catch to keep GOAT up 6-5, the GOAT defense forced a long point with lots of turns, leading to another pair of breaks to take halftime up three.
Doublewide looked in danger of losing after Kurt Gibson caught what he thought was an upwind break and spiked the disc. But the observer ruled him out, resulting in a devastating turnover. GOAT went on to score, making it 10-7 and seizing all of Doublewide's momentum. But captain Jeff Loskorn made a huge layout block two points later that sparked a five point Doublewide run, as the team got back into the game. "Plays like that, they always help," said Loskorn. "They give you the attitude that you can win." Gibson was also dominant in the second half with some huge throws and big scores.
The observers were an important part of the game, issuing a lot of team misconduct fouls, including one that resulted in a costly yardage penalty on GOAT for bumping the mark. GOAT's Geoff Powell was playing aggressive physical defense and was tagged with three TMFs in the game alone.
Doublewide looked much improved after their terrible game against Revolver yesterday. "We've been trying to make an effort to come out strong," said Loskorn. "We did that. But I kinda think we just thought we would ride the wind out." He credited GOAT for strong upwind work in the first half.
Speaking about their Revolver game, he wasn't quite sure why they played so poorly. "It's kind of our tendency to lose our second power pool game," he said. "Everyone has this, 'It doesn't quite matter' in the back of their heads."
They are looking forward to their Ironside game. "We know that they're the best team this year," Loskorn said. "We're gonna have to work really hard to get that upwinder. We're gonna do everything we can to win the flip."
---
The only upset of the Open quarterfinals came from arguably the least likely match-up as underdog North Carolina's Ring of Fire beat favorites Seattle's Sockeye handily, 15-10. When asked how they pulled off the unexpected victory — Ring of Fire came into the weekend as the 10th overall seed and Sockeye the 3rd — Ring's Alton Gaines told us they "just punched a couple breaks in upwind" and that Sockeye had more trouble with the gusty conditions.
With the win, Ring of Fire has solidified themselves as the surprise of the Open division — the other teams in the semifinals were all top seeds in their initial pools — but will have to beat the reigning champions, San Francisco's Revolver, to get their chance at the title.
---
After Chain Lightning's impressive crossover win yesterday, they took on top-seeded Ironside this morning in the quarters. Both teams looked confident and composed despite the gusting wind and both scored their first points going upwind. Chain jumped out to a 6-3 lead, but Ironside answered back convincingly: they scored four straight points, came back to even on breaks, and took half 8-7.
Ironside never looked back after half. Chain worked hard and matched Ironside's breaks when the game was even at 13's, but Ironside put it away with a strong O point and an upwind break to win the game 15-13. When asked about the mental resiliency that Ironside has shown in eliminating big deficits — like at Regionals when they trailed late to GOAT — Captain George Stubbs said simply, "We are the most athletic and talented group of players. If we go down, it doesn't matter, we just lean on the team."
---
As most expected, San Francisco's Revolver — last year's club champion and the current world title holders — handled their business against Chicago's Machine on a windy start to Saturday's single elimination bracket play. Ironically enough, the Chicago squad never looked comfortable handling the disc in the wind against the strong gusts and San Francisco took full advantage of their miscues. Revolver continued to look confident moving both upwind and down and used their defensive depth to steadily grind Machine down. For Revolver, this one was really never in question, allowing them to rest many of their top players for their semifinal match-up against a surprisingly strong Ring of Fire team.
---
San Francisco is just running the table in Mixed. In what may be some kind of record, three teams from the same section have advanced to the semifinals, including last year's champion Blackbird. Mischief got a huge upset over Iowa's Chad Larson Experience 15-13, with the wind playing a huge role in the game. In a matchup between the one and two overall seeds in the tournament, the Polar Bears topped Boston's The Ghosts 14-12. Minneapolis' Drag'N Thrust is the only teams not from San Francisco in the semis. They will face Blackbird after beating Cosa Nostra 15-11.
---
There were no surprises in the Women's division. San Francisco's Fury breezed past Toronto's Capitals in a 15-10 win. Fury was just more comfortable in the wind. The twelve seed overall Austin's Showdown dominated Chicago's Nemesis 15-7 and continue to impress as one of the best stories at the tournament.
Seattle's Riot got by Atlanta's Ozone 15-10. In a funny moment, Riot played an entire point with eight players, only realizing it after they had scored. They replayed the point; Riot scored again.
Washington, D.C.'s Scandal beat Boulder's Molly Brown 15-10. They will face Riot at 1:15.