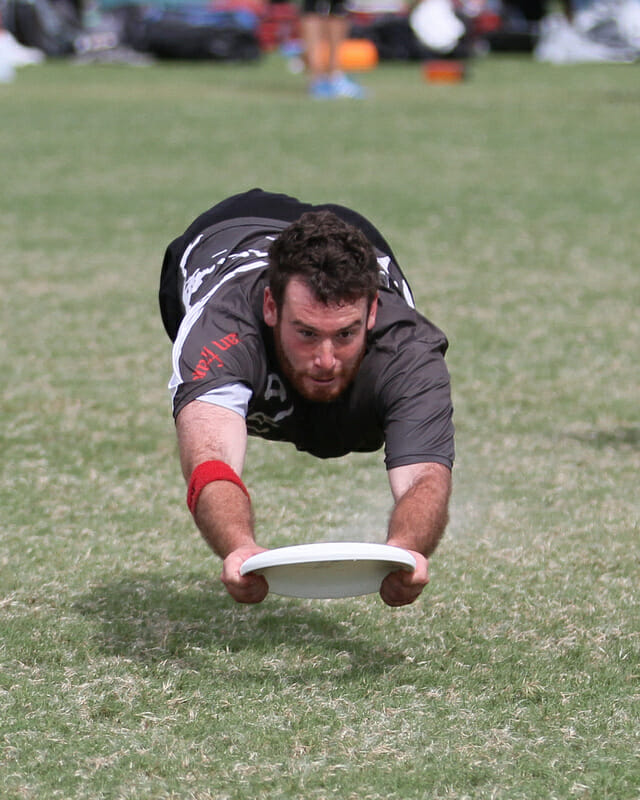 For the second year in a row, San Francisco's Blackbird are the Club Champions of the Mixed Division after a 15-9 victory over crosstown rival and number one seeded Polar Bears. Blackbird — the eleven seed overall — lost to the Polar Bears in the semifinals of Southwest Regionals on universe point, but were the far superior team today.
After trading points to start, Blackbird scored four straight to take a 5-1 lead that they would never relinquish. They added another break to take half up 8-3. The wind today was more of a crosswind, making scoring both directions easier than it has been the rest of this weekend. The Polar Bears could only muster a single break in the game.
Blackbird was just playing harder and outplayed a Polar Bears team that also lost to them in power pool play on Friday. The depth of Blackbird was clear as players across the team made contributions to the easy victory. Sally Mimms stood out as the leading goal scorer with four scores and an assist. Nick Slovan added two goals and two assists.
Blackbird captain Brian Garcia explained how they were able to repeat as champions, after an up and down season that saw them took fourth place at Regionals. "We are all on the same page the entire season," said Garcia. "The goal isn't to win tournaments, it's to get better on the field, get mentally tougher, and have fun."
They don't practice together frequently and rely on each other to train hard on their own. Garcia talked about needing to have trust in each other. "We are a team that strives on positive energy," he said. Daniel Gillick, one of the top players on the weekend, added, "We treat every tournament as a practice."
That attitude was important, as Blackbird had to respond after a loss to Iowa's Chad Larson Experience 15-10 in the first round of pool play. They did not lose again.
San Francisco teams have dominated the Mixed Division in recent years. Blackbird is just the second repeat champion in Mixed, after Donner Party won back-to-back titles in 2002 and 2003.