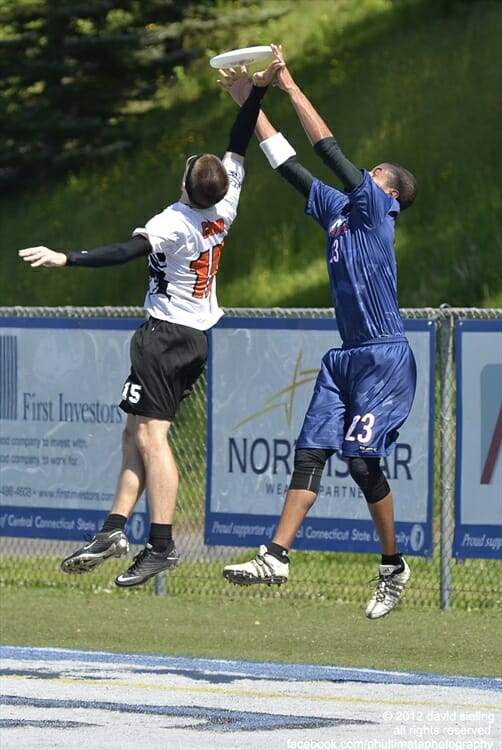 I have spent a lot of time thinking about Ultimate, its role in many of our lives, and its viability as a spectator sport. For those who don't know me personally, I have a broad sports background at a variety of levels including recreational participant, varsity captain, NCAA athlete, high school coach, teacher, USAU captain, AUDL player, and general manager. I write this especially for ultimate enthusiasts, in hopes that it gives them a better appreciation for where our sport is moving.
While ultimate's transition to mainstream spectator sport is far from complete, the days of ultimate exclusively by the players and for the players are behind us. For the first time, major organizations in the ultimate landscape are working to increase ultimate viewership instead of exclusively focusing on participation metrics. The American Ultimate Disc League, Major League Ultimate, NexGEN, and even USA Ultimate have each recently launched major efforts to make ultimate a more marketable sport to watch.
This renaissance is not the first of its kind: Cultimate, the Ultimate Showcase Series, and others have pursued similar initiatives with limited success.  It is clear that the current environment and state of the sport provide the most potent atmosphere for growth, as a spectator sport, that the ultimate world has ever seen.  Regardless of one's opinion on the topic, the facts are clear: spectator ultimate is here to stay.
While the exact form the sport will take, or the exact impact this evolution will have on today's ultimate players remains unclear, I am sure that this is for the best. The growth of ultimate viewership will undoubtedly benefit a wide range of stakeholders over a long period of time.  Fans, players, organizers and investors will each benefit from the growth in unique ways.  I am excited for what the future will bring to our sport, and you should be too.
Cliché as it sounds, there is no denying that today, money makes things happen. From Apple to the Red Cross to Ultiworld.com, big things happen where there is money. The monetization of sports is not new and ultimate will not be the last sport to benefit from an increase in cash flows.  But there is no arguing that with more viewers and participants comes more money, and that with more money comes more capabilities and opportunities.  There is also no arguing that, all else being equal, more capabilities and opportunities are better than fewer.
The impact of the growth of spectator-centric ultimate has an obvious benefit to fans.  It will be easier than ever to watch, both in person and from a distance, high quality ultimate.  In the past 10 years, aided by an unprecedented change in the way that people watch video content, providers like Ultivillage and the NexGEN Network exponentially increased the availability of high level ultimate to the interested masses.
Live streaming, video-on-demand and mail-order DVDS have brought the sport's best from the fields into fans' homes, onto their desktops, and even onto their cell phones.  As the number of interested fans continues its rapid increase, the demand for such services (and the potential revenues that such demand could bring) will continue to grow.  Service providers new and old will work harder than ever to put ultimate on screens of all sizes, and the ultimate fan will benefit in remarkable ways.
As ultimate viewership increases, the sport will inherently shift towards the mainstream.  While such a shift could have both positive and negative effects on those playing the game, the most notable ones will be for the better.  Nearly everyone who has played the game has had to awkwardly justify the bruises and scrapes, or explain to a stranger why there aren't any dogs. Local clubs have fought with local organizations for field space, parks and recreation resources, and respect.
With increased popularity among spectators comes an increase in the number of participants.  More participants makes for better local leagues, increased recognition by schools and interscholastic organizations, and ultimately, more money for equipment, travel, and competition. These changes, clearly, will take time, and it is unclear how exactly the competitive landscape will change. The USAU Triple Crown Tour, although controversial, provides an early example of the trend and its effects. What will eventually emerge is a more complete set of competitive levels for the sport, and opportunities for all players, regardless of skill level or commitment, to play ultimate in a way that works for them. Without question, getting to that place is a good thing for players.
With more players and spectators, ultimate organizers and administrators will become better equipped to, both literally and figuratively, bring the game to new places.  With better resources and more funding, organizations like Ultimate Peace will be better supported by established outreach organizations and better able to achieve their goals.  Youth and school leagues will continue to become officially supported; the current health and educational environments are primed for a low cost, highly participation sport with a low risk for head injury and a built-in mechanism for teaching sportsmanship and character.  There is little question that ultimate has changed lives; I suspect that most reading this can attest to the impact the sport has had on their own life.  The growth of spectator-centric ultimate will only broaden this impact, better equipping all of us to spread the sport in new and impactful ways.
Lastly, as ultimate's viewership grows, ultimate will become financially valuable. Despite its well-documented operational and public relations challenges, the AUDL provides a key example of people unfamiliar with the sport showing a business interest in its promotion. Although not the first interest of its kind (Jose Cuervo tried to commercialize ultimate in the early '90s), a group of non-ultimate people investing time and money in the operation, promotion and distribution of ultimate is largely unheard of in today's ultimate community.
The growth described above only increases ultimate's attractiveness to like-minded business people. From broadcasters and apparel companies to cupcake vendors and logistics management companies, advertisers will come running to put their brands in front of the eyes watching ultimate. Such investment will increase revenues for organizations producing spectator ultimate, and those revenues will only further the capabilities of the organizations.
Change is rarely easy. It can be daunting, risky, and downright painful. But often times, change is for the best.  We evolve, improve, and prosper. As someone who has been involved in the development of ultimate at all levels, from teaching preschoolers to managing a professional team, I can say without hesitation that what is coming will be great. Ultimate will, as it has throughout its young history, continue to grow. It will create even more exciting times for fans and players, empower organizers and administrators with increasingly capable tools, and deliver profits for savvy business owners and investors.
Despite these changes and the bumps along the way, it will remain the sport we love, and it will always be ultimate.
Photo courtesy of David Sieling. The author will be doing an 'Ask Me Anything' Q&A on Reddit on Thursday. Ask him questions here.