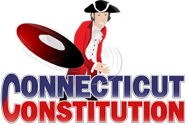 Connecticut Constitution owner Bryan Ricci — who announced yesterday he has joined Major League Ultimate as Chief Financial Officer — had been consulting for the MLU for over a month as he awaited resolution of the lawsuit with the American Ultimate Disc League, he told Ultiworld today.
He was waiting quietly in the wings before officially joining the MLU. "I couldn't commit until I got the lawsuit done," he said. "Now that the lawsuit is done, check is in hand, we came together as a group and hashed out an agreement that I think works for everybody."
He is part of the ownership group of the MLU, which required an undisclosed investment. He will work with the other core team members — Jeff Snader, Skip Sewell, and Nic Darling — in the operations of the league.
The next big question is what will become of his Constitution franchise.
"The MLU has a certain vision, and I understand their vision," he said. "And if the Constitution works in that vision, I think that that's going to be great. And I think that it certainly could."
That's a way of saying that it is possible that the Constitution will play in the MLU out of their current New Britain home. But it is far from certain. Ricci said there are "a lot of conversations on the table" about what will happen with the Constitution next season, which includes the organization becoming the New York Rumble franchise already announced by the league.
"Certainly the preference is to see the Constitution, as an organization, playing professional ultimate," said Ricci. "That is probably the first priority, to keep the organization as a contingent."
Ricci said the league hopes to make a decision about the team in the next week or two.