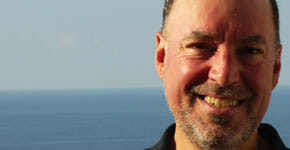 Bryan Ricci, one of the central figures of professional ultimate since the beginning of the American Ultimate Disc League, is resigning his position as the Chief Financial Officer of Major League Ultimate.
"I have tendered my resignation with the MLU, primarily because it's a large time commitment and I have other businesses and personal things that I need to attend to," he told Ultiworld.
This marks Ricci's departure from professional ultimate. He began as a franchise owner in the AUDL, running the now-defunct Connecticut Constitution. The team ended up in a lengthy legal dispute with the league that was settled late last year. At that point, Ricci announced that he would be joining MLU as its CFO.
Now, he is completely divesting from professional ultimate.
"I have stepped out from the league entirely," he said. "I had some ownership shares which I tendered back to the league and worked through some of the transition back to the league with all the financial information that I was working on."
"We greatly appreciate Bryan's work over the course of this first season," MLU Commissioner Jeff Snader said in a statement. "He was a significant part of our inaugural success, and his dedication and insights will be missed. That said, we fully understand the reasons for his departure and wish him nothing but the best as he moves on."
Lindi Sabloff, a financial advisor for MLU, will replace Ricci, effective immediately.
"While no transition of this size is simple, we are very fortunate to have Lindi ready to step in," MLU VP Nic Darling said. "She has been with us from the beginning and has been responsible much of the legal and financial structure of the league already. The CFO role is a natural fit."
Ricci had positive things to say about his experience with the league. The work just became too much for him — a business owner outside of his MLU work — to handle.
Part of the challenge was not only having to keep the books of the league itself but also its individual teams, which often didn't have dedicated accountants.
When asked about the financial state of the league, Ricci generally declined comment. He said the league has cash on hand that they will need to "manage very well as they approach year two."
He also noted that the rapid run-up from concept to operational league made some aspects of year one difficult.
"I think the league missed its revenue targets," he said. "They were somewhat aggressive being the first season and we had a quick startup phase. So I think we knew that getting the revenue numbers was going to be a challenge…I think we held the line pretty well on the expenses, unfortunately the revenues just didn't cover those."
He said the league is smart to be focusing on better stadium locations, which have proven to be a big driver of ticket sales.
But Ricci will now watch from the sidelines. "I have a lot of knowledge," he said. "I just don't know where it goes."
"I have appreciated the opportunities to work with the founders, investors, team members, players and most importantly fans," he added. "I wish all of you the best."