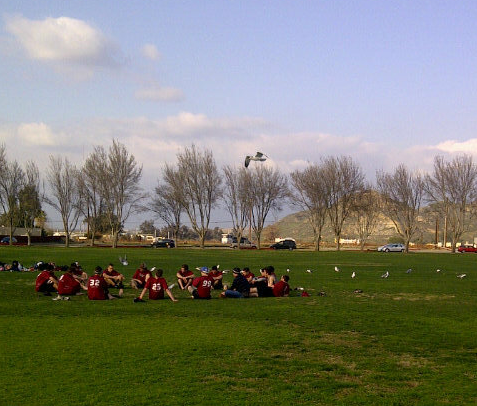 Check out our Saturday recap for more coverage.
In the first exclusively Division III tournament of the year, DIII Warmup provided a chance for many of the country's top DIII teams to get some competitive early season games in as they get on the road to the College Championships.
With the top four teams in our College Power Rankings competing, along with a host of others in the top 25, this weekend was a lot like Division III's Florida Warmup.
PUGET SOUND POSTS A TOURNAMENT VICTORY, WILL BE NEW #1
The finals pitted host team and, to many, surprise of the tournament Claremont (#13) against a Puget Sound (#2) squad that had not seen much pressure all tournament to that point. Claremont was playing to prove their dominance despite the graduation of Tommy Li (of NexGen fame) while the Postmen came out to affirm their second place Nationals finish and win the first DIII tournament of the season.
Puget Sound set the tone of the game from the first point. Despite an end zone layout from Braineater Abe McKay, the Postmen got the disc back and found Spencer Sheridan for a big sky in the endzone. On UPS's first D point, Daniel Mozell got a run-through D and corralled the bookends for a 2-0 lead. Claremont couldn't get going early as Sheridan bookends made it 3-0 and patient handler movement after a number of turns found Brains down 0-4.
Claremont made clear they would not go down without fight, rattling off two breaks and cutting the deficit to 3-4 on a Zach Purdy goal. Jonas Cole got the Postmen back on track with a fantastic flick huck to a streaking receiver and a few breaks later, the Postmen found themselves back up four, with an 8-4 halftime lead. UPS looked very efficient with the disc in the first half. Their dynamic vertical stack frustrated Claremont as Sheridan, Cole, and other UPS handlers found success in their resets.
However, early in the second half, Claremont again went on a run, cutting the score to as close as 9-7 after another great grab from Hall and 11-9 on a score after fantastic quick movement. This would be as close as Claremont would come for the rest of the game. UPS got their starters back in the game, scored another break and extended the lead to 13-9. Mozell pulled in the final two goals of the game and the Postmen were DIII Warmup Champions. With the win, they have proven to be the early team to beat and should find themselves in the number one ranking when this week's results come out on Wednesday.
Claremont's Devin Drewry said of the loss, "We'd really been working underneath all weekend. When they started taking that away, we forced some looks because of it." UPS's downfield man defense, particularly near the end zone, was strong all game.
Sheridan and Cole credited the win to contributions from everyone on the team. "Everyone played extremely well outside of the 'top guys' on our team," said Sheridan. Cole cited Riley Carpenter, Connor Sleeper, and Dylan Harrington for their contributions.
UPS will look to build on their win in the coming weeks at Stanford Open. Coach Adam Lerman noted where the team has room for improvement: "At times we were hucking too much instead of working the disc down the field. Nonetheless, everyone played well and I'm really optimistic for the rest of the season."
CARLETON GOP INCONSISTENT
Carleton GOP (#1) came into the weekend as the two seed, but couldn't repeat the success of their undefeated run through the DIII College Championships last year. In pool play, they fell to Claremont, losing their first round bye and having to get through tournament one seed St. John's (#3) in quarterfinals in a highly anticipated matchup.
In that game, Carleton came out ready to play. They posted three early breaks and BAM struggled to close the gap. Hardly getting broken all game, GOP cruised to a 13-8 win. BAM's Dan Cahill noted, "The score didn't reflect the intensity of the game." GOP players mirrored this sentiment, noting that their game against BAM was one of the toughest all tournament. GOPs numbers were an advantage for them all weekend. Bringing a roster of 25, they were able to run deep lines and rest their top players in less critical situations.
Their win gave them a rematch against Claremont in the semifinals. Both sidelines were fired up from the start of the game, giving the field the feeling of late Spring ultimate. Claremont found success early by fighting for throws underneath and converting GOP throwaways, going up two breaks at 3-1. GOP fought back behind the strong play of Max Willard and Rhys Lindmark and cut the lead to 6-6 on a toss from Pete Rogers to Matt Godfrey. The two teams traded points to 10s before Devin Drewry came up with a poachy block and Nathan Hall got huge on a floaty huck to make it 12-10 Braineaters. Claremont closed it out on their next O point, patiently working it up the field and scoring on an up-liner.
Lindmark found that GOP's game was indicative of their up and down weekend, describing their tournament as "sine-curvey."
RICE BREAKS SEED, CAN'T GET PAST POSTMEN
Rice got their first big test on Sunday with an early morning pool play game against eventual tournament champions Pugest Sound. PSU came away with the 10-8 victory, leaving Rice in the third spot in the pool, facing a quarters matchup against Pacific Lutheran.
Rice broke Reign early and strong O-line play allowed Rice cruise for the rest of the game. After a few late breaks, Pacific Lutheran's chances were slim to none and Rice came away with the 13-10 win. Pacific Lutheran's coach attributed some of their struggles to depth and health. "Injuries definitely hurt us," he said. "We were breathing pretty hard out there."
But Rice, facing two tough morning games, had some fatigue of their own that hurt them in a rematch against Puget Sound in semis. The result was similar to earlier in the day. The Postmen came out with fresh legs off of a bye, getting off to an early 5-2 lead. They worked the disc all over the field, punishing a tired Rice roster with both unders and deeps. Sheridan and Cole looked in complete control behind the disc for Puget Sound. The Postmen O-line hardly got broken in the second half and came away with the 13-7 win.
AMHERST MISSES CHAMPIONSHIP BRACKET, BUT SHINES
After a universe point loss to Carleton GOP on Saturday, heads turned towards Amherst, who finished fourth at DIII Northeast Regionals last year. Coming into the tournament as the 10th seed, Amherst blew past their seeding with two wins in pool play — and two universe point losses.
On Sunday, there was a lot at stake in the matchup between Amherst and Pacific Lutheran, with the winner earning a spot in bracket play. Amherst was playing with only 9 or 10 men and was without their star captain Lock Whitney (concussion). Despite the long odds, they played a deep Reign roster close, losing on universe. With Whitney in the game, there's a good chance Army of Darkness would have come away with the win.
Considering they were playing with such a shallow roster, this has to be a team to watch later this season. They have the pieces to beat top contenders.
QUICK HITS
– St. John's (#3) fell well below their one seed, finishing fifth.
– The only top 25 team to miss the Championship Bracket was RPI (#25), who posted an 0-4 record in pool play.
– Claremont, the host team, kept live game statistics on Leaguevine.