With a Prez Day win, Arizona Sunburn is one of four remaining unbeatens (joined by North Carolina, Oregon, and Wisconsin) in 2013. They got through powerhouses Minnesota and Colorado to keep a clean sheet. Read about them and the rest of the Open President's Day field.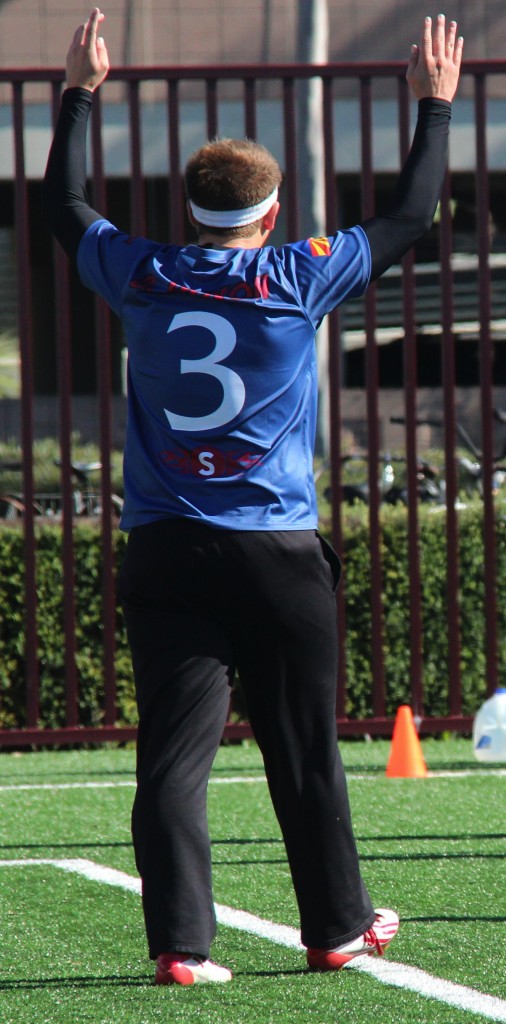 Last weekend twenty teams from seven regions across the country descended on beautiful San Diego, California, to celebrate President's Day in the ultimate fashion. Perennial nationals contenders Minnesota (#9) and Colorado (#5) headlined the festivities, while eleven Southwest region teams fought for early pole position. The one seeds in Saturday's  pools — Minnesota, Colorado, and Arizona (#10) — along with the two seed in pool D — UC Davis — all entered the semifinals on Monday morning undefeated.
Across the country, Florida Warm-Up had been absorbing the nation's attention for the first two days (and rightfully so), but the action in San Diego had Washington's Birthday all to itself.
Sunburn Makes a Statement
Coming off of a tournament win at the Santa Barbara Invite, Arizona was looking to further cement themselves as a nationals-caliber team. From the outside the SB Invite win could be seen as somewhat suspect: rain disrupted the format (playing shortened rounds, and games to 13 on Sunday), a large number of players were missing from the region due to U23 tryouts, and Sunday games were dictated by heavy winds. This weekend's performance left no room for doubt.
Sunburn came out of the gate a little shaky, playing an experienced, athletic Virginia Tech team. Down a break for a large part of the first half they broke late to put the game back on serve 7-6. They opened the second half with three straight breaks and took their lead to 12-8 before their O-line started to sputter. VT Burn took two quick breaks off of Arizona misreads, before Sunburn scored the winning layout goal to finish it, 13-11.
With the battle of the Burns won, Arizona was able to get over their first game jitters and roll through the rest of the first two days largely unscathed. The finals pitted Sunburn against Minnesota Grey Duck, who, aside from an early round scare against California UGMO 13-12, also worked their way through the field without having a game closer than four points.
To start the finals, Grey Duck's defense came out firing, capitalizing on a Sunburn drop in the endzone, Minnesota quickly moved the disc up field and scored after a timeout with an upline cut to Soham Shah for the first break of the game. After a hold from Arizona, Grey Duck's O-line had its first crack at Arizona's containment zone that had been giving teams fits throughout the weekend. After patiently working the disc for two minutes, Grey Duck dropped a quick pass through the wall. Arizona quickly turned the turn into a break with a 30-yard hammer from Brice Dixon to Sean "the Janitor" Ham.
Minnesota's offense responded quickly to Sunburn's zone, not settling for open dumps, and attacking forward with each short swing. Led with patience by Greg Arenson, Jason Tschida, and Josh Klane, Grey Duck pressured the Zona's D and scored quickly. On defense Minnesota pressured the handlers of Sunburn, leading to an ineffective offense and a handful of errant passes. Grey Duck converted two straight breaks to take a 4-2 lead.
Arizona held and then scratched another break to tie it at 4s. After a Grey Duck hammer to the sideline that landed a foot out-of-bounds, Arizona looked to go back on serve with a high-release flick from Brice Dixon to Kyle Weigand, but the throw floated out of bounds. Weigand tried to toe the line but missed and fell awkwardly on his shoulder, dislocating it in the process, losing him, the deep man in their zone, for the rest of the game. Sunburn was forced to adjust. After both teams traded quick turns, Minnesota took this opportunity to slow down their pace, and deliberately attack Arizona's zone. Two minutes of patience led to an Arenson cross-field hammer for the score 5-4.
Both sides traded points, but the Arizona D was showing signs of fatigue and frustration. Grey Duck was finding open men through the middle of the field and was no longer being forced to lose yards on dumps. Sunburn's energy on and off the field, in large part due to Minnesota's suffocating handler defense and effectiveness against the zone, was as low as it had been all tournament. Grey Duck's Lloyd Vogel got a hand block and scored the bookends to break the Arizona O-line again to lead 7-5.
With the momentum in Minnesota's favor, Arizona had to respond. Looking back on the game, Sunburn captain Brice Dixon gave credit to a shift in mentality. "Minnesota did a really good job of crashing through our zone and attacking up field," he said. "I was happy with Juan [Castro], our coach. Towards the end of the first half and the start of the second, he decided to use man defense. It got our energy up and it got our sidelines up. It kind of brought our defensive intensity back. So when we went back to our zone we were more aggressive and looking to get more Ds."
Arizona held on offense with a quick huck and layout grab from Lien to sophomore Ben Lacy. Sunburn threw a man defense look and after an overthrown deep look that even speedy Jason Tschida could not run down, Zona was able to move up to field quickly for the break to tie the game at 7s. Grey Duck's David Eddy responded with a huck to Arenson to take half.
The whole second half the Sunburn O-line stayed perfect. The Gray Duck offense could not say the same thing. After both teams scored their first offensive points to start the second half, Sunburn was able to get a quick break, coming out in man defense, after a handblock by Alex Schoonmaker, followed by a hammer that was tipped by a Gray Duck defender, only to fall into the hands of Sean Ham to tie it at 9-9.
Again after both teams held, Arizona came out on zone for the first time in the second half. Minnesota worked the disc to half field, only to have an unexpected throw to go off the hands of Jason Tschida. Arizona moved the disc to the goal line before calling a timeout. The disc got checked in Dixon cut up line for a layout grab, giving Sunburn the break and their first lead of the game 11-10.  The next point, Sunburn came out in man defense. Arenson cut deep from the first spot in the Gray Duck vert stack. As the huck went up, Nolan Schmalenberger, defending the back of the stack, picked up on Arenson. Schmalenberger and Arenson both laid out into the endzone, the disc just out of reach of their hands. Sunburn picked up the disc and with five throws had scored another break:12-10 Sunburn.
Gray Duck and Sunburn traded points until the score reached 13-12 Sunburn, with Minnesota pulling to Arizona. Sunburn moved the disc up the field steadily until Brice Dixon had possession twenty yards out of the endzone on the sideline. After a marking violation was called, Dixon threw a hammer across the field into the endzone to Alex Smith to take the title.
After the game, Dixon explained Sunburn's mindset coming into the tournament, something that rang true as they battled back during the finals. "One thing we have focused on as a team this year has been grinding out games," he said. "Not letting the start of the middle of a game dictate how the game ends."
Colorado Mamabird Showing Some Vulnerability
One of the few teams that can actually call a weekend where they went 9-1 a disappointment, Colorado came into the semifinals against Arizona undefeated, but with a couple close calls. In their second game of the tournament against UC San Diego, they were down a break well after soft cap. Tied at 12s, they broke twice to win the game. They finished the day against Vermont, a game they won again 14-12 (games were to 13 on Saturday).
In the last game of power pools they were matched up against Washington (#14) and were pushed to the brink. Both teams were giving each other multiple chances for breaks throughout, as the game went to universe. Colorado eventually punched it in for the win.
"That was a good gut check for us," said Mamabird co-coach Brent Zionic. "We had a number of games last season that came down to the wire and we weren't able to pull it out. So I was glad that we were able to win this one."
In the semifinals against Arizona they were able to find breaks against Arizona's O-line. Sunburn had trouble with their defensive pressure and in the first half they got four breaks.  Their offense was not able to keep their lead as Sunburn broke back to take half on serve at 8-7.
Mamabird had a difficult time figuring out Arizona's zone. They were too complacent with difficult hucks and cross-field hammers to find consistency. Many times, Colorado found themselves trapped in a corner of the field with the stall reaching ten, with very few options. Zionic's assessment of their performance was indicative of this game. "Our defense did very well, doing the things we asked them to do, which is keep the energy high," he explained. "That being said, we still have a lot of work to do on offense. We were very poor on discipline."
After trading points to start the half, the Arizona pressure broke Colorado, forcing four straight breaks to take the lead 13-8. After a hold by Mamabird, the Sunburn offense capped off the win with a full field huck from Jacob Lien to Alex Smith for the win.
Colorado will need to be more efficient if they are looking to replicate their success of last year, especially with Texas (#6) and Texas A&M (#19) coming on strong in the South Central Region. Zionic summed up the weekend well, "Overall we were pretty pleased with the effort level, not pleased with the execution."
Out of Region Contenders
The Washington Sundodgers took a step in the right direction after having a forgettable SB Invite. They went 6-3, with their losses all coming to semifinalists. This young team still has to improve in a number of different areas if they want to challenge Oregon in the Northwest region, but their progress was noticeable, even from Saturday to Monday.
They had two universe point losses to UC Davis and Colorado in back-to-back games on Sunday. Coach Gabe Pedersen said, "With our team we are still finding out who is playing where. We could have been a little bit more composed in those other games, and been more efficient throughout the game to not be in those situations. We had the disc both times to win the game, but we blinked, and Colorado made us pay, and so did Davis."
The Sundodgers were faced with a similar situation the next day against Brown and were able to seal the deal on their way to a 5th place finish. Pedersen said he was looking forward to their upcoming tournaments. "Winning and losing is not really our goal, it's the effort and being efficient when we have the chance to close the door on teams," he said.
Cincinnati would have been a great team to watch if they were able to bring a full squad to San Diego. Towards the end of the tournament they had less than two lines available. They look like an athletic, confident bunch, which should not be overlooked. Even with their limited roster, they advanced to the power pools and were able to take down California to get into the quarterfinals. It was bad luck that they had to face Colorado twice over the weekend (In their pool on Saturday, and in the quarterfinals) or they might have posted more wins. This was an improved showing over last week at Queen City Tune Up, where they lost some very winnable games late.
Brown made a commitment to conditioning over the fall season and the results have been clear. Last year at Pres Day they finished in 15th place, but this year they made a run into the Quartfinals, falling to Minnesota 15-9. With close losses to UC-Davis, UC-Santa Barbara (#25), and Washington, Brownian Motion was close to having a huge weekend.
Virginia Tech Burn only came away with two wins over the weekend (SDSU and Cal-Poly SLO) but they looked like a team that could grow into a regional contender by year's end. Their game against Arizona showed that they can compete with top teams. They were unable to stay for a third day in San Diego or they probably would have won more games.
The Cream of the Southwest Rises
UC Davis, who ended with a 5th place finish at the SB Invite (with disappointing loses to UCSB and Arizona), came to San Diego with a full squad and looked to show that last year's success was no fluke. They opened the tournament with a 13-11 win over an athletic, well-conditioned Brown team, and were able to get revenge on UCSB 11-10, taking the one seed in pool D and dropping UCSB (due to tie breakers with Brown and Colorado College) out of championship contention. The Dogs followed up their pool play success with wins over Cincinnati, California, and Washington.
Against Minnesota in the semi-final they had trouble converting their turns into breaks, letting Gray Duck take the win efficiently. They matched up against Colorado for the 3rd place game. They lost, but by all accounts, neither team was putting its A game on the field.
California UGMO also rebounded greatly after their horrendous weekend at Santa Barbara (going 0-5). They nearly knocked off Minnesota to start their weekend, where they lost on universe, a point in which they had the disc and had a huck go up to a wide open cutter. Unfortunately, they were not on the same page. They finished 2nd in their pool, and in their power pool they finished third after Davis and Cincinnati, but they played both teams very tight, losing to them by two.
California Santa Cruz made a splash this weekend, finding their way into the Quarterfinals. They only posted three wins on the weekend, but those got them when they needed to be. Their squad has changed drastically since last year when they were playing with no more than 14 guys at Pres Day. They may have been the team that was hurt the most by being bounced from Santa Barbara.
Las Positas is obviously not a team that should have had to fight their way through qualifiers to get to the Invite. They have added some players, but still rely heavily on a few guys. They finished in 9th place after beating Colorado College and California in the last rounds. In the power pools, they fell to Arizona and then on universe point to Brown. They will need to find a way to battle through fatigue to be successful on Sunday at Regionals.
Nationals Contenders
Without a doubt both Minnesota and Arizona have shown that they are high level teams that are ahead of schedule at this point in the season. Colorado isn't far off either. These three teams got through the majority of the field at President's Day with little struggle. UC Davis has only lost four games over two tournaments (to the other three semifinalists and UCSB) this season, and will be able to further prove themselves in three weeks at Stanford Invite. They will have a say in who leaves the Southwest region for Madison. The rest of the field needs to make considerable strides the rest of the way. Washington has the players and isn't far off.
Photo courtesy of Nolan Schmalenberger.