Despite a rain-condensed schedule, top Southwest teams and a few visitors got a lot of early Spring games in, as Arizona pulled off the tournament victory with a universe point win over a strong Florida State team in the windy finals.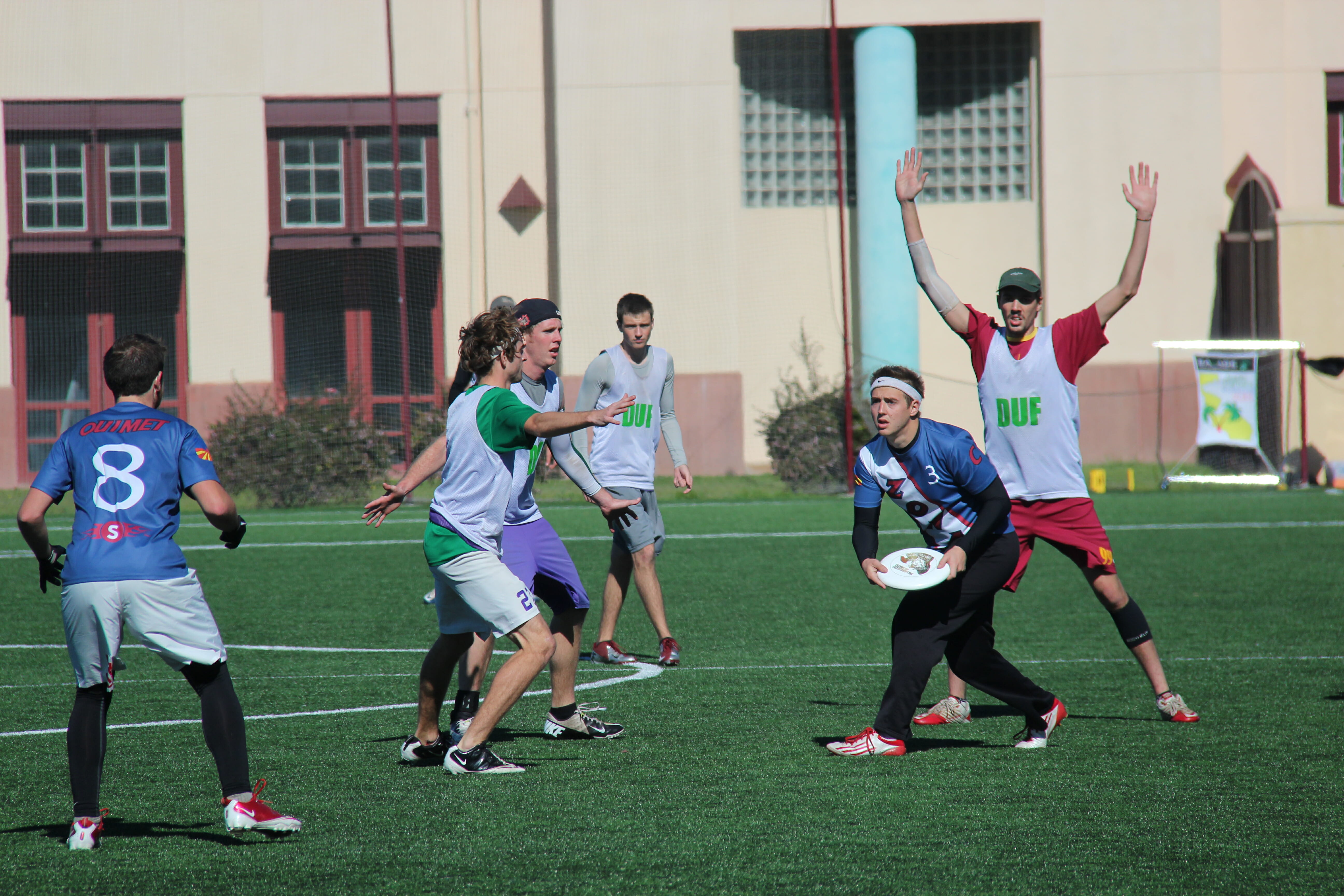 As the weekend was approaching, the Santa Barbara Invite looked to be in jeopardy. On Thursday, as rain continued to come down on the fields at UCSB, Colin Gall, the captain of Santa Barbara Black Tide and the tournament director, had to ask some teams to not attend.
The grass fields were shut down, limiting both the men's and women's side to six turf fields for 24 teams over two days. The open division would have the fields in the evening on Saturday and in the morning on Sunday, with shortened rounds and little time between games. Also, because the number of pools was reduced to three, one of the third ranked teams in their pool at the end of Saturday would be forced out of the bracket.
Gall's "worst case-scenario" was realized. He had to drop the four lowest seeded teams from California: San Diego State, Cal Poly-SLO, UCLA, and UC Santa Cruz. "Obviously all of the teams that had to travel, we were going to let them keep their bid," Gall said. "They invested money in this trip, and we wanted them to come because they are competitive teams."
Here is how the new pools shook out:
Pool A: Washington, UC Santa Barbara, British Columbia, Williams
Pool B: Stanford, Florida State, California, UC San Diego
Pool C: UC Davis, Arizona, Arizona State, Victoria
Despite Wind And Rain, Arizona Sunburn Grinds Out A Victory
The finals matched up two teams — Arizona and Florida State — that were slated to meet in the initial pools, before the rain got involved. Both teams came into the game undefeated in the tournament; Florida State had been even more dominant, with each of their wins coming by at least five points.
The flow of the game was dictated by the wind. With a heavy cross wind, Florida State ran a tight traditional zone, trapping the disc on the upwind side of the field. In contrast, Arizona relied on a containing zone that took away up-field cutting lanes. Great defense from both teams led to a hard fought battle that came down to universe point, where Arizona walked away with the 8-7 victory.
The game started with two FSU breaks. Both were quick turnovers on the Arizona side of the field and led to easy endzone possessions by DUF. Arizona counterpunched by scoring the next offensive point and breaking three points in a row to take the early 4-2 lead. For the next two points both teams traded long points with a lot of turnovers.
At 5-4, DUF forced a bad over-the-top throw on Sunburn's goal line and Arizona nearly came down with a Callahan. They punched it in for the break to tie it at 5-5. After both teams held to 6s, FSU scored a break with a huck down the line that cut against the wind to take half 7-6.
The point after half was the marathon of all marathon points. In total lasting nearly 20 minutes, with both hard and soft cap going off during the point, FSU DUF worked the disc to the goal line multiple times, but could not find the finishing throw. Arizona's zone defense bent to the limit but never broke, and they eventually scored the (slight) upwind break with an absurd high-release flick from Brice Dixon to Sean Ham on the backline for the tying goal to force universe.
Sunburn pulled to DUF downwind and had a quick chance at a break after a turfed throw, but threw the disc out of the end zone to give FSU another shot. DUF moved the disc to about half field before the wind pushed another dump throw into the ground. That give Sunburn the final chance they needed to win the game with a throw from Ryan Lacy to Ham.
DUF was led by Junior Chris LaRocque, who was instrumental in finding holes in the Arizona zone. Both he and Ben "Cheese" Stringer made a handful of bladey cross-field throws that cut through the wind and always seemed to find their target. Connor Holcomb was their main popper throughout the game and was always in the right spot to reset the stall-count and advance the disc.  After the game Stringer commented on DUF's transition from their semifinals match to the finals. He said, "The wind got at least twice as strong which threw us off a little. We had to make some adjustments, but it was just a little too late."
Jordan Huston, FSU's standout player was injured early in the tournament and missed the final two games.
Arizona's zone was anchored by AJ Garnello, who effectively used his length to stop movement up field, and Kyle Weigand in the back, locking down FSUs hucks and hammers. Offensively Sam Ouimet and Tom McClintock worked the disc through the FSU cup, usually leading DUF to drop into man towards the goal line.
Pool A
The first game of the weekend was held Friday night to help alleviate the lack of fields was held on Friday night between UCSB and Williams from Massachusetts. The game was played in a constant drizzle, with both teams having trouble playing in the wet conditions. Williams found their stride in the second half, taking away Black Tide's under cuts and forcing them into tough throws with a slick disc. Williams registered the first upset, at least in terms of the seeding, of the tournament, winning 12-8.
After the first night, the weather decided to cooperate and the rest of the games were played in sunshine. Pool A favorite and top seed Washington started the weekend strong with a 12-8 win in convincing fashion over UBC, but then faced off against Williams. Because of the game played the previous night, Williams was coming into the game fresh. Williams was able to eke out the win 12-11. Washington would follow that loss with another to UCSB, who had to win in order to make bracket play after losing to UBC on universe 11-10. Williams finished Saturday perfect with a 13-8 win over UBC.
After Williams, the other three teams were 1-2, finishing with a point differential of UCSB +2, Washington +1, and UBC -3, giving UCSB the 2 seed and leaving Washington vulnerable of being left out of the championship bracket.
Pool B
In Pool B, Florida State was dominant. DUF won all of their pool play games, with the closest contest coming against California, where DUF still won by five, 13-8. Stanford, which was missing a huge portion of their team due to U23 tryouts, was hampered even further by injury, finishing the tournament with only two wins, both against California, the second of which came in the 11th place game.
California got shutout in Santa Barbara, coming closest to breaking through against arch rival Stanford in the first game Saturday with the close 8-9 loss. California's losses from last year departures really showed and their young players will have to make vast improvements to contend at Southwest Regionals. UC San Diego finished 2nd in the pool with wins over California and Stanford, but that is where their success ended; they lost in quarterfinals, and dropped their next two games to finish eighth.
Pool C
Pool C saw Arizona come out on top, but not without some resistance. In the first round of games Arizona faced off against Victoria. Victoria showed depth and ran a clean offense, but Arizona was able to pull away late for a 13-8 win. The other game during that round was a wild one. ASU took a commanding lead over UC Davis, only to squander their lead and lose by 2, 14-12. Davis used ASU's aggressiveness to their advantage, taking their errant hucks and turning them into breaks, and ASU could not stop the bleeding.
Once this game finished, ASU Prime had to go right into a game against their well-known opponent Arizona Sunburn. Arizona took an early 3-0 lead but ASU found their composure and battled to force the game to universe, where Sunburn scored to win 11-10. The final round featured two lopsided 13-5 wins by Arizona over UC Davis, and ASU over Victoria.
SUNDAY
On Sunday the men's teams had a quick turnaround, with some teams playing as late as 9 PM and having to gather their wits for an 8 AM quarterfinals match. The sun was out again, but the wind had picked up from Saturday. All four quarters games were surprisingly one-sided — the closest being UCSB over UC Davis 13-9. Arizona beat Washington 12-7, Florida State took down ASU 13-5, and Williams beat UCSD 13-8.
Regional opponents UCSB and Arizona squared off in the first semifinal, and Florida State and Williams, the teams with the most frequent flyer miles, were matched up in the second. The wind was steadily increasing and zone play factored heavily in the final three games.
The UCSB and Arizona game was hotly contested, with both teams getting lots of D's. But Arizona persevered and came away with the 10-8 victory.
Florida State kept rolling, making easy work of the Williams zone, winning 13-6. Williams played a great tournament up to that point, led by handler captain Evan Grillon.
QUICK HITS

Aside from the four teams that unfortunately had to be dropped due to weather, the big names from the SW region were at Santa Barbara. From these results UCSB and Arizona showed they have what it takes to challenge for a bid to Nationals. Stanford cannot be dismissed. They are a team that always is in full form come regionals and they didn't have a full squad in SB. It should be an interesting year with a lot of parity. Las Positas is the only team still left to evaluate.
The out-of-region teams had a great showing this year, especially Williams and Florida State. Victoria, while they didn't post any wins on Saturday, looks like a deep veteran team that could make a splash later in the season. Maybe the most surprising performances by out-of-region opponents were UBC and Washington. These two powerhouse programs from the Northwest did not come to play. Washington went 2-4, and UBC went 2-3. Washington was missing Duncan Linn on Sunday which didn't help.
Florida State had not lost a game before the finals of SB Invite since last spring. They have the pieces to make a huge impact in the Southeast.
Arizona, by finishing higher than UCSB and California, will be rewarded a bid to the Stanford Invite.
Cover photo courtesy of Nolan Schmalenberger.