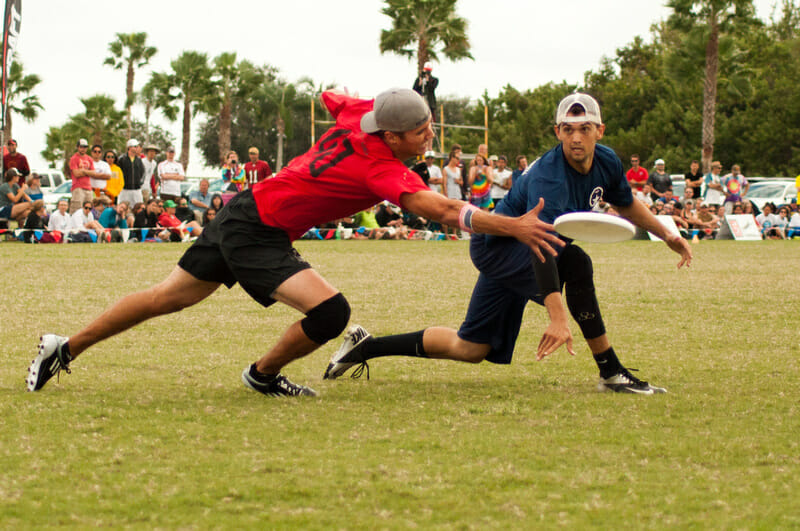 When teams talk about pressuring their opponents on defense, most of them put a strong emphasis on aggressive marking. It is not uncommon to hear that the mark shoulders 50% of the responsibility for defending players downfield, taking away a full half of the thrower's options.
To a great extent this mentality makes sense: an agile defender can and should take away downfield options by marking actively and aggressively. That helps to narrow down the options that the mark's teammates need to defend, which translates into more defensive pressure. The problem is that, all too often, players interpret "we need to mark aggressively" as "we should foul the thrower." Players may even assume that there is a tacit understanding between teammates and opponents, believing that physical marks (including bumps and fouls) are not only acceptable, but also a necessary part of tough, aggressive defense.
This usually turns into a discussion of where to draw the line in the sand, trying to settle the subtle argument of which fouls go "too far" when fouling is part of the game. The truth is, physically aggressive marks can be effective tools for a defense—but one need not foul to mark aggressively. This goes beyond the question of what level of contact constitutes a foul.
My favorite definition of "aggressive" as it relates to marking actually comes from chemistry: "Of a substance: that tends to attack and alter the structure of other substances." I think this gets at the heart of what defense in general, and marking in particular, is supposed to do: change the structure of your opponents' offense. By taking away certain spaces with their physical presence, defenders are able to influence how throwers see the field.
An effective mark can take away the thrower's preferred option, force them to make lower-percentage choices, and even disrupt that organized flow the offense wants to create. Bumping and fouling is an obvious (albeit unspirited) way to disrupt flow, but it is not the only way and may not even be the most effective—experienced throwers will exploit physical marks for free resets (and the yardage penalty in professional leagues further disincentivizes marking fouls).
Instead of pressuring the actual thrower, then, teams can focus on pressuring the thrower's options. Rise Up gives an excellent primer on how to be active and aggressive on the mark without resorting to fouls, and their "triangle" principle points to the effectiveness of marking from a distance. Especially if the marker knows that the thrower is locked in on a particular option, such as a stationary dump, backing up may be the most aggressive way to prevent that option. The greater distance gives the marker more time to react to any one throw, so fakes lose their effectiveness.
Throwers also won't be able to simply pivot around the mark and throw past them. This can be an effective marking strategy against hucks, especially backhand hucks, which usually take longer to release. Paired with the right kind of defense downfield, "soft" marks may actually be crucial to a physically aggressive strategy.
The open finals from the 2007 UPA College Championships gives a good look at how wider marks can work against a team of excellent throwers. With the exception of Shane Hohenstein, who rarely gives more than disc space to the thrower, most of the Wisconsin Hodags mark from at least a step off and at times as much as several yards away. Colorado is able to get off plenty of hucks without pressure from the mark, but downfield cutters are covered tightly from behind—the commentators note more than once that Beau Kittredge in particular, Colorado's primary deep threat, is prevented from breaking out deep as often as he had against other teams. By backing the downfield cutters, and by playing very tight to the dumps, Wisconsin forces Colorado to put passes to players who aren't very open. Watch:
[youtube VBi0-krVymg 600 377]
In this way, Wisconsin generates a number of turnovers that look like nothing more than miscues from the Colorado throwers. What might look like a bad pass or questionable choice may very well be the result of pressure made possible only because of the way Wisconsin contains the Colorado handlers. They pressure easy swings with tight dump defense and wide marks, which also take away wider angles of the open lane and force downfield throws out wide.
The upshot is that Colorado has a tough time moving the disc to the break side. This pressure is somewhat obscured by highlight-reel plays: their effective use of hammers belies their struggles to swing, and their reliance on the deep ball could be ascribed to the talent of their throwers and cutters. The Colorado players are very talented, but the truth is that the Wisconsin marks allow those hucks on purpose.
Of course, Wisconsin's strategy only works because they stay very tight to everybody not holding the disc. They also slow Colorado down with a few fouls and travel calls, something I won't advocate, and they throw a lot of zone, mixing up the defense and never giving Mamabird much time to figure out how to exploit each look. No defense can take everything away, so it helps to introduce a little chaos. But by sagging on the mark, especially after a dump or in the second half of the stall count when the thrower is looking to swing, Wisconsin is able to keep the disc bottled up and generate defensive pressure. With fewer threats to the break side, downfield defenders are able to lock down.
Taking away their ability to move the disc laterally takes Colorado out of their standard offense, daring Mamabird to beat the Hodags downfield. Colorado, to their credit, is able to do that a lot of the time, but a few key pressure-D's make the difference in a game with, for the college level, relatively few turnovers.