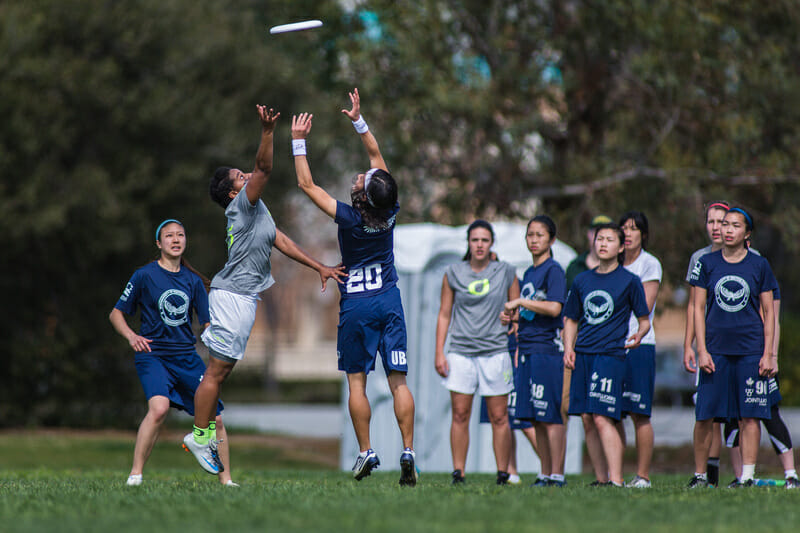 Wait, wasn't Northwest Regionals two weeks ago? Oh, no, that was just all of the top contenders playing each other at Conferences.
Of course, this weekend it really counts. But we don't expect surprises. The three top five teams — Oregon, British Columbia, and Washington — are heading back to Nationals, and Victoria is the favorite to take the fourth bid (they one they earned!).
Let's take a look at each of these excellent teams.
THE FAVORITES
#1 Oregon
26-1. Four back-to-back tournament victories. 2012 National runner-up. Some of the country's finest players.
There's a lot of good things to say about this Oregon unit, and they are rightly considered the odds-on favorite to win this year's National Championship. Just two weeks ago, they played and defeated each of their biggest Regional competitors en route to a Conference title.
Sophie Darch is Fugue's rock on the offensive line, distributing the disc ably around the field. Kimber Coles is often the recipient of Darch's throws (see #4) and makes a big impact as a cutter.
On D, Callahan nominee Bailey Zahniser is a beast, generating turnovers and then picking up the disc and ripping perfect throws for scores.
The team loves to play big: huge hucks, layouts, and a fiery attitude. That just makes them more dangerous. While a Regional title is by no means guaranteed, they should win — and win with style.
Key wins: British Columbia, Washington, Wisconsin, Victoria, Texas
Key losses: British Columbia
#2 British Columbia
The only team to beat Oregon this season, British Columbia knows Fugue well. In fact, the Thunderbirds have faced off against Oregon in the finals at every tournament they've played this year (Prez Day, Stanford Invite, & Conferences). All three results were the same: a loss.
But they have proven to be the second best team in the region and in the country. They are 3-1 this year against 2012 National Champion Washington and have only one other loss: to Wisconsin at the Stanford Invite, their only out-of-region defeat.
Like Oregon, UBC is stacked with talent. Callahan nominee Catherine Hui is dominant downfield alongside captain Rena Kawabata. Crystal Koo provides steady handling prowess, and was the standout player for UBC in the team's biggest games at Conferences.
Coach Tasia Balding had to be happy to see her team grind out a late win over Washington in the semis at Conferences. They were having trouble scoring late at the Stanford Invite, and Balding told Ultiworld, "Our team needs to learn to claw back from a couple points down."
A concern for the Thunderbirds has been staying healthy. The team told Ultiworld, "Some of our players have been in and out for injuries and are recovering. As a team, we've grown stronger and more confident overall." Hui was not at 100% at Conferences and you have to consider how much it would be worth it for them to risk aggravating any lingering issues at Regionals with four bids available.
Key wins: Oregon, Washington, UC Santa Barbara, Stanford
Key losses: Oregon, Washington, Wisconsin
#4 Washington
After graduating 12 players from their 2012 Championship roster, it was always going to be tough for Washington to compete in the deep Northwest Region. But, amazingly, they've stayed near the top of the Ultiworld Top 25 despite rostering 11 rookies and dealing with the heavy turnover.
Five of their eight losses this season have come at the hands of either Oregon or UBC. Outside of that, they lost once and then forfeited a 3rd place game against UC Santa Barbara, and lost badly to a Wisconsin team playing at a very high level.
Washington's Callahan nominee Sarah Davis is out for the season, but Alysia Letourneau has stepped up as a big playmaker for the team, especially on the defensive side. Lucy Williams was a big factor at Conferences as well. Amanda Kostic is critical to smooth flow on their offensive line.
If Washington can manage their injuries, they will comfortably advance to Madison. New coach Kyle Weisbrod told Ultiworld at the Stanford Invite that Element "recognized that [they were] a great team." That confidence should carry them through to the College Championships.
Key wins: Carleton, British Columbia, Victoria
Key losses: Oregon, British Columbia, Wisconsin, UC Santa Barbara
#24 Victoria
Victoria isn't shy about acknowledging they are fighting for that fourth bid, even though they think they might have a shot at the third. They earned that fourth bid by showing up to the Santa Barbara Invite and running the table on a lot of strong West Coast contenders. They did enough at the Stanford Open to hold onto that bid, losing to Western Washington in the semifinals. They only played a single team not from the West Coast — Chicago, a mid-level Great Lakes Regionals team.
Wins are wins, though, and they've given themselves a shot to get to Madison. Captains Allie Short and Danie Proby are big playmakers for the Vixens.
"I think we're a little darkhorse in the true sense of the word," coach Kevin Bruleigh told Ultiworld early this season. "…But this year we're much deeper in terms of talent, also in terms of numbers and commitment…We're looking to make a good showing."
They proved they can hang at Conferences, where they played tight with Washington and finished fourth with a 12-10 win over Western Washington. UItiworld's AnnaMaria Paruk was at Conferences and wrote:
[quote]Victoria definitely earned a strength bid to Nationals for this region. They have not really been on the radar for most teams in North America, but they definitely should be there. They are a fundamentally strong team looking for the dump/swing if things aren't open downfield. Additionally, they have relentless receivers and throwers who can surprise unsuspecting teams. They are fast and athletic – without question, a complete team.[/quote]
They won't have any easy road to that final bid, however. They know Whitman and Western Washington will be right there.
"For the past couple of years, our games with both teams are always tight, regardless of the score (or time of year)," the team told Ultiworld.
Key wins: UC Santa Barbara, Western Washington, Stanford
Key losses: Oregon, UBC, Washington, Western Washington
THE BUBBLE TEAMS
Whitman
The Lady Sweets are definitely a wildcard heading into Regionals. They have no marquee wins, and they split their season series with Western Washington 1-1. They have not faced Victoria this year.
They crushed everyone at D-III Northwest Conferences, but that's no surprise.
Last year, Victoria beat Whitman 14-12 during pool play, but Whitman got them back in the semifinals of the backdoor bracket, 15-10. Whitman went on to lose to UBC in the game-to-go.
But Victoria is a much better team this year. Whitman will be competitive with them, no doubt, but it will take their best game to beat the Vixens.
Western Washington
Same story for Western Washington. We know they are capable of taking down Victoria; they beat them 8-7 at the Stanford Open en route to their tournament win. But they lost to the Vixens at Conferences.
With a 1-1 record against both Whitman and Victoria, Western Washington is poised to create some fireworks in the backdoor bracket.
Captain Callie Mah (Riot) is a stud and their standout player, but Chaos lacks depth down the roster, which makes it difficult for them to hang against the stacked Northwest teams.
But with four bids, they just need to put themselves in the game-to-go. There, anything could happen.
PREDICTIONS
Boring picks, but here you go. Oregon, UBC, Washington, and Victoria qualify in that order. Victoria has learned how to win and proven their strength this season.
Since these teams have already played each other two to three times already this season, it would be surprise to see any upsets except in that fourth spot. Western Washington has a shot if they bring their best game.