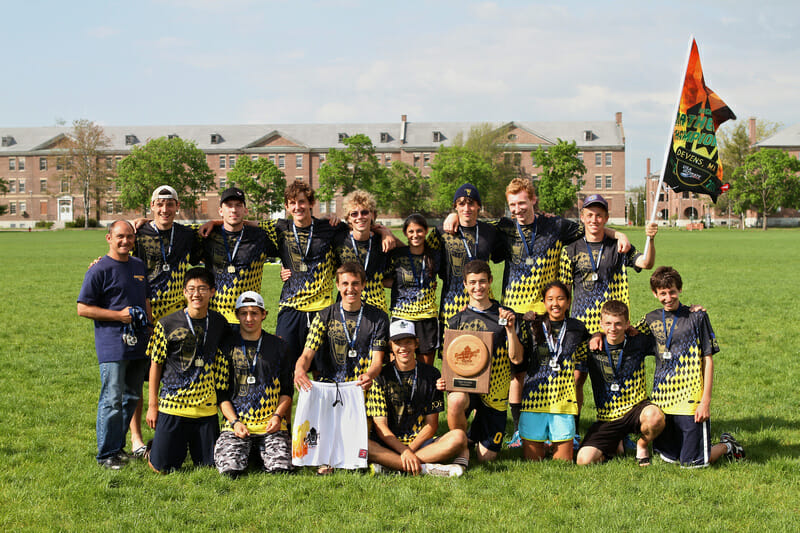 At the Northeastern High School Championships, fifth seed Lexington High School shocked the youth Ultimate world with an upset of Amherst High School en route to their first ever Northeastern title.
Amherst, one of the great powerhouse high school programs in the country, had not lost a single game at Northeasterns or Easterns since 2009.
Lexington coach Larry David was still a little bit in shock when Ultiworld spoke with him on Sunday night after their win.
"I dont think a lot of people saw it coming," he said. "But my kids believed."
After rolling through pool play, Lexington had to face Hampton, a young, rising team out of Pittsburgh. Lexington handled them easily, but David said that they are a team to keep an eye on in the coming years.
That set Lexington up for a game against Amherst, who had beaten them just a week prior at the Amherst Invitational, 15-10. "[That game] put the idea in my kids' mind — Amherst is not unbeatable," said David.
After falling behind by two breaks early, they battled back with tough defense to take the half. On the brink of their first ever win against Amherst, they started to get a little 'scrambly,' in the words of David. He told his team, "Don't be afraid to win."
And they did, holding on for the 15-13 victory.
"They're a fantastic team," said David. "They have a great program, Tiina [Booth]'s an amazing coach. They're well conditioned…We just did what we could. We knew we could stay with them."
The win got them a spot in the finals against Needham, another Massachusetts team. With the wind picking up, the first two points were a slugfest and took a half hour to get through. But Lexington took half 7-3 and ran out the clock, finishing with the 8-6 win.
David called it a bit "anticlimactic," since so much of their focus had been on Amherst.
A number of players made a big impact for Lexington, including their main offensive line handler Dan Bernstein, the athletically gifted deep cutter Tannor Johnson (only a sophomore!), and defender Carlos Cincotta. Perhaps most remarkably, handler Caitlyn Go, one of the team's two female players, got playing time all weekend, including in the game against Amherst. She'll be a name to look out for at the college level.
The players will now prepare to face many of the same teams again at the Massachusetts State Championships in two weeks. They're hungry for the title, but are expecting to face an Amherst team looking to avenge their loss.
Regardless of the outcome there, this is a huge step for the program, which had never before upset Amherst.
"I have coached this team for 14 years," said David. "We have matched up on Amherst a few teams, but it's always been an exercise in futility."