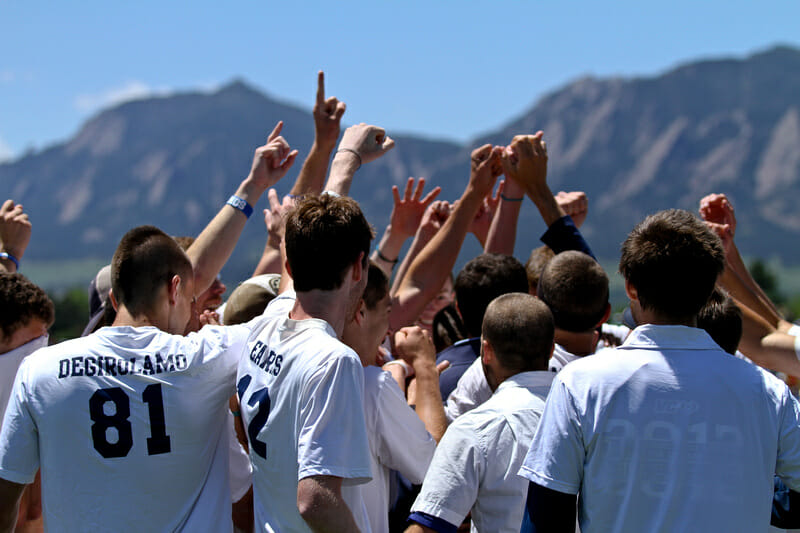 In any tournament with the format that USA Ultimate College Nationals has, the fourth pool is going to be the infamous "pool of death." This year is no exception. The pool features some elite teams, some big question marks, at least four teams that have shown they have to firepower to play at the elite level, and several rematches from regular season play.
Pittsburgh 
It's been a disappointing season for En Sabah Nur. At least, that's what the narrative seems to have been. After winning the National Championship last year and returning its big name players, the Ultimate community had high expectations for Pitt this season. Those haven't been met but it's important to note that Pitt's "disappointing" season consists of semifinals losses at Warm Up: A Florida Affair and The Stanford Invite; a quarterfinals loss at College Easterns; and an undefeated run in USA Ultimate's College Series by an average margin of victory of seven goals.
Nonetheless, it's undeniable that high expectations were reasonable for this team. One of the biggest obstacles in the way of Pittsburgh achieving those expectations has to be senior Alex Thorne's hamstring. Last season's Callahan nominee from Pitt, Thorne missed time in all three regular season tournaments due to a lingering injury. The gap between Regionals and Nationals is the largest gap in competitive play thus far in Pitt's season. So, Thorne has had plenty of time to recover. En Sabah Nur will have to hope that Thorne can stay healthy in order to be at its best for the entire tournament.
That being said, with or without Thorne, Pitt is a threat for the title. This year's Callahan nomination from the team went to senior Tyler Degirolamo and he has become a force to be reckoned with in all aspects of the game. Don't take my word for it, listen to some of the Callahan hype that has surrounded him this spring.
One would be remiss to talk about Pittsburgh's potential for a National Championship without talking about the rest of the team's cast of characters. Pitt has plenty of all-star power but the team has developed a system and many younger and lesser-known players have stepped into larger roles this season. Sophomore Max Thorne has been given a lot more liberty with his throws, sophomore Trent Dillon has spent the entire regular season matched up with some of the toughest assignments Pitt has faced and forced his fair share of turns, and senior Marcus Ranii-Dropcho has shown the ability to occasionally dictate the flow of the game from the defensive handler position.
Pitt lost very little from last season to this season and showed last year that it had the horses to go the distance. Coach Nick Kazmarek could be heard interrupting celebrations at the end of last year's championships with the phrase, "That's one!" indicating that En Sabah Nur had more championships to come. However, if this season has shown Pitt anything, it's that the stars have to align for even the most talented and experienced teams to rise to the top.
Texas
The old cliché of "ups and downs" doesn't even begin to describe Texas' season.
TUFF began the year with a performance at Warm Up: A Florida Affair that surprised a lot of spectators. UT finished last year 10th at Nationals after a surprising absence the year before. There wasn't a lot of buzz around the team as the year began but that quickly changed as Texas stormed its way to the finals at the first elite tournament of the season.
From there, the team encountered a huge disappointment at the Stanford Invite, losing tight games to Tufts (14-13), UNC-Wilmington (11-8), and Arizona (14-12) on its way to an 0-3 performance on Saturday that eliminated Texas from contention further in the tournament. On Sunday, Texas would defeat Central Florida and Whitman before losing to North Carolina to finish the tournament more or less even with regional rival, Texas A&M, who was playing the tournament with a depleted squad.
Since then, it's been all peachy in Austin as TUFF has gone undefeated for the remainder of the season (even winning its home tournament without Callahan nominee Will Driscoll). That includes a Regional title over perennial powerhouse.
Strangely enough, given its inconsistency on the field, Texas might be one of the most continuous programs in Madison this weekend. UT is coached by Calvin Lin (and has been longer than any player at the tournament has been involved in college Ultimate) and features a strong, experienced group in Driscoll, Mitchell Bennett, and Chris Brooks. All three have shown, over the course of the season, that they know TUFF's infamous vertical stack offense better than most people know the backs of their hands. Driscoll plays all over the field, Bennett chews up yards as both an initiating and secondary cutter and Brooks plays a crucial role as a reliable handler whenever he is on the field.
Texas will certainly be searching for consistency this weekend. Whether it's recalling the excellence of Warm Up, Regionals, or Centex, TUFF will need to be at the top of its game in order to escape this pool alive, especially because the following two teams in its pool — UNC-Wilmington and Arizona — both defeated UT earlier this year.
UNC-Wilmington
The Seamen are back at Nationals. One of the most storied and, at times, controversial programs in collegiate Ultimate missed Nationals in 2012 after returning to the scene in 2011 following a prolonged absence. They are back on the wings of a strong early regular season and a bumpy back end of their season.
This weekend puts UNC-W in a familiar position from this season, needing to upset some teams in pool play in order to either better its position and avoid elimination. At Stanford, Wilmington needed two wins in order to qualify for the Championship bracket, the team earned just that, shocking both Arizona and Texas in pool play.
At Easterns, the Seamen again needed an upset win in order to make the championship bracket. They earned it over Florida State and followed that up with an upset of Carleton in prequarters.
UNC-W has long thrived on pressure, intensity, and the ability to out-grit its opponents emotionally in order to win games. Playing the underdog role certainly seems to accentuate the need for the attitude for which the Seamen have become famous.
However, what Wilmington will be trying to avoid is sleeping on teams that it "should" beat. The Seamen certainly did not dominate at Conferences and put itself into the backdoor bracket with a semifinals loss to six-seeded Virginia Tech at Regionals.
That means that UNC-W, led by NexGen standout Tommy Lamar, will be sitting in a precarious position that could either make it or break it as upsets over Texas or Pittsburgh could put the team in an enviable position to earn a spot in quarterfinals. However, a lackadaisical approach and a loss against Illinois or Arizona could leave this capable team on the outside looking in.
Outside of Lamar, Wilmington will be depending on performances from Mark Evans and Xavier Maxstadt on the defensive side of the disc. Those three team leaders, along with coach Greg Vassar, will need to keep their team fired up against all-comers this weekend in an effort to earn and avoid upsets alike and qualify for the championship bracket.
Arizona
2013's regular season began with Sunburn looking to repeat its magical 2008 season. The story is all too familiar: a formerly decent Arizona team is led by undersized and scrappy leaders (2008: Joe Kershner, 2013: Brice Dixon and Sean Ham), earns a few big early season wins (2008: Trouble in Vegas win over Florida, 2013: President's Day tournament victories over Colorado and Minnesota), and proceeds to march to Nationals as the easiest to root for team in the field.
However, the aspect of that 2008 season that doesn't get as much press time is the disappointing middle of the year. Sunburn lost in quarterfinals at both the Stanford Invite and Centex. Meanwhile, this year's team has done its best to mirror those results as well, as UA bowed out at Stanford in prequarters and at Centex in quarterfinals.
What the 2008 team was able to do that the 2013 team was unable to do was win its conference.
This year, Arizona was upset by in-state rival Arizona State at its conference championship and then was forced to play Stanford in semifinals of the Regional tournament due to the unfavorable seeding it received as a result of that loss. Sunburn won that game, but lost in the finals to UC Davis and was forced to play its way through the backdoor, eventually eliminating Stanford from Nationals in the game-to-go.
The big question now is: which Arizona team is this? Is it the team with the patient and impossible to figure out zone that showed up to its first two tournaments? Or, is it the team that was a little too quick on the trigger finger and, by its own admission, started slow without the ability to pick itself back up again?
Arizona has already shown that it can play with the other teams in its pool with a win over Texas at Stanford and a close loss (13-11) against UNC-W at the same tournament. However, UA won't be able to afford any slow starts or small slips as it needs to finish at least one spot higher in the pool than it is starting in order to have a shot at competing for the National Title.
Illinois
The bottom seed in Pool D and the bottom seed in the whole tournament comes in easily as the quietest and most unknown team of the season.
Illinois only played two tournaments before Conference Championships and didn't perform very impressively at either of them. There are large suspect losses to Texas State (10-5), Kansas (10-5), and Georgia Tech (14-9) at those two tournaments. All three of those are teams that did not qualify for Nationals.
On the other hand, Illinois did exactly what it needed to in order to qualify for Nationals. It won its Regional tournament and did so in impressive fashion. Illinois had to travel through the other top two teams in its region — Michigan and Michigan State — in back-to-back games in order to qualify. That is to say nothing of the decisive way in which Illinois dominated its conference tournament (Avg. margin of victory: nearly 8 goals).
What is clear is that this is a team that has some top level talent in captains Ryan Smith and Nate Gibbons. What remains to be seen is whether or not the team as a whole can put together a weekend of high-level play against high-level competition.