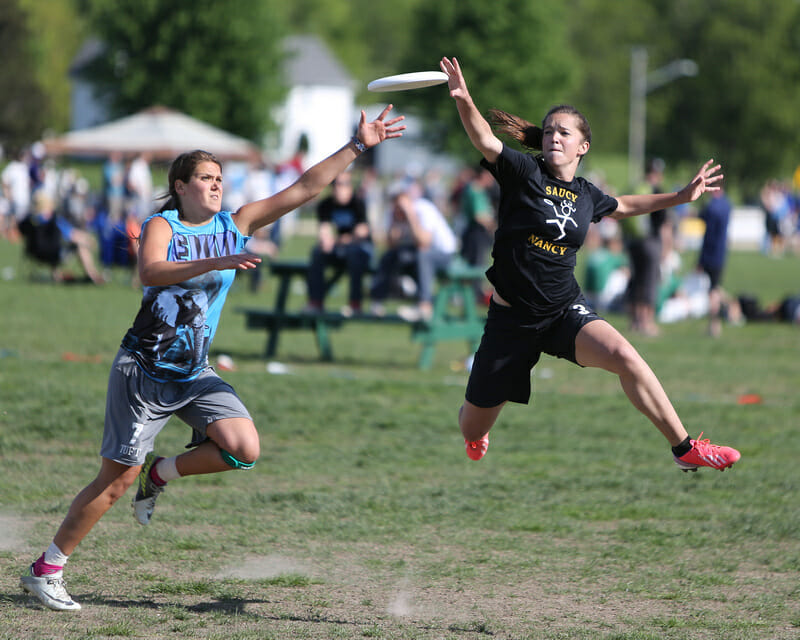 Here are some of the top stories coming out of Friday at the USA Ultimate D-I College Championships.
#1 Seed Oregon Dominant, Unchallenged, or Both?
Of the 20 Women's Division games that took place today, only 6 of those were decided by five or more points. Both of Oregon's games were among those six, a sign of their dominant performance thus far in the tournament. The 15-7 shellacking they put on Wisconsin, their #2 seed in Pool A, may have not even been that close as they eased off the gas in the second half.
From the get go, their defensive intensity and speed left their opponents helpless. We have yet to see Oregon tested by a team playing well, but in a field where the stronger teams rarely cruised past their opponents, Fugue was delivering on the promise of their talent. No team in Madison is more confident in what they can do than this group of ladies.
Parity In Pool A Creates Intriguing Saturday Scenarios
After Oregon, the talent in Pool A looked fairly even from the #2 to the #5. Our predictions actually expected a three way tie between the middle three teams. Right now, we are headed that way. Northeastern's performance has been an early surprise, and they look like the deep and cohesive team they claimed to be coming into Madison. Three teams are 1-1 (Minnesota, Stanford, Northeastern) while Wisconsin is in the hole at 0-2. Bella Donna could certainly win their games against Northeastern and Stanford tomorrow. Stanford's 15-9 win over Minnesota could be critical if pool seeding goes to point differential.
Ohio State Asserts Themselves To Take Control Of Pool C
One of the most anticipated games of Friday was Iowa State vs. Ohio State. Fever did not look their best earlier in the day against a Central Florida squad executing their gameplan. The big stage of the showcase field could have easily served to rattle an OSU team not used to expectations, but they settled into a great rhythm. Their top end players delivered and their depth on defense looked great. You sometimes get the sense that they are getting away with plays they shouldn't – throws to small windows, floaty passes, poaches – and that is cause for concern. Right now, however, they look like a real threat.
Stars Emerging As Their Teams Demand More of Them
A few of the lower seeds saw their top players raise their game up against their toughest competition, the mark of a star. Lisa Pitcaithley of UC-Santa Barbara was unguardable. Her length as a receiver is a challenge, but it is her explosiveness as an athlete that makes her a "pick your poison" threat. After the Skirts moved her downfield, she was a force to be reckoned with. She was involved with nearly every UCSB score Friday and nobody in the division willed the disc into the endzone in quite the same way.
Lien Hoffman had a heroic performance for Northwestern. The Callahan finalist has a way of making the nigh impossible seem routine. Carleton's Captains Julia Snyder and Anna Reed talked with me after their game against Northwestern about the challenges she presents with her athleticism. "She's…" said Snyder, pausing to marvel, "fast." Hoffman continually got huge Ds for Gung Ho in the air. She justified her somewhat out of left field Callahan campaign.
Michela Meister was not the only member of Superfly, but she did live up to her reputation. Iron Woman is the perfect description: not only does she look fused with metal (the term "android" was tossed around on the sidelines) but she also plays every point for Stanford. Meister does not slow down. She does not tire. She does break, but it is usually her mark, and she does it often.
Paige Soper of Ohio State, Becca Miller of Iowa State, Alika Johnston of Virginia, Sunny Harris of Central Florida, Sarah Meckstroth of Minnesota, and Amanda Kostic of Washington all stepped up today as well.
Central Florida Demonstrates Upset Potential
Central Florida, throughout the regular season, surprised a lot of their out of region competition to score important wins. Friday was no exception. The Sirens are systematic, so the fact that they were tight the whole way with an Ohio State team that  A) is more talented B) has seen them twice already and C) throttled them twice already said a lot early on. Their upset win against Virginia was in their hands most of the duration. They ran their top two, Harris and Mariel Hammond, out there all da; they did the majority of the scoring. If their legs are feeling good Saturday and Iowa State underestimates them, this Southeast squad could pull off a shocker. They're in a good position to make Prequarters going into Saturday.
Other Observations
– Texas Melee is the tournament's toughest out. They fight for every inch of field and make opponents do the same. There are not a lot of quick scores to be had against them and they wear on the legs.
– When Carleton's humming, it can be very scary. Their handler group is the best in the country and their receivers are TALL. I have to emphasize that. They have roughly three 6-footers and three girls at 5'8". That combination is tough to defend and allows them to throw suffocating cups at teams.
– British Columbia absolutely looked like one of the most talented teams in the field. They have a lot of team speed, but they also have a penchant for risk-taking. It bit them late against Carleton and could be an issue deeper in the tournament should they make it that far.
– Tufts' young core was playing very well. They don't have a lot of seniors, but they do have a lot of solid juniors and very good underclassmen. Crazy early, but they're a top eight seed at next year's Championships.
– Georgia was a trendy pick to struggle. They're a good defensive team, but they have got to be a better possession team against this level of competition. Today was an underperformance relative to their talent level.
– I've got an eye for the best jerseys. Washington's whites are the early frontrunner.
Check out photos of all of the action at the 2013 USA Ultimate D-I College Championships on UltiPhotos.