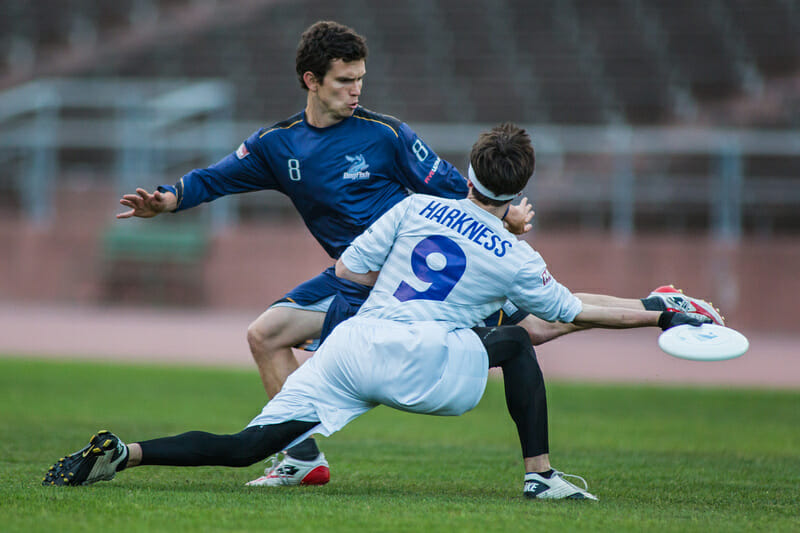 The biggest MLU games will have to wait for next weekend, but there is still going to be some drama in Week 9. San Francisco and Seattle match up for just the second time after the Dogfish rallied late in game one to take the win. In the East, the Philadelphia Spinners need a win to maintain any hope of making the playoffs.
Here's a look around the MLU this week.
EASTERN CONFERENCE
Philadelphia Spinners (2-6) @ Boston Whitecaps (8-0)
Everyone has written off the Philadelphia Spinners, including this publication. With eyes focused firmly on next week's pivotal matchup between the DC Current and New York Rumble, it's easy to forget that the Spinners aren't mathematically eliminated from the playoffs. The fact remains that they are very unlikely to get there, but, if they were to shock Boston with an upset this week on the road, they will still have a fighting chance.
Their last time in Boston, the Spinners played great ultimate for much of the first half and even had a lead in the second half before watching Boston, led by Jeff Graham, rally to a victory after an injury to the effective Leon Chou.
It would be easy for Boston to rest starters and avoid injury with the playoff one seed all locked up, but with the opportunity to finish out a perfect regular season, don't expect that. The Spinners will need to erase the mistakes of their last few outings to even hang with the Whitecaps.
WESTERN CONFERENCE
Vancouver Nighthawks (2-6) @ Portland Stags (1-7)
If there were a draft lottery in place in Major League Ultimate, this would be the game where both teams were out to tank harder than the other. Both Vancouver and Portland have been eliminated from playoff contention.
Vancouver's only wins this season have come against Portland and they can close out a season sweep with a win tonight. Portland will be playing for pride and a chance to avoid finishing in last place in the Conference.
Not much to see here, but if you want to watch the game, it is the MLU Live option this week.
San Francisco Dogfish (6-1) @ Seattle Rainmakers (6-1)
Finally, a rematch between the Dogfish and the Rainmakers. Their first meeting was a huge disappointment for Seattle, who jumped out to a big early lead before blowing it in the second half, even though San Francisco was playing without most of their stars.
Those players — including Beau Kittredge and Mac Taylor — will be back on the field this weekend as both teams have a chance to make a statement before heading into the playoffs.
If Seattle wins, the Conference winner will likely be determined next weekend, when the two teams play again in the final Western Conference game.