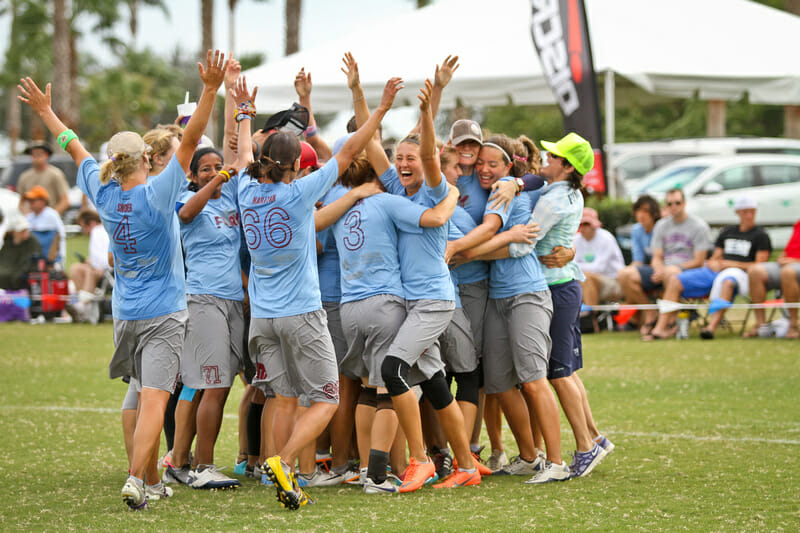 34 wins, zero losses, and a seventh straight championship. That's the 2012 regular season and Series results for San Francisco's Fury. Oh, did I forget their World Championship final appearance? They got one of those, too. It's a flush set of accolades. Now, it's just history.
"Every year has been an amazing and unique experience," said Fury Captain Ness Fajardo. "As a team we really try to live in the moment and stay focused on each season independently of the others."
No two seasons are really the same. Although they may start and end at the same place, the road through them brings unique twists and turns each time a team embarks on a new year. One of the new stops on Fury's road this year is the US Open, which they missed out on in 2012.
"We are excited to just be a part of this event," said Fajardo. "We are also incredibly excited about the international competition. It is going to be a very competitive tournament!"
The Bay Area women are no strangers to international competition, having taken on the world's best on more than one occasion. Even on an individual level, they've been accruing more familiarity with battling against the world at large: Cree Howard and Alex Snyder are both representing Team USA at the World Games (along with coach Matt Tsang), while rookies Lisa Pitcaithley and Michela Meister are both on the U-23 national teams, alongside Claire Desmond.
Pitcaithley, who starred for UC-Santa Barbara this past college season and with the Mixed team Polar Bears last club season, and Meister, Stanford stud and key piece of Nightlock last club season, form half of the Fury rookie class. Arlie Stern, a Fury vet, returns to the team, and Loryn Kanemaru fills out the foursome.
This means Fury is seeing very little turnover, with Yelena Gorlin, Megan Schoellhamer, Abby Christopher, and Emily Damon not rejoining the team this season. After losing Alicia White and Georgia Bosscher last season and Damon this season, some pretty notable names have vacated the lineup. The team had a little practice playing without Damon after she suffered an ACL injury midway through the 2012 Club Championships.
Even without those names, the roster reads like one capable of making the magic number eight. Sun, Nazarov, Snyder, Daryani, Fajardo, Howard, Finney, Jorgenson, Casey, Penny, Desmond, Dantzker: they are all back and all dangerous. The youth movement, highlighted by Maggie Ruden, adds Meister and Pitcaithley, who were each dominant college players this past season, capable of taking over a game.
Having such an experienced and well-seasoned group should make the transition easy for the rookies. The Triple Crown Tour has changed very little in setting the season for Fury; Fajardo indicated that it helped them get a good feel for who they would be seeing during the season. The Bay Area women know how to prepare and how to pace a season. They also know how to avoid the championship hangover.
"I think the challenge is to separate the result from the process," she said. "Sometimes the right game plan can lead to the 'wrong' result. And sometime the wrong plan can lead to the right result. What is right and wrong can also change from year to year. This is what makes the journey every year so fun."
One team Fury always knows the journey will pit them against is their closest competitor in the Women's Division, Seattle Riot. After beating Riot in every meeting last season, Fury has already suffered a loss to them this season at Solstice. If Riot can top the reigning champs again at the US Open, it may set the stage for a coup at the top of the division. All eyes will be on their matchup Thursday at 3 PM, livestreamed on Ultiworld.
When each season ends with the same result, we wind up asking the same questions to begin the next year. As it has been for season after season, we wonder, "Can anyone beat Fury?"
That's what happens when you win seven straight Club Championships. That's what happens when you navigate a challenging regular season without a single loss.
What happens next, though, is up for grabs.