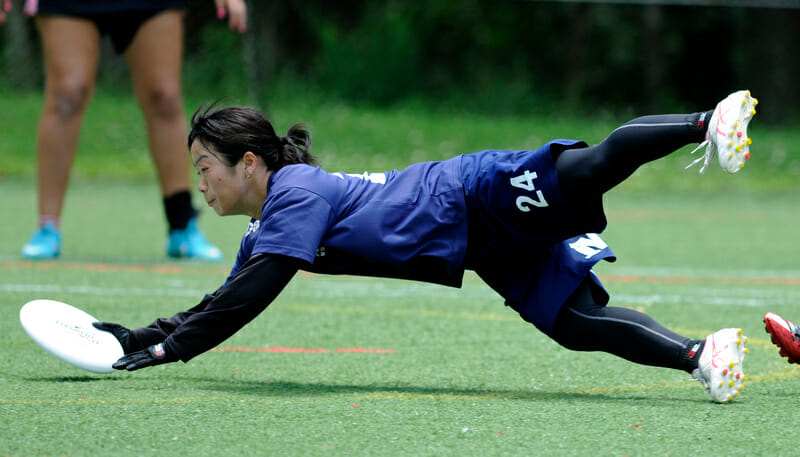 Exciting play from the first round of the US Open in the women's division. Check it out.
***
MUD Opens Weekend With Controlled Win Over Scandal
The showcase field game for round one matched up Japan's MUD with Washington DC's Scandal. The 15-woman squad from Tokyo was eager to start their international adventure.
A sloppy start included Scandal needing a time out on their own goal line on the first offensive point and an early MUD break. The DC ladies struggled in the early part of the game with mechanical and execution errors, giving away unforced turnovers to a quick MUD team. Once MUD's offense settled in, utilizing rapid successions of horizontal swings and short inside breaks, they were able to open the game up. MUD took half, 8-4.
Scandal struggled, falling victim to frustration as the Japanese women found space through small windows, even after DC's game tightened up. It would, however, be a much more even second half. The Japanese women would, after the game, attribute some of that to fatigue; the team was still dealing with jet lag, a 15 person roster (14 after an injury during the game), and the effects of the high 80s heat and sweltering humidity.
Despite renewed energy from Scandal and some strategic adjustments – such as forcing backhand to slow down the around – MUD would continue to find ways to score. Asami Ishitsu came up with some big grabs, but the disc movement of Fuyoko Tazawa and Noriko Nakamura was what devastated the Scandal D. MUD polished off their victory, 15-10.
After the game, Scandal coach Alex "Dutchy" Ghesquiere would bring his team in to focus on one point: frustration. He declared the team would struggle to make comebacks when bogged down by frustration, and should instead project the positivity and energy needed to improve their play. With their other coach, Mike LoPresti, saying before the game that "implementation and improvement" were the focuses, it could be a valuable lesson. MUD, however, was just happy to get a win as they were still getting their bearings.
Experienced Riot Too Much For Young Revolution In Debut
Seattle's Riot, one of the longtime powerhouses of North American Ultimate, took on Colombian women's top dog, Revolution, in the Colombians' stateside debut. Unfortunately for Revolution, the seasoned Seattleites showed no quarter when showing the Colombians the ropes.
A number of early possession and short field turns allowed Riot to punch in fast scores and Riot's size proved challenging for a smaller Revolution team to deal with, on both sides of the disc. An early Riot lead would balloon and the #2 seed would cruise to a 15-4 first round W.
After Close First Half, Fury Dominates Second Against Nova
Reigning USA Ultimate champions San Francisco Fury took on the mysterious new Québec Nova, who was eager to prove that they belong at the tournament, in the first round.
Nova ripped off three straight points to start the game, getting run-through Ds and converting the scores. Fury responded with three scores of their own to tie up the game behind big hucks from Alex Snyder. The rest of the half was a very sloppy affair, with both teams turning it over multiple times in the same point. Fury eventually put together a couple of break points and was able to take half 8-6, but their offense looked very shaky with Nova applying pressure on every underneath cut.
Coming out of half both teams traded points before Fury took over the game. Fueled by big defensive plays from Kaela Jorgensen and Lakshmi Narayan, Fury scored six points in a row on the way to a 15-8 win.
Fury Coach Matt Tsang was very impressed by the athleticism of Nova and adjusted at half time to give more help on defense. "Nova was an unknown entity coming into this game," said Tsang. "We spent the first half figuring them out."  Fury certainly adjusted well to the Canadians' play style in the second half and looked very much like defending national champions.
Hometown Phoenix Struggles In Second Half In Loss To Showdown
Across the sidelines on field four, Austin's Showdown played the local ladies, Raleigh's Phoenix. The matchup featured two teams in very different situations.
Phoenix is one of the more intriguing teams in the Elite division, as they have significant turnover from last year's squad, including a strong new coach, Brian Dobyns. Speaking with Dobyns, it was clear that this tournament would be used as a learning opportunity for the whole team. Showdown, meanwhile, only has four new players after a strong finish at the 2012 Club Championships.
Showdown jumped out to an early lead with a couple of breaks against Phoenix's zone defense taking half, 8-6.  The teams traded points out of half before Showdown's Lisa Etchison got a huge hand block that led to an easy break.  Phoenix switched to a man defense that Showdown was able to easily work the disc against, stringing together break points to eventually win 15-8.
After the game Showdown's Katey Forth gave credit to the team's leadership. "We have two great coaches," she said with a big grin on her face. Showdown certainly looked impressive taking down the hometown team and are poised to make a deep run at the tournament.